Business Model:
Avon (NYSE:AVP) has a unique business model; its historical success thrived from multi-level relationship marketing and brand loyalty. Unfortunately, this strategy has not proven to be successful in recent years. Despite being a multi-billion and multi-national company serving over 100 countries, door to door sales cannot compete with businesses today. There are a few reasons why this business model is obsolete: intense competition from online retailers like Amazon, aggressive expansion overseas and the change in women's role in society.
Amazon and other online retailers have a huge cost advantage compared to traditional retailers. Women no longer need to shop in stores for cosmetic products that they know is available online, and typically at a cheaper price. This does not imply that all traditional retailers are destined to go out of business, but it does suggest that companies who do not effectively create a digital presence will lose market share. Avon's expertise is that of a traditional retailer while competing with little experience in a digital world.
Avon's expansion overseas has brought forth more issues than sales growth if anything. Specifically, Avon's interest in China around 2004 is when suspicious activity began. Avon struggled to penetrate the Chinese market but carried on given the substantial business opportunity. From 2004 until 2010 Avon faced allegations of bribing officials in China and making improper payments to the many government officials in China. Supposedly, imposed fines under the Foreign Corrupt Practices Act amounted to $135 million during the year 2010.
Lastly, and arguably most importantly, the change in women's role in society has certainly impacted the core influence of the business. The classic door to door sales and customer interaction was the root of Avon's success. Since a large portion of women are now entering the work force (rather than "the stay at home mom"), this business technique is no longer effective.
Negative Revenue Growth/Collapsing Margins:

(Source: Bloomberg)
As you can see from the preceding chart, Avon's adjusted revenue has decreased since 2012 through 2015 by -6.5%, -5.7%, -23.2% and -19.4% respectively. Furthermore, analysts estimate a decrease in revenue of -6.1% for the year 2016. At face value, the company's revenue has practically been cut in half since 2011 from $11 billion to $6 billion. These losses in revenue resonates drastically for the company on its margins. The company's gross margin has decreased 300 basis points since 2011 with the EBITDA margin decreasing approximately 500 basis points since the same year.
A major influence on these margins is the company's effective tax rate. On the company's 10-K, Avon reports revenue from three consolidated geographic segments since 2014: 1) Latin America, 2) Europe, Middle East & Africa, and 3) Asia Pacific. Nevertheless, the company has been headquartered in New York City, NY paying a higher corporate tax rate along with a negative impact on overall sales from the strong dollar. Thus, proving a relocating of headquarters to be a feasible move. However, it is still unclear how difficult it will be to tap into European markets.
In regards to the company's reported business segments we can analyze the following: Beauty, Home and Fashion.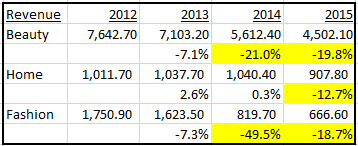 (Image created by author using data from Bloomberg)
Specifically, the company's beauty segment which makes up the largest portion of revenue and consists of cosmetics (shampoos, fragrances, body oils, moisturizers, lipstick etc.) has been dramatically decreasing. Has the company's product line in recent years not met customer trends/needs or is Avon inefficiently advertising? Either way, the company's stock price has been crippling since 2013. Investors clearly have little to no confidence for the future of Avon.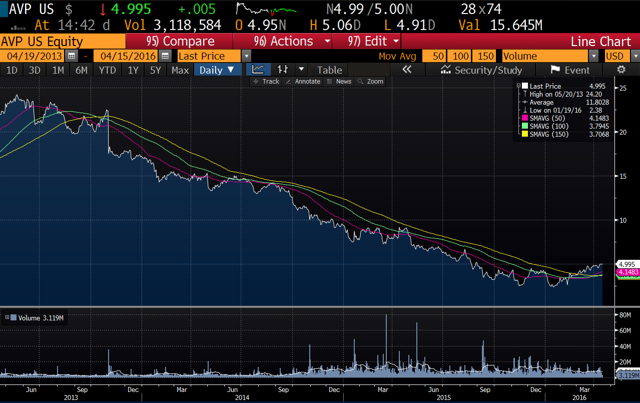 (Source: Bloomberg)
Market Valuation/Sensitivity Analysis/Analysts Estimates
The valuation of Avon is based on a valuation using a discounted cash flow model with a focus on return on invested capital. When analyzing Avon , a conservative approach has been applied for the obvious reasons. Adjusted operating costs as a percentage of total revenue has been forecasted to taper from 92.8% in the base year down to 89.9% at the end of year five (in the forecast). 89.9% is the company's historical adjusted operating costs as a percentage of total revenue and 92.8% is the most recent year. The company's historical unlevered beta is 1.06 which has been used in the inputs to forecast the company's weighted average cost of capital. The following company expenses have been capitalized: Rent and Selling & Marketing which make up 1.2% and 4.4% as a percentage of revenue respectively. Utilizing the estimates of unlevered free cash flow for the next five years, the pro forma computed an intrinsic value of $4.47/share while the current stock price is $4.98/share. The recent trending increase is most likely due to the fact that Avon's stock price reached an all-time low of $2.38/share and bottom feeders attacked. Nevertheless the company has not surpassed $6.00/share proving an accurate valuation along with decisive valuations from the Street.
Below we can see the following variables and their sensitivity/attribution to variations in Avon's stock price: Revenue, Op. Exp., Dividends, NWC, CAPEX and Op. Cash.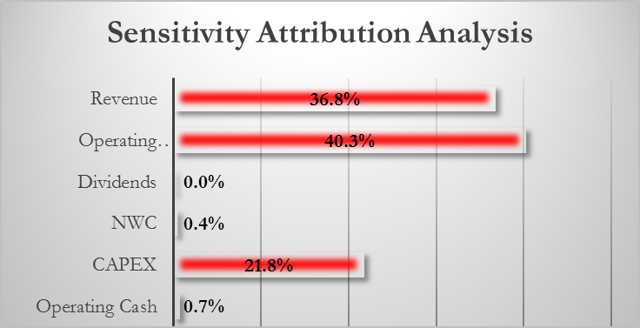 (Image created by author using data from Capital IQ)
Operating expenses typically make up the largest percentage in these analyses since most companies face the obstacle of cutting costs for their business operations. However, what is unusual is how sensitive the company's stock price is to revenue. Most companies have a steady/predictable stream of revenue. Since Avon's revenue has been drastically decreasing for the past four years it is difficult to see the upside potential in this investment.
As of 4/15/2016, Avon is currently priced at $5.00. Of the 12 estimates covering this stock (on Bloomberg), they have a median 12-month target price of $4.56. The chart above shows the price (white) and 12-month target prices (yellow) of analysts' estimates over the past two years. Since AVP has reverted to $5.00/share and fallen in-line with analysts, it has been stagnant. It is likely the stock price will remain around this value for some time…
Conclusion:
In conclusion, The Avon Company, has been facing and will continue to face a series of drastic changes in the company's business operations for some time. Relocating headquarters and outlining a marketing strategy suitable to modern technology and social media will determine how much lost market share can be recovered. The company is expected to endure expensive restructuring costs making it fairly difficult to expect positive earnings for the year 2016. From an investor standpoint, despite the apparent cheap stock price compared to its historical value, this company has little upside potential.
Disclosure: I/we have no positions in any stocks mentioned, and no plans to initiate any positions within the next 72 hours.
I wrote this article myself, and it expresses my own opinions. I am not receiving compensation for it (other than from Seeking Alpha). I have no business relationship with any company whose stock is mentioned in this article.