As in many other industries, Japan has held an outsized importance in Asian aviation. Due to a favorable location on the Pacific Rim, Japan has maintained a leadership role in the transpacific airline industry even as economies and airlines in other East Asian countries have grown. Recent economic and governmental actions both on a macroeconomic and airline industry specific basis could lead to the largest changes the transpacific airline industry has ever seen. Airlines, airports, communities and economies on both sides of the Pacific will be affected and there will significant revenue shifts in the process.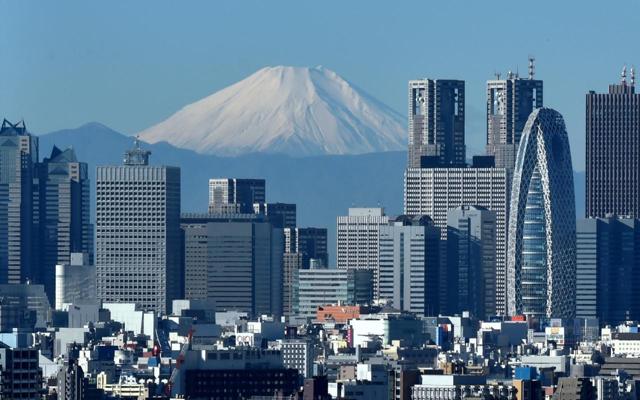 Historical and Market Context
The United States secured extensive traffic rights for its airlines to, from and through Japan after WWII. Japan became the Asian epicenter of US airline networks in Asia. Northwest Airlines and Pan Am used Tokyo as a hub to distribute airline passengers between the US and East Asia via Japan and also used valuable rights to carry local passengers between Japan and other Asian destinations. Seventy years after WWII and decades after the growth of the Asian Tigers, Japanese airports still are some of the largest on the Pacific Rim and in the world and US and Japanese carriers have some of the largest transpacific networks.
US airlines that serve Japan include American Airlines (NASDAQ: AAL) Delta Air Lines (NYSE: DAL) Hawaiian Holdings (NASDAQ: HA) and United Continental (NYSE: UAL). Japanese airlines include All Nippon Airways and Japan Airlines (NYSE: OTCPK:JAPSY)
The largest transpacific carriers
Graph 1 shows the largest carriers across the Pacific, their approximate number of seats per day each way, and their share of total transpacific seats.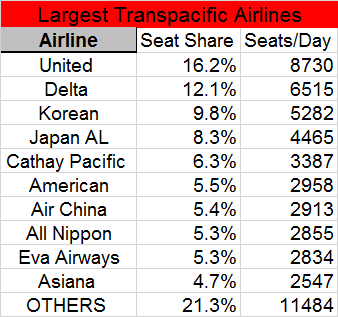 Source: published airline schedules
The role of Tokyo as a connecting hub can be seen in graph 2, which shows that four of the largest transpacific airline hubs in the Asia-Pacific region are at Tokyo Narita airport based on summer 2016 schedule data.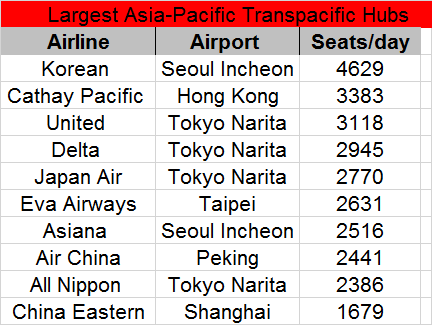 Although not shown, in summer 2015, DAL's hub at NRT was the 2nd largest transpacific hub, with the ranking change reflecting DAL's shift of capacity from Japan to other markets in Asia. Also not shown are UAL's operations at Shanghai and Beijing, ranking as the 12th and 13th largest Asia-Pacific gateways and the 1st and 2nd largest by US carriers outside of Japan.
Graph 3 shows the size of US carriers' transpacific Asian operations and the Pacific as a percentage of total passenger revenue from carrier 10-K reports for AAL, DAL, HAL and UAL.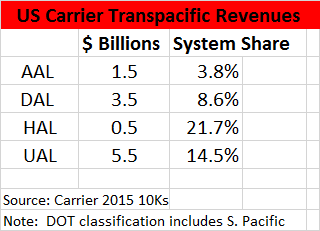 Despite the weakened yen and increased capacity from Chinese carriers, all US carriers were profitable over the Pacific in the first three months of 2015, aided by lower fuel prices, which helped some carriers more than others due to fuel hedging activity.
Tokyo is currently served by two major airports. Haneda airport was Tokyo's domestic and international airport until 1978 when Narita airport opened and became the primary airport for intercontinental flights. Narita airport has less runway capacity, handles few domestic flights, and is further from downtown Tokyo. While Japan's original intent was to have separate domestic and international airports for Tokyo, that model is used in few cities around the world because it limits the ability to build a strong global hub, limiting Japanese carriers' ability to compete with other Pacific Rim hubs.
In a consolidated airport scenario, Haneda makes the most sense to create a single global hub. With the opening of Haneda's new international terminal and an additional runway in 2010, the Japanese government began negotiating with foreign governments to begin moving international flights from Narita to Haneda.
Although UAL, which acquired Pan Am's transpacific assets 30 years ago, focused its transpacific growth on Asia markets outside of Japan, Northwest retained its heavily Japan-focused transpacific network until it merged with DAL in 2008. Although DAL continues to grow its Asian presence outside of Japan, 45% of its transpacific capacity as measured by seats is still to Tokyo due to its hub there compared to 28% for UAL and 33% for AAL.
Delta not only has maintained the position of having the largest local market share between the US and Japan but also operates the world's largest airline hub on foreign soil at Tokyo Narita. Delta continues to use the traffic rights granted to Northwest decades ago to connect passengers from the United States to other points in Asia via Tokyo and Delta is also able to sell tickets on its own aircraft from Japan to other points in Asia. American operates no flights on its own aircraft to any points beyond Tokyo while United operates just a single flight beyond Tokyo.
Japanese airlines have also had to adapt to the changing transpacific market and part of their adaptation has included creating larger hubs at which they can base their transpacific flights and to reduce costs in order to compete with airlines in countries with lower costs of living. As a historic legacy carrier, Japan Air Lines was burdened by legacy airline costs and like its US peers, reorganized its finances under bankruptcy laws, an action that while necessary has negatively impacted its ability to obtain new traffic rights from the Japanese government. All Nippon Airways is a younger airline that has grown its network faster than JAL and has adapted to many of the challenges that have faced global and Japanese airlines. ANA Is now the largest airline in Japan.
Open Skies, Sort of
International air service is generally governed by air service treaties that are negotiated between countries with route authorities awarded by each country to its airlines. The United States has been an active proponent of Open Skies agreements, which allow free market forces instead of government negotiated limitations to govern international air transportation. The first US Open Skies agreement was implemented with the Netherlands in 1992.
With the addition of capacity at Haneda, Japan wanted its airlines to be able to compete more effectively with airlines from other countries in Asia that had signed Open Skies agreements with the US. S. Korea signed an Open Skies agreement with the US in 1998; Korean Airlines now has the largest transpacific airline hub at Seoul Incheon airport.
In addition to market-based abilities to add flights and set fares, Open Skies agreements also allow US airlines to participate in antitrust-immunized joint ventures, but only with airlines in countries that have Open Skies agreements with the US. After the US and Japan signed an Open Skies agreement, All Nippon Airways formed a multi-country joint venture that includes UAL while Japan Airlines formed a joint venture with AAL. DAL has no joint ventures in Japan or East Asia but has extensive codesharing arrangements with a number of Asian carriers as well as an equity position in China Eastern Airlines.
Although the US and Japan signed an Open Skies agreement that allowed unlimited access to all other airports in Japan, it did not cover Haneda airport. In 2010, Japan and the US agreed to allow four flights by each country's carriers to Haneda but only late at night or early in the morning, just as Japan also negotiated with a number of other countries.
AAL, DAL and HAL were awarded the first round of flights to operate nighttime flights to Haneda but by 2016, routes and carriers had changed to allow one flight each for AAL, DAL, HAL, and UAL. The nighttime flight restrictions resulted in all eight flights operated by US and Japanese carriers serving just three US cities - Los Angeles, San Francisco, and Honolulu. Flights to the central and eastern US were proven to be not viable because of the required departure times from Haneda.
In 2013, the Japanese government started negotiating with other governments to provide access to daytime slots at Haneda. AAL and UAL both expressed great interest in obtaining new slots at close-in Haneda while also feeding their joint venture partners' hubs at Haneda. DAL strongly opposed the addition of any daytime slots at Haneda unless it could move its entire Narita hub to Haneda. DAL stated that piecemeal addition of daytime flights at Haneda would reduce Narita to Tokyo's version of Gatwick, London's 2nd largest airport for longhaul flights which is now largely used for discount travel with most premium business flights operating at London Heathrow.
DAL has maintained its large Tokyo presence by competing in many of the same market segments as Japanese airlines with flights to East Asia, island destinations in Micronesia, and to destinations in the US, something that would be impossible to do from Haneda without a large pool of slots or if DAL ends up with an operation split between Narita and Haneda.
Delta received help from politicians in Minnesota and Oregon in petitioning the DOT not to change the status quo at Haneda, saying that DAL's flights from Minneapolis and Portland to Tokyo, the only transpacific flights from those cities, would no longer be viable if daytime access to Haneda was allowed. Meanwhile, AAL, UAL and their Japanese partners all believe they can operate dual transpacific hubs at Haneda and Narita. DAL notes that there are virtually no examples of dual global hubs at different airports in any other city in the world.
Earlier this year, the US DOT announced that it had agreed with the Japanese government to allow five daytime flights for US carriers at Haneda in addition to one nighttime flight. AAL, HAL, and UAL all issued statements after the DOT's announcement stating that they intended to convert their existing nighttime flights to daytime flights using the newly secured rights. DAL, in contrast, said it was "deeply disappointed" with the new agreement and that Haneda would remain a severely restricted airport with limited competition. Delta continued by saying that it would do its best to "maintain the viability of our current Asian route structure and our Tokyo-Narita hub for as long as possible, recognizing that commercial impacts are imminent. Delta will make a careful assessment and adjust our network accordingly."
The latest twist in this transpacific saga that could affect billions of dollars of US airline revenue came at the end of last month. The US DOT said that it would allow each of the four existing US airline Haneda flights to be converted to daytime flights - but only through the winter of 2016-2017 since the DOT cannot render its decision regarding new routes before the deadline for slot allocations. However, the second part of the DOT's decision was that carriers would not be permanently allowed to convert their existing nighttime flights to daytime flights and they would be required to submit applications to the DOT for every route that they wished to operate to Haneda.
The DOT stated that changes to Haneda slot times changed the potential viability of flights to Haneda from other parts of the US beyond the three US cities that currently have service on the eight flights to Haneda, four each by US and Japanese carriers. A complete and full process of allocating all US-Haneda flights for US carriers is necessary according to the DOT.
AAL, HAL, and UAL all issued immediate statements asking for the DOT to reconsider its position, saying that the DOT's decision to require US carriers to rebid for authority that was previously issued was without precedent. UAL's statement included the pointed statement, "…at no point during the US-Japan negotiation process was United made aware that it was supporting a deal that would result in its existing San Francisco-Tokyo Haneda slots being reallocated." This time, DAL issued a statement supporting the DOT's decision to require applications for all Haneda routes.
The Japanese government has the right to award an equal number of flights to Japanese airlines but it has said that it might award more than half of the flights to All Nippon Airways, a partner with UAL, instead of splitting route awards between ANA and Japan Air Lines. In another Japanese proceeding involving Haneda airport, ANA was awarded more than half of the slots in that route case.
In the first Haneda route case in 2010, the US DOT awarded half of the four available routes to DAL and stated that AAL and UAL's joint ventures with Japanese carriers provide them with Haneda access through their partners. If the Japanese government does not divide new flights equally between ANA and Japan Air Lines and if the Japanese airlines do not move their existing US-Haneda flights to other gateways, the DOT could make its route awards such that Haneda access is balanced between US regions and carriers.
AAL has applied for service to Haneda from Los Angeles and Dallas/Ft. Worth. DAL has applied for three routes - Los Angeles, Minneapolis/St. Paul, and Atlanta. Hawaiian has applied for routes from Honolulu and Kona. UAL has applied for routes from San Francisco and Newark.
Risks, Potential Outcomes, and Influencing Factors
The route application process will play out over the next months with a decision likely in the fall of 2016. While there is a great deal of uncertainty about how the deal will affect US airlines or their transpacific operations, a couple of realities seem certain.
The number of flights between the US and Japan has been shrinking for a number of years and that trend is likely to accelerate with the Japanese government's opening of limited access to Haneda. The highest value passengers will use flights to Haneda which will weaken remaining flights to Narita. No carrier has made any statements about its intentions for future flights at Narita other than DAL's statements that its Portland and Minneapolis flights to Narita are not likely viable after the addition of new Haneda flights. It is very likely that new Haneda flights will come at the cost of current flights to Narita.
Connections at Narita by all carriers will likely shrink as the lower amount of seats at Haneda than Narita will incentivize airlines to sell Haneda flights to local Tokyo passengers.
Other Asia Pacific airline hubs are likely to benefit with airlines in S. Korea and their partners the most likely beneficiaries in gaining additional connecting traffic.
Some cities in the US that have service to Narita will probably lose service to Tokyo as Narita hubs are weakened. Cities like Denver; Portland, OR; and San Diego could be at risk of losing service. Strangely, DAL's application for Minneapolis service is the only Midwest city request from a US airline while AAL's application for Dallas/Ft. Worth service will compete with DAL's proposed Atlanta route for service to the South, Southeast, and Eastern US.
Airline partnerships will matter in the route case. The DOT has ruled before that joint ventures provide access for US carriers via their partners which could increase the percentage of flights given to DAL and HAL, neither of which is aligned with a Japanese carrier. DAL argues that UAL should get no routes because it will already receive at least one-fourth of the Haneda slots through its joint venture partner, ANA. In its application, UAL provides very few references to its ANA partnership. AAL has argued that it is a disadvantage in Tokyo and the Pacific even though data shows that AAL and Japan Airlines on a combined basis have more seats between the US and Japan than DAL.
Aircraft size has traditionally been a key factor that the DOT has considered but yet AAL has proposed using the 787-8 for its Los Angeles route, the smallest aircraft proposed by any of the US carriers. DAL, which also is proposing Los Angeles service (both AAL and DAL currently operate LAX-Haneda service) will use 290 passenger 777s for all of its routes, the largest number of seats per aircraft by any of the airlines.
DAL will likely have to further restructure its Narita hub by adding new nonstop routes from the US to the cities in its Asia network that are only served via Narita. While DAL could lose some or all of the local intra-Asia revenue it currently carries, the amount is less than a couple of percent of its total transpacific revenues. Intra-Asia rights will not be eliminated and DAL could come up with a strategy to continue to use some of them.
HAL faces a tougher battle in gaining improved and expanded Haneda access because the potential time improvement to daytime slots is less for Hawaii than it is for cities in the Central or Eastern US. Also, the DOT has considered in the past that Hawaii traffic is almost entirely Japan point of origin and terminating in Hawaii. The DOT has attempted to give route access where the greatest benefit for mainland consumers can be gained and that is accomplished in part by providing access to mainland hubs and the hundreds of US cities that are served from them.
AAL and UAL both face the risk, perhaps UAL more so than AAL, that they could lose access to Haneda using their own aircraft.
Conclusion
DOT route cases rarely draw the attention of consumers or investors. The Haneda route case could result in significant shifts and potential loss of revenue for several airlines in an environment where transpacific routes can easily generate more than $100 million on an annual basis. Investors would do well to pay attention to the DOT's Haneda route case and the strategic changes that come after the DOT issues its decision.
Disclosure: I/we have no positions in any stocks mentioned, and no plans to initiate any positions within the next 72 hours.
I wrote this article myself, and it expresses my own opinions. I am not receiving compensation for it (other than from Seeking Alpha). I have no business relationship with any company whose stock is mentioned in this article.