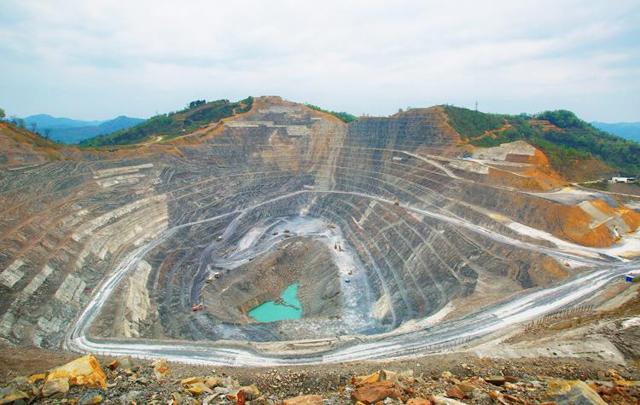 Source: magazin.im.org - Jinfeng mine China.
Eldorado Gold Corporation (NYSE:EGO)
This article follows my preceding article on Eldorado Gold published on March 25, 2015 about the fourth-quarter results.
Eldorado Gold is producing gold mainly from two mines in Turkey (381,762 Oz in 2015) and three mines in China (225,374 Oz in 2015). The company has three projects in Greece: Skouries, Olympias and Stratoni ("zinc").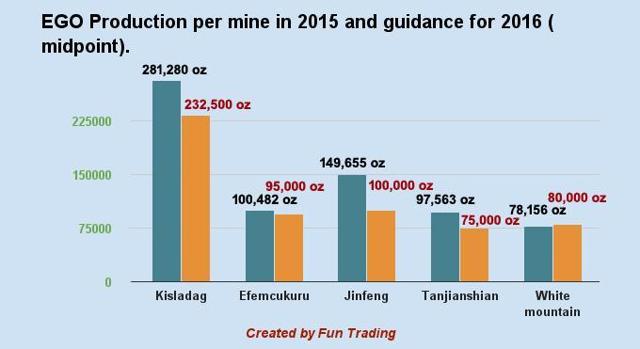 Today, Eldorado Gold announced the following:
It has reached an agreement to sell its 82 percent interest in the Company's Jinfeng mine to a wholly-owned subsidiary of China National Gold Group ("China National Gold") for US$300 million in cash, subject to certain closing adjustments.

The transaction is expected to close in the third quarter 2016 and is subject to obtaining various regulatory and other approvals and other customary closing conditions.
A little bit about the Jinfeng mine:
In 2016, Jinfeng is expected to process 930,000 tonnes of ore at a grade of 3.89 grams per tonne gold. The ore will be strictly sourced from the underground operations and a small amount of stockpile, as the open pit operations were successfully completed in April 2015. As underground development opens additional working faces, underground ore mining will increase to an eventual target of 1.2 million tonnes of ore per year, bringing production back above 130,000 ounces of gold per year. Sustaining capital costs for 2016 are estimated at $15 million.
Jinfeng mine is the biggest mine for Eldorado, with production estimated at 95K Oz to 105K Oz in 2016.
| | | | | |
| --- | --- | --- | --- | --- |
| | Guidance 2016 | Cash Cost | Sust. CapEx | CapEx |
| Jinfeng | 95K to 105K | $700-$750 | 15 | 0 |
| Tanjianshian | 70K to 80K | $675-$725 | 5 | 0 |
| White mountain | 75K to 85K | $625-$675 | 15 | 0 |
| Eastern Dragon | 10K to 20K | $125-$175 | 0 | 35 |
On November 5, 2014, Eldorado Gold was seeking a buyer for its mines in China.
The miner is seeking as much as $1.5 billion for its four Chinese projects, the people said, asking not to be identified as the matter is private. The assets have drawn interest from companies including China National Gold Group Corp., the nation's biggest producer of the commodity, as well as Zhaojin Mining Industry Co., Zijin Mining Group Co. and Jiangxi Copper Co., they said.

... The company's assets in China include the Tanjianshan open pit mine, located in northwestern China's Qinghai province, and the White Mountain underground mine in Jilin province close to the border with North Korea, according to its website.

In February, Chinese private equity firm CDH Investments Fund Management Co. agreed to spend $40-million for a 20 per cent stake in Eldorado's Eastern Dragon project, situated near the Russian border.
I expect EGO to give some clarification about the new production guidance for 2016. If the sale is scheduled for the 3Q'16, the actual production guidance of 565K Oz to 630K Oz should be revised to approximately 545K Oz to 605K Oz.
The actual Chinese production for 2015 is indicated below:
Production of Gold per mine (China):
Country
Mine

4Q'15

Oz

3Q'15

Oz

2Q'15

Oz

1Q'15

Oz

4Q'14

Oz

China
Tanjianshan
16,808
29,055
25,074
26,626
-
Jinfeng Mine
36,707
38,028
38,234
36,686
-
White Mountain
22,231
16,359
18,683
20,883
-
Eastern Dragon was not a producing mine in 2015. However, the Eastern Dragon Project Permit Approval was received from the National Development and Reform Commission. Let's look at the balance sheet in 2014 and 2015.
Year 2015
Year 2014
Production in Oz
723,532
789,224

Gold Revenues

Total Revenues

in $ Million

823.8

863.3

980.9

1,067.9

Total cash cost

$/oz

552
500

AISC

in $/Oz

842
779
Net Earnings to shareholders $ Million
(1,540.9)
102.6
Shares Outstanding million
716.59
716.21
Adj. EPS
0.02
0.19
EPS
(2.15)
0.14

Impairment

in $ million

1525.2
-
Average realized gold price $/Oz
1,168
1,266

Total Debt

$ Million

589.40
587.20

Cash generated from operation

$ Million

193.1
-

Cash and Cash equivalent

$ Million

288.2
498.51
Dividend per share
0
C$0.04
EGO's liquidity was $667.6 million at the end of 2015, including $292.6 million in cash, cash equivalents and term deposits, and $375.0 million in unused lines of credit.
With this $300 million purchase - eventually more divestiture in China soon - the company will have approximately $600 million in cash by 3Q'16 and will be able to retire most of the total debt, which is a positive.
The main issue is still the Greek assets. Eldorado Gold took a writedown of $1.53 billion in 2015 on its Greek assets after being forced to slow production and development of the mines in that country.
The Greek leftist government is definitely not friendly at all, and has created a very damaging business situation, which has put the entire Greek prospect - Skouries, Olympias and Stratoni - in jeopardy.
Conclusion:
I see this sale as a positive for the company and will allow EGO to reduce debt (if it decides to) and eventually accelerate some important projects such as Certej, which is a gold/silver project in Romania (130K Oz Au and 830K Oz Ag), or the Tocantinzinho gold project in Brazil (165K Oz annual).
I still maintain a hold on EGO, and I believe the stock price is actually a bit overbought now. I would eventually buy if the price per share retraces to $3.20s which is the support, in my opinion. However, gold price is of paramount importance.
Disclosure: I/we have no positions in any stocks mentioned, and no plans to initiate any positions within the next 72 hours.
I wrote this article myself, and it expresses my own opinions. I am not receiving compensation for it (other than from Seeking Alpha). I have no business relationship with any company whose stock is mentioned in this article.
Additional disclosure: I trade EGO occasionally