Apple's (NASDAQ:AAPL) March quarter earnings came in just about as I expected, but the June quarter guidance was... not pretty. However, the guidance and earnings call comments reveal much about the impact of the iPhone SE, much of it good in the long run. To defend the iOS ecosystem, Apple is being forced to slug it out with competitors in a bruising price war. With a cash horde of $232.9 billion, it's a war Apple can afford to fight and win.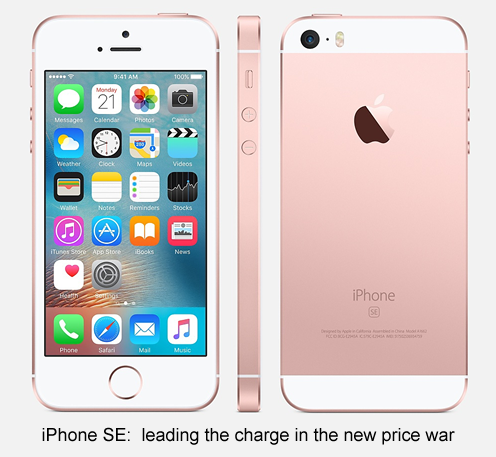 Source: Apple
The SE Tipping Point
The fundamental message of the earnings report guidance is that the days of high margins (both gross and operating) are over for now. Apple guided to a much lower gross margin of 37.5-38 percent compared to the March quarter's 39.4%. Given the operating expense guidance of about $6 billion, this puts operating margin at about 23% assuming that Apple gets close to its high-end revenue guidance of $43 billion. This is a steep drop from Apple's customary 30% operating margin.
It seems to me that most analysts haven't fully processed what the guidance means. Most analysts are so accustomed to thinking about Apple as a high margin niche player that they can't imagine it doing anything else. Under this assumption, perhaps the expectation of the bears is reasonable. When confronted with what they viewed as the inevitable assault of "just as good" commodity smartphones, they expected Apple to retreat into the elitist isolationism that characterized Apple in the late 90s.
Things are so much different from back then. Apple is not on the verge of bankruptcy, and its production costs are much closer to its competitors. It also has significant technological advantages in its operating systems and custom-designed processors. Most importantly, it has a large (1 billion +) ecosystem of Mac OS, iOS, tvOS, and watchOS users.
Apple is now faced with competition from very capable smartphones from Samsung (OTC:SSNLF), Huawei, and Xiaomi (BATS:XI) that are priced at the mid-tier but are very competitive in performance. Huawei has imitated Apple in producing its own custom designed processor, the Kirin 950 for use in its top end phones. While not quite as good as Apple's A9 in the iPhone 6s, it's very good. The processors in the Samsung and Xiaomi flagships use the Qualcomm (NASDAQ:QCOM) Snapdragon 820, which is at least as good as the A9, if not better.
Apple might have decided to simply wait out the June quarter, assuming that the iPhone 7 would once again restore its supremacy. The processor in iP7 will undoubtedly leapfrog the competition, but it's unclear that Apple or any of its competitors can achieve permanent advantage.
The impact of iPhone SE provided a tipping point in Apple's thinking. As Apple management acknowledged in the conference call, demand for the SE was much stronger than expected. The SE demonstrated that demand was much more elastic. Moving to what was for Apple an unprecedented low price point stimulated demand more than expected.
While margins are undoubtedly lower for the SE, I don't doubt that it's still profitable. The SE showed that Apple could grow "down market" profitably, without sacrificing user experience or cheapening the brand or its products. The SE provided a path forward through the competitive landscape, but it would mean a dramatic change in profitability, at least in the near term.
Caught Off Guard
I was, like most people, a little surprised and disheartened by the June quarter guidance. Before I get to an analysis of the guidance, let me just summarize the comparison of the March quarter results with my expectations before the earnings release.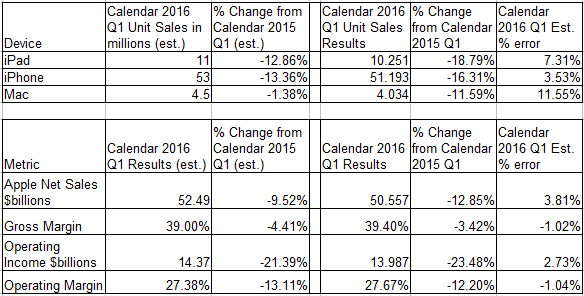 As the reader can see, I got fairly close in most estimates. And I scored a bulls eye in R&D expense. I had modeled $2.5 billion and it came in at $2.511 billion. As I expected, operating margin declined as Apple continues to invest in R&D expansion, while trimming costs slightly in SG&A.
Moving on to the June guidance, in the conference call, Apple pointed to a number of factors for the revenue decline, including macro headwinds, foreign exchange headwinds, the impact of SE sales (lower margins), and a $2 billion channel inventory drawdown.
Not mentioned is the impact of competitive pressure from some very good smartphones from Samsung, LG, HTC, Xiaomi, and Huawei. Well, one wouldn't expect Apple to highlight this in their earnings call, but it's clearly a major factor, especially in the 26% y/y revenue decline in Greater China for the March quarter.
My reading of the guidance and the $2 billion channel inventory drawdown is that this is very much reflective of the mix shift to the SE. The SE is in effect cannibalizing sales of the more expensive iPhone 6. The cannibalization is mostly temporary, as I expect the iP6 to be discontinued once iPhone 7 is released in September. The $2 billion drawdown is clearing the channel of iP6/6 Plus inventory in anticipation of the iP7.
When iP7 is released and iP6 discontinued, the iPhone lineup will make more sense. There will be 3 sizes of iPhones all running the A9 processor and available at significant discounts compared to the iPhone 7.
Based on Apple's guidance, I've prepared an early (preliminary) estimate of June quarter results. I've incorporated the impact of the SE and the new 9.7 inch iPad Pro. In the conference call, Cook indicated that iPad could have the best "revenue compare in over two years."
This implies sales of about 13 million units. I consider this credible, in light of Intel's discontinuance of contra revenue and the steep decline in tablet processors that Intel shipped last quarter (down 44% y/y). I've always said that I felt this was a major factor in the iPad sales decline, so removing this pressure can be expected to be beneficial.
In the table below, I summarize the current model results for the June quarter.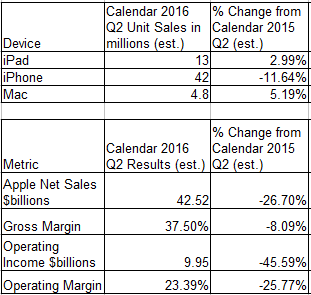 One thing I want to point out is that I'm still booking continued growth in R&D, 8.15% sequentially. I believe the predictions of massive layoffs at Apple are simply ridiculous. Apple is expanding the R&D workforce for a very good reason and will continue to do so, especially as Campus II nears completion. There may be slowing of hiring, but not across the board layoffs.
Investor Takeaway
Apple will be testing new lows in operating margin in the June quarter. In the past, when Apple's margins dropped into the mid-twenty percent range, such as in 2013, the market was not happy, and Apple's share price suffered. In fiscal Q3, Apple's operating margin will be even lower, so there really isn't any reason to expect a recovery in share price for the June quarter.
I think the probability is high that Apple's share price will only go lower. And of course, there will be a non-stop litany of bearish predictions about Apple that won't help. The price war could be long and bloody, and will undoubtedly test the patience of Apple investors.
It's going to take time for investors to adjust to the new reality of Apple's margins. Despite the negative impact on share price, lowering margins and becoming more price competitive is something that I've long advocated. We're already hearing in the media that the decline of the iPhone was inevitable. That's not what was inevitable. What was inevitable was that Apple would come to this juncture, faced with having to compete on price.
Under the circumstances, I still recommend the stock as a buy, but with the caveat of investing for a long-term (3-5 year) investment time frame. I believe the stock probably has further to drop. I think it will be an even better bargain by mid-Summer, and plan to hold off on purchases until then. I'm perfectly comfortable holding the stock and have no concerns about Apple's long-term viability. I remain long Apple.
Disclosure: I am/we are long AAPL, QCOM.
I wrote this article myself, and it expresses my own opinions. I am not receiving compensation for it (other than from Seeking Alpha). I have no business relationship with any company whose stock is mentioned in this article.
Editor's Note: This article discusses one or more securities that do not trade on a major U.S. exchange. Please be aware of the risks associated with these stocks.