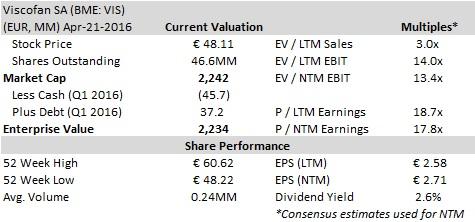 Source: Capital IQ
Investment Summary:
Viscofan (OTC:VSCFF) is the world's leading artificial meat casing manufacturer. An investment in Viscofan represents an opportunity to buy a well-capitalized firm, in a stable industry, with market leading margins and returns, all at a discount to intrinsic value. The industry has been trading off lately as growth numbers have slowed and currency fluctuations have placed pressure on both manufactures and buyers. Investing in Viscofan represents the chance to take a long term view on a temporarily pessimistic market. Viscofan's multi-product strategy and growing cash balance make it poised well to capitalize as the industry stabilizes. Management continues to invest at returns well above the cost of capital and can support the 50% dividend payout ratio going forward. Despite its competitive position, improving margins and returns on capital, Viscofan has been selling off with the rest of the industry, pushing it very close to the 52-week low. Long term investors can take advantage of this short term turbulence and ride Viscofan back to its intrinsic value.
Industry:
The global meat casing industry is approximately €4.4 Billion and made up of two primary segments, natural and custom casing. The custom segment can be broken down further into Collagen, Cellulose, Plastics and Fibrous, each offering unique attributes.
Collagen: Casings are made from a sophisticated technology using cow and pig hides, primarily used for small caliber and large caliber sausages
Cellulose: Casings made from natural cellulose, primarily used for manufacture of cook sausages.
Plastics: Casings are made from a range of polymers offering highly effective barrier properties, mechanical strength, thermal shrinkage, peeling, slicing and heat resistance
Fibrous: Casings are cellulose casings reinforced with manila hemp, which makes for high strength and highly uniform casing.

Source: Viscofan
The natural casing market has been in a slow decline, falling from 51% in 2011 to 49% in 2015. Artificial casings provide meat producers with the opportunity to reduce exposure to natural gut prices which may fluctuate. The industry can also be broken down by geography. North American and Europe are the largest and most established casing markets, highlighted by highest expense on casing per capita. Industry growth has come from the emerging markets, where populations have been experiencing the globalization of eating habits. The increase in purchasing power has led to higher meat consumption.

Source: ViscofanSource: Viscofan, Food and Agriculture Organization of the United Nations

The driving factors behind the meat casing industry are thus the available population and the meat consumption per capita. Both these factors are expected to increase going forward with growth rates of 1% and 1.5% respectively until 2030. In China, Viscofan has successfully increased its market share from 0.5% in 2010 to over 15% in 2015.
Additionally, as consumers continue to demand more in terms of food safety and convenience, meat producers are required to respond by customizing products to a higher degree. The development of customized casings has greatly aided companies which wish to be competitive, particularly in Europe and North America, where the use of casings is more widespread. Because of the high requirements demanded by customers and the capital intensity of the industry, there are high barriers to entry, discouraging new entrants. Moreover, given the significant impact casings can have on the end product, casing buyers have a level of customer captivity.
In terms of competitive environment, the casing industry is comprised of 8 main players (Devro (OTCPK:DEITF), Kalle, Viskase (OTCPK:VKSC), Shenguan (OTCPK:SHGXY), Visko Teepak, Atlantic Pak, Nippi), with most focusing on specific products and/or geographical regions.
Competitive Position:
Viscofan is the world's leading producer of custom meat casing, with an estimated 31% of market share. It is the only casing maker to offer all four types of custom casing, with over 50% of customers purchasing products across all four categories. Viscofan has been able to successfully grow its market share within the custom casing segment by leveraging its scale and competitive position.

Source: Viscofan
Growing market share can signal a differentiating factor between firms, whether it be a cost advantage (ex. ability to compete at lowers prices) or a demand advantage (ex. better positioned in a faster growing part of the market). By being the only firm to offer all four types of customized casing, Viscofan is better able to meet customer demands, as they can offer an "unbiased best solution" with no need to push one type of product over another, creating the most value for clients. Competitors in the market inherently have a bias to offer the type of casing they specialize in, regardless of customer requirements.

Source: Capital IQ
This strong competitive position is highlighted in the operating statistics above, where Viscofan has some of the best margins and growth numbers, all while maintaining the most conservative capital structure. It should be noted that although Shenguan appears to have materially higher margins for everything but gross, it has questionable history, previously being accused of fraud by Emerson Analytics. Combining this accusation with significant volatility in their price and a profit warning earlier this year provide enough justification to safely ignore them from peer comparison.

Source: Viscofan
High margins are also a signal of strong competitive positioning and Viscofan clearly displays this, as shown above. The margins have also been fairly consistent and improving over the last few years, in line with their Be More Strategy initiative (2012-2015). Going forward, margins may suffer, particularly in North America where competition is more intensive. However, in places such as South America, Viscofan is the only local producer of collagen casings and could leverage this into higher margins. (Source: Viscofan)
Returns and Sustainability of Returns:
The ability for a firm to create value in the long term is based on their ability to invest at returns greater than their cost of capital. Returns can be measured in a number of ways, the ROIC (returns on invested capital) shown below is calculated using the formula: NOPAT / (Average Equity + Average Debt). Returns have been strong for the past three years, and likely in the position to create value for the firm and its shareholders.

Source: Viscofan
Historically shares of Viscofan have not traded close to market performance, creating a 5Y beta of 0.18. Although the casing industry is not highly cyclical, this does not accurately reflect the risk of the business. Instead, a global unlevered beta for food processing companies of 0.82 (4) is more appropriate (source). A market risk premium of 7.924% is used from Market Risk Premia for Spain. Together these provide a cost of capital of 6.7% based on the current capital structure. Clearly, Viscofan is in a value creating position in which it has been for some time. With yields as low as they are, there is additional opportunity to create value by lowering the cost of capital and leveraging up closer to food processing average (c. 20% debt/capital vs. Viscofan's 5%).
Without structural changes to the industry or significant disruption, Viscofan should be able to achieve returns greater than their cost of capital for the foreseeable future.
Valuation:
This report attempts to identify the intrinsic value of Viscofan through a discounted cash flow model. This approach, based on the assumptions outlined below, identifies a potential upside in the share price of c.13% (estimated intrinsic value of €54.22).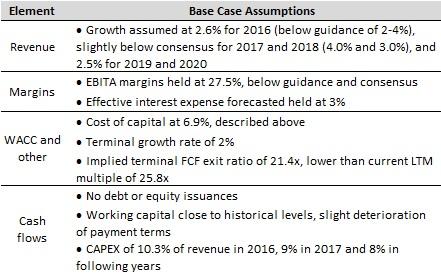 Evaluation of Management:
A: Excellent, B: Good, C: Acceptable, D: Needs improvement
Operations: Operational efficiency is important in any industry, however it is particularly refreshing to see it emphasized so much by the current market leader. Viscofan is making strong efforts not only to defend its competitive position but to also grow it. Rating: A
Strategy: Investing in higher growth markets and divesting non-core assets, IAN, highlight management's focus on achieving high returns and improving EBITDA margins in the core business. Rating: A
Capital structure: Viscofan currently has a conservative capital structure, materially less leveraged than the industry average as well as when compared to historical values. This decreasing leverage is a bit surprising in the current low interest rate environment where a number of firms have levered up. Viscofan could lever up debt somewhere closer to 10-15% of total capital and still be very comfortable, while lowering its cost of capital. EBITDA coverage numbers are also very safe, (50x + for the past five years). Rating: B
Capital allocation: Viscofan sticks to a c.50% payout ratio and has not deviated significantly away from this for the past few years. A more stressing environment would really be the best test of their commitment to this dividend and the payout ratio. CAPEX tend to fluctuate year to year and reflect the investment opportunities available to Viscofan, this could signal appropriate allocation as they clearly identify opportunities before putting money in. They also invest for the long term, current R&D investments may not payout for a number of years, but the firm allocates where they see value. Rating: A
Signals: The CEO increased their number of holding shares 70% as shown in an exchange announcement in March 2016, highlighting the commitment by management and the view that shares may be undervalued. Rating: A
Guidance: The chart below highlights the historical differences between management guidance and actual results. Rating: B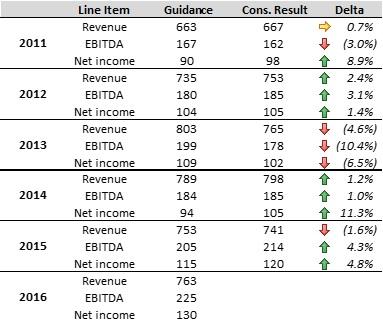 Source: Viscofan
Catalysts for further upside:
Appreciation of emerging market currencies relative to the Euro.
Acquisitions within the sector could strengthen Viscofan's leading position and could be financed with debt to ensure an accretive transaction.
Strengthening industry numbers.
Tangible opportunities from long term research/development investments.
Risks:
As a global company Viscofan has significant exposure to exchange rates and their impact on purchasing power for the countries in which they operate.
Further depreciation of emerging market currencies could slow growth, as shown by slowing demand in Brazil during Q1 2016.
Increased competition, particularly in the North American market.
Slowing meat consumption numbers, particularly in emerging markets.
Supporting Documents
Disclosure: I/we have no positions in any stocks mentioned, and no plans to initiate any positions within the next 72 hours.
I wrote this article myself, and it expresses my own opinions. I am not receiving compensation for it (other than from Seeking Alpha). I have no business relationship with any company whose stock is mentioned in this article.
Editor's Note: This article discusses one or more securities that do not trade on a major U.S. exchange. Please be aware of the risks associated with these stocks.