Chipotle (NYSE:CMG) has reported first quarter results on Tuesday, beating estimates for the bottom line, but missing revenue estimates. There are a couple of facts I want to look at. Depending on which way you look at these results, you might find them bad or alright when accounting for the E. coli impact.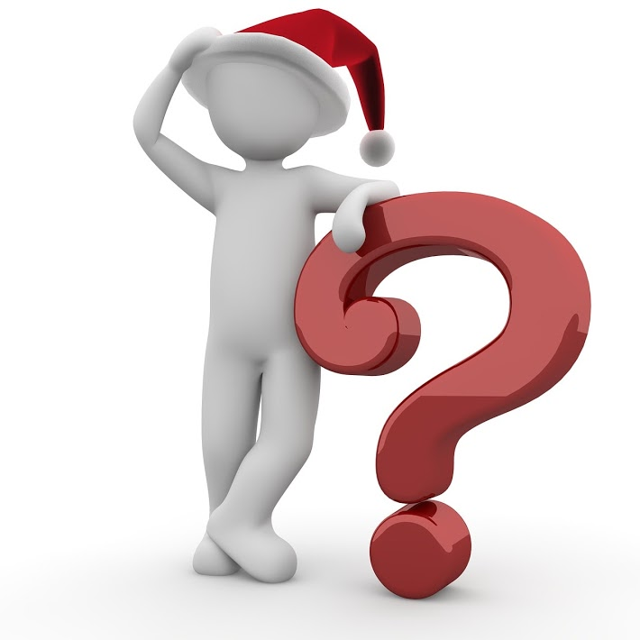 Chipotle grossed revenues of $835 million in the first quarter, comparable restaurant sales were down 29.7% year on year, whilst traffic was down 21.1% year on year. Chipotle lost $26 million, which is equal to EPS of -$0.88.
Chipotle's comparable restaurant sales were down by a bigger amount than expected -- analysts forecasted a comp sales decrease of 28%, whilst the actual decline was 170 base points higher. This obviously is a negative for the company, as it shows that customers are shying away from spending money at Chipotle to a bigger extent than previously thought. The transaction number (i.e. traffic at Chipotle's restaurants) was down less though, dropping 21%, which can be explained by Chipotle's free burrito campaign. Some customers got their burrito for free, thus contributing to traffic at the restaurant, but not leading to higher sales.
In order to determine how Chipotle's comp sales would have fared without the free burrito campaign, I believe it is best to assume a decline rate which lies in between the decline seen in traffic and the decline seen in sales (thus about 25%). After all there are customers who got a free burrito who would not have visited a Chipotle without the voucher, but on the other hand there are also customers who got their burrito for free who would have gone to Chipotle anyway (and would have paid for it, thus contributing to comp sales if they would not have had a voucher for a free meal).
Due to lower revenues and additional costs for the free burrito campaign, Chipotle's margins dropped substantially: The restaurant level operating margin dropped to 7%, due to other costs remaining at (or around) last year's level (e.g. SG&A expenses, which were stable at slightly more than $60 million) Chipotle's net income dropped to -$26 million. I believe this number is of less importance than the company's revenue and comp sales performance, as a quarterly loss of $26 million is something Chipotle can easily handle with its $250 million cash position. As long as Chipotle is able to bring revenues and comp sales up again, the company's earnings will go up again as well.
Chipotle has opened 58 new restaurants, bringing the company wide total to 2,066. This equals an annual growth rate of about 12%, which offsets comparable restaurant sales partially -- Chipotle's revenues were down ~23%, whereas comp sales dropped ~30%. Chipotle expects further rapid restaurant openings in the remainder of the year, despite the E. coli issue. The cash position allows the company to continue to open new restaurants at a substantial pace. About 170 more restaurants will be opened during the next three quarters, which will bring the restaurant count to a little more than 2,200 at the end of 2016.
Apart from new restaurant openings and a tax rate of slightly less than 40% for the year, Chipotle has not provided any guidance for the coming quarters. This means a lot of uncertainty for investors, but the fact that a lot of other companies have managed to deal well with E. coli outbreaks in the long term is a positive fact investors can look at. Fast food companies such as McDonald's (NYSE:MCD) and Taco Bell (NYSE:YUM), as well as food retailers [such as Wal-Mart (NYSE:WMT) and Target (NYSE:TGT)] have had E. coli outbreaks in the past, and all of these companies did well in the long run -- E. coli has been a temporary headwind for companies in the past, but not an issue that broke a company completely. If history is a guide, Chipotle will overcome these issues and get back to positive growth rates at one point in the future.
Taking a look at Chipotle's valuation, we can compare the price investors pay right now to the price investors had to pay in the past when Chipotle's sales were around the current level. With $835 million in sales in Q1, this means that Chipotle's revenues right now are where they were towards the end of 2013: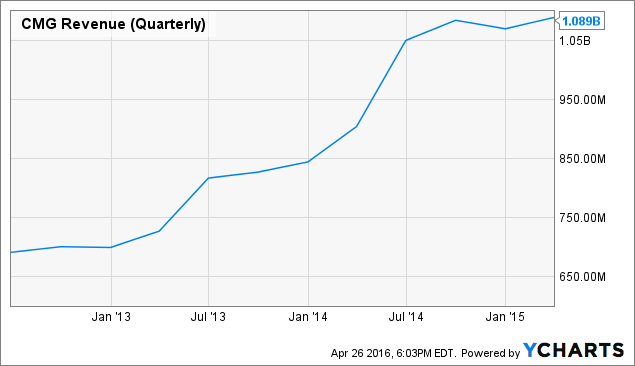 Chipotle's market cap, has basically not changed only slightly since then (October 2013):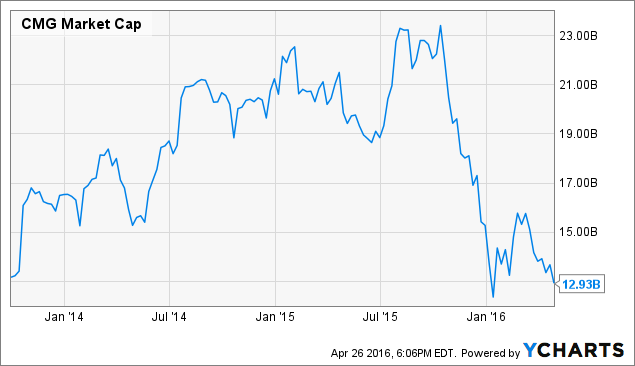 After having grown almost 100% from the end of 2013 fall 2015, Chipotle's market capitalization has dropped back to roughly $13 billion over the last months. When we account for Tuesday's 3.5% drop after hours and the company's most recent share count of 29.9 million, the company's market capitalization is actually slightly lower right now than it was in October 2013. This is despite being a much bigger company right now in terms of restaurant footprint, thus I believe the currently rather low market capitalization is only warranted if Chipotle does indeed not recover from the E. coli outbreak. If Chipotle is able to do what every other affected company has been able to do as well -- overcome this temporary headwind -- Chipotle's current valuation looks rather low, which makes Chipotle attractive for those willing to speculate on improvements over the next quarters.
If Chipotle is able to pull itself up again, the current price is attractive for long term investors, whereas the current price would be too high when we look at the bear case of Chipotle not recovering from the E. coli outbreak. Due to other company's success in recovering from such issues, I'm willing to speculate on the former, believing Chipotle's operations will improve over the remainder of the year.
Disclosure: I am/we are long CMG.
I wrote this article myself, and it expresses my own opinions. I am not receiving compensation for it (other than from Seeking Alpha). I have no business relationship with any company whose stock is mentioned in this article.