The strengthening of the US dollar against most of Philip Morris' (NYSE:PM) major operating currencies hurt the company's reported sales in 2015. Currency alone reduced EPS by $1.20 last year. Absent these effects, the company reported organic sales growth of 5.8%. The increase is thanks to the company's strong brands, which allowed the company to raise prices for its iconic Marlboro and well-known L&M labels to offset volume declines. While PM grew volumes in Marlboro and L&M, net volumes decreased 1%, mainly as a result of poor performance in Europe and Latin America. The company's recently reported first quarter results tell a similar story. Currency again had an outsized impact, and total volumes declined 1.4% despite growth in the company's premium brands. A key aspect of PM's growth strategy is to leverage the customer loyalty for its premium brands and increase prices as incomes rise in developing markets. But with the growth outlook for emerging economies slowing, and developed markets at maturity, PM has turned to innovation to boost growth.
Figure 1: Constant Currency Sales Growth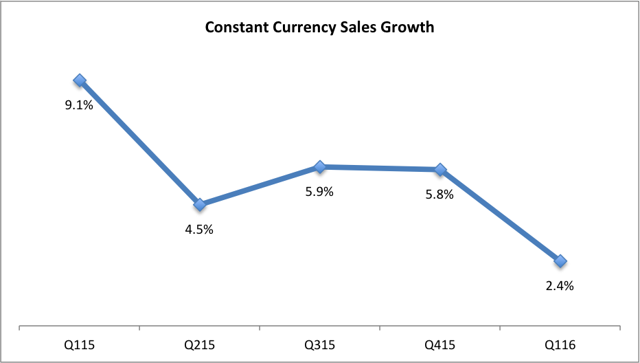 The company is doing so through iQOS, an alternative smoking instrument that produces nicotine hits by heating tobacco instead of burning it. PM has introduced iQOS in a number of test markets including Italy, Japan and Ukraine, and so far the results have been promising. According to The Economist, iQOS accounted for 1 in 30 cigarette sales in Tokyo, and Wells Fargo estimates such products could replace 30% of cigarette sales in developed markets by 2025. PM and other tobacco firms have invested billions to develop alternative smoking methods, with limited results. The search for a safer smoking option has encouraged many consumers to try alternative devices, but e-cigarettes often get a bad rep for their taste: e-cigs produce vapor with nicotine, but lack the tobacco flavor. What's more, there is little-to-no evidence that e-cigs reduce the risks of smoking. But PM CEO Andre Calantzoupolos believes his firm has discovered a magic formula that could transform the cigarette market. iQOS are unique in that they replicate the same cigarette taste and hit that smokers crave, without the more harmful effects caused by burning and inhaling smoke. Philip Morris cannot yet claim that iQOS are safer than cigarettes, but the company will attempt to convince regulators to allow it to use the "reduced risk" label. Regulatory approval is no guarantee, but there is potential. PM has a team of 300 scientists searching for proof of iQOS's health benefits, and claims that its product contains one tenth of the harmful chemicals found in cigarettes.
Figure 2: iQOS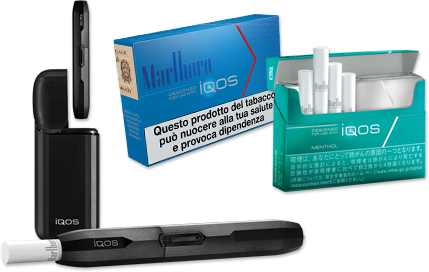 Source: fool.com
The e-cigarette market is still in its trial-stages, and accounts for less than 0.5% of the overall cigarette market. If iQOS can reverse the stigma surrounding alternative cigarettes the product could take off. Naturally, increased iQOS sales would cannibalize PM's standard cigarette sales, but iQOS's success would likely be a net gain for the company as it would cause consumers to switch from competing brands and allow PM to grow market share. Wells Fargo estimates that PM's profits in 2025 will be 50% with iQOS than without. And as long as the company can generate similar margins on iQOS as it does with its cigarettes, cannibalization should have a minimal impact. We expect that iQOS's margins will be similar to PM's premium cigarette margins, as product differentiation will afford the firm pricing power.
Figure 3: iQOS Impact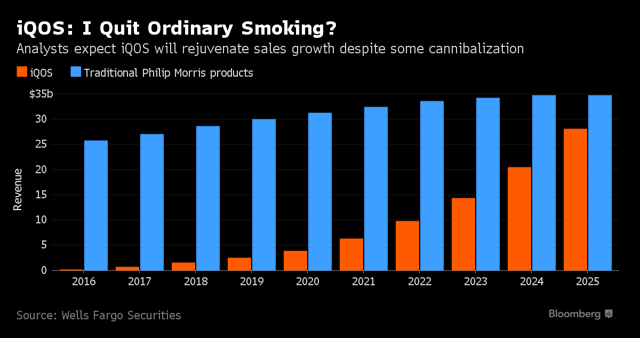 Source: bloomberg.com
iQOS' performance so far suggests that PM's R&D investments may finally be starting to pay off. It is still early, but signs point to a strong market, especially if PM can win over regulators and promote its products as safer alternatives to cigarettes. The growth outlook remains sluggish in virtually all of the company's operating regions, thus PM requires a new avenue of growth to achieve the sales increases implied by the company's current valuation. iQOS may be the answer. Price increases paper over declining volumes, and they can only last so long without end-market income growth. But the transition to a new way of smoking could offset the broad-based economic weakness. PM currently trades at a trailing P/E of 22.1, compared to 23 for Altria (NYSE:MO), 18.5 for British American Tobacco (NYSEMKT:BTI), 21 for Japan Tobacco (OTCPK:JAPAF), 18.8 for Reynolds (NYSE:RAI), and 20.8 for Imperial Brands (IMB). While the company is one of the best in the consumer staple space, it is still too expensive at these levels. The sector as a whole is overvalued, and we would wait for the stock to fall closer to its 5-year average P/E of 17 before initiating a position.
Disclosure: I/we have no positions in any stocks mentioned, and no plans to initiate any positions within the next 72 hours.
I wrote this article myself, and it expresses my own opinions. I am not receiving compensation for it (other than from Seeking Alpha). I have no business relationship with any company whose stock is mentioned in this article.