Flamel Technologies (FLML) is a small-cap pharmaceutical company with its headquarters located in France. The company has 2 different new drug approvals (NDAs) and one more on the way, as well as a variety of trials that are expected to announce progress in 2016/early 2017.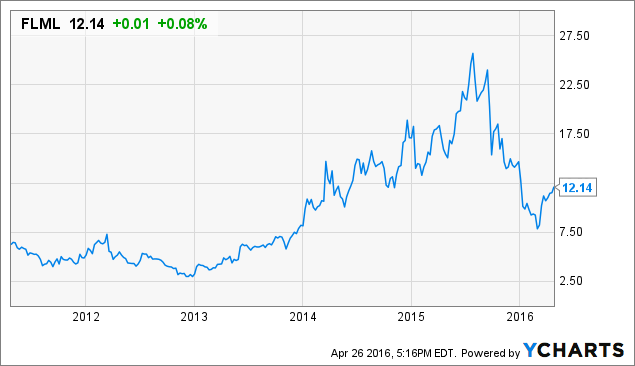 FLML data by YCharts
Upcoming PDUFA
The upcoming PDUFA results for FLML's third New Drug Application on April 30th is the highlight of the long thesis. According to one article, FLML can expect to generate $70-80mln in sales from the third NDA to its portfolio. Because the product is already an unapproved marketed drug, FMLM has not disclosed very much information to investors.
FLML is using the FDA's 505(b)(2) pathway to market this unapproved drug. Doing so, FLML is then entitled to 5 years of exclusivity to the product. At 5 years of $70mln, FLML could be looking at the approval of a $350mln revenue stream on April 30th. The growth of the FLML portfolio is reassuring as an investor because management seeks to not only grow earnings, but to grow the intellectual property and exclusivity rights of the portfolio as well.
Micropump Sodium Oxybate
A little more long term, FLML hopes to gain approval of its micropump sodium oxybate which enhances the efficiency Xyrem, a drug that treats narcolepsy. Jazz Pharmaceuticals (NASDAQ:JAZZ) is the owner of Xyrem until 2019 and 2024 according to patents. However, there are now 3 different companies that have filed to create a generic version of Xyrem with the FDA. The decision on whether these companies can create a generic version of Xyrem by invalidating JAZZ patents could happen in 2016.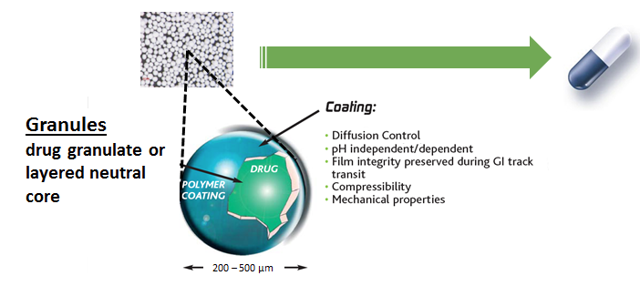 Now here is the interesting part of the story and where FLML has a market opportunity. Currently, people that take Xyrem have to take the drug in two separate doses which requires waking up halfway through the sleep cycle to re-dose. FLML applied its micropump technology to Xyrem and has created a method that these patients can now enjoy a full night's sleep without having to wake up and take a dose.
Whether this makes FLML a buyout target (if JAZZ got to keep its patents until 2019/2024) or if FLML can license this technology to generic companies, its micropump technology that is awaiting approval is an enormous catalyst for the company. According to another contributor, micropump sodium oxybate could be worth $500mln to FLML. With a market cap of 493mln and sales of 173mln, a 500mln addition to the portfolio through micropump could take this company from small-cap to mid-cap.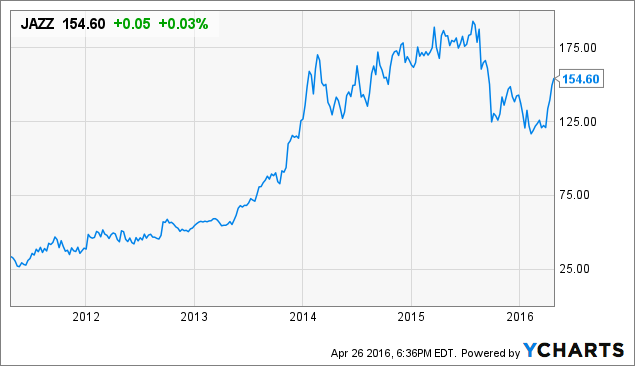 JAZZ data by YCharts
Outstanding Operational Metrics
Historical profit margins used with other metrics is a quick way to view operational efficiencies; which reflect upon the health of the company and the ability of management. The 2015 breakout is spotted quickly because of the stark contrast in revenue. However, more difficult to see is that in 2014 gross margins were at 77%. FLML then went through massive revenue and business expansion and in 2015 posted gross profit margins of 94%. Increasing margins during a transitional period for a company is not often seen as many inefficiencies occur. Finally, gross margins in this sector are at an industry average of 48% and FLML has a clear operational advantage with margins greater than 90%.

Subsequently, FLML posted 2014 EPS of (-2.46) and 2015 EPS of 0.93. With the possible addition of a third NDA and an estimated $50mln in revenue (discounted based on uncertainty of estimate), EPS growth this year is listed at 128%.
Insider Buying
FLML insiders have recently become active in acquiring shares of the company. On March 14th, Director Craig Stapleton, the former ambassador to France, acquired 100,000 shares at a price of $10.39. This purchase alone increased Stapleton's stake in FLML by 21%. CEO Michael Anderson also acquired shares on the 14th of March, but not as convincing as Stapleton.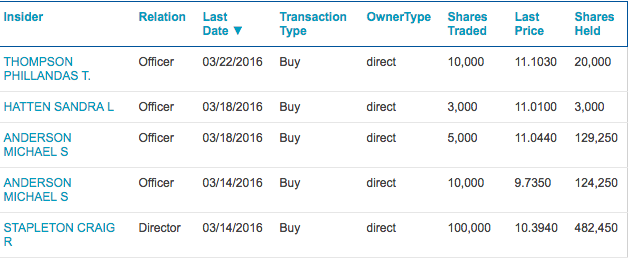 One of the smaller and more recent insider trades was interesting to me. Phillandas Thompson, the Senior Vice President and General Counsel to FLML, increased his position by 100% and at a price of $11.10. These prices that insiders were buying at provides investors with a very weak floor valuation. The weakness of this floor created by insiders is because these 5 transactions represent just 0.3% of the total shares outstanding. Insider ownership stands at just 1.8%.
Possible Trades
I like owning FLML because of the PDUFA date of April 30th AND the earnings date of May 12th before-market-open. I expect one of these two catalysts (hopefully the April 30th PDUFA) to push the stock back to its 200 day moving average of ~$15. An earnings beat on May 12th has the potential to push the stock even higher to near the $20 level.
For the sake of an argument, let's assume that these catalyst are either positive or negative (neutral outcome ignored). Therefore, either both can be positive, negative, or there can be a mixed outcome. The insider trade activity make me feel confident in a positive April 30th PDUFA (as FLML probably knew in March they had a solid product). The May20th call options are vehicles that I would explore because one can take advantage of TWO catalysts with one contract. At the moment the May20th 12.50 strike calls are selling for $1.00. With a current price of $12.17, FLML would need to rally another 10.9% to $13.50 and profit would then be marginally increasing.
Conclusion
Flamel Technologies is a French small cap pharmaceutical company with tremendous upside and good operations metrics. With small portfolio growth through its 3 NDA's or large portfolio growth with micropump, FLML has a diversity of revenue streams that theoretically lowers the risk of the firm becoming distressed. Pieces of FLML's portfolio may also attract a buyout (possibly from JAZZ and at a premium). Finally, insider trading gives investors a "target" price floor and this is information that can be used to find an entry point. I am initiating coverage on FLML with a 'Buy' rating and a price target of $18.
Disclosure: I am/we are long FLML.
I wrote this article myself, and it expresses my own opinions. I am not receiving compensation for it (other than from Seeking Alpha). I have no business relationship with any company whose stock is mentioned in this article.