Nokia's (NYSE:NOK) venture capital subsidiary set aside $350 million last February to buy stakes on Internet of Things (IoT) companies. Healthcare is one area where IoT devices are making a big impact. Nokia therefore bought full ownership of health and fitness device-maker Withings for $191 million.
The $191 million payment was cheap considering the massive opportunity in the growing digital health industry. As per Statista's projection, the global digital or smart healthcare business will be worth $233.3 billion by 2020. Nokia could ignite its comeback in consumer electronics via fitness tracking products.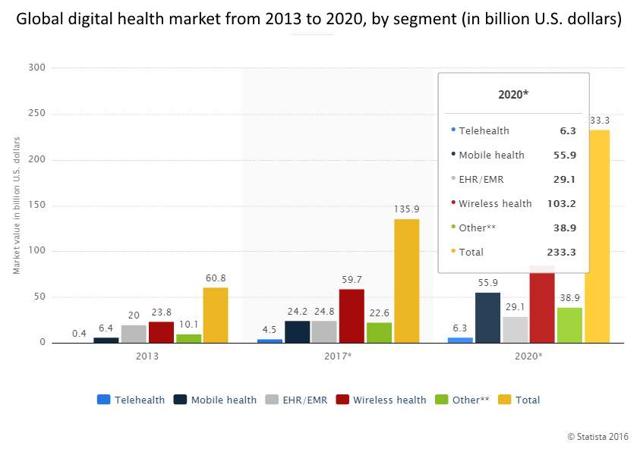 The Rise of Portable Health Monitoring
Nokia's return as a phone vendor is still uncertain. However, I already see a profitable future for the company if it focuses first on smart health gadgets. According to Statista's research, mobile-based ($55.9 billion) and wireless health gadgets ($103.2 billion) are the two most lucrative categories.
France-based Withings has a comprehensive portfolio of health-monitoring products. It has smartwatches and fitness wristbands that integrate well with Android and iOS devices. Withings also has wireless weighing scales, blood pressure monitors, remote baby monitors and camera/air quality monitors.

(Image Source: Withings.com)
Concentrating first on fitness/health monitoring gadgets is ideal for Nokia. Sticking to its fitness-centric DNA helped Fitbit (NYSE:FIT) become the biggest vendor of wearables. The health-related features are precisely why a smartwatch/fitness tracker is a valuable, must-have gadget.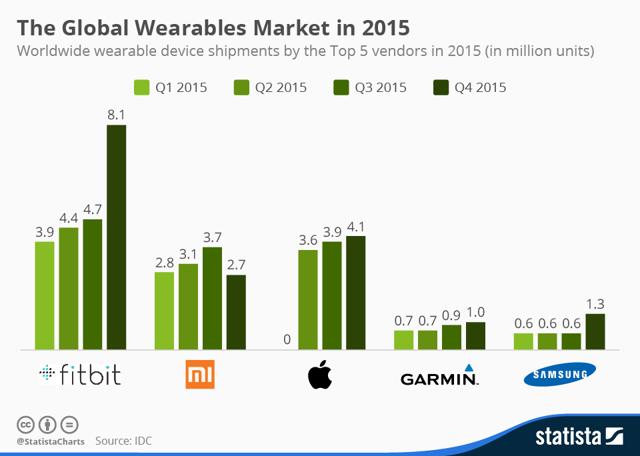 Fitness band and watches could add $500 million or more in annual sales to Nokia. With enough global advertising push, Nokia-branded fitness trackers could potentially equal the 22.1 million/year unit sales achievement of Fitbit's products.
The Swiss-made $169.95 Withings Activité Steel watch is a great alternative to FitBit's million-selling $200 Blaze watch. The $99.95 Withings Pulse O2 also is a potent rival to Fitbit's $129.95 Alta fitness band. The two-year-old Pulse O2 touts blood oxygen level monitoring and barometer/elevation detection. These features are not yet implemented in the 2016 Fitness Alta version.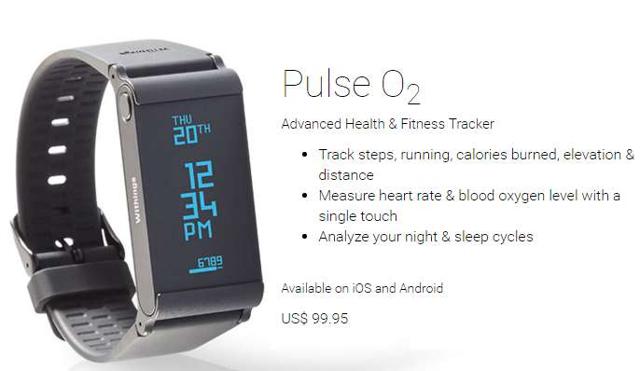 (Source: Withings.com)
Withings has the patents, products and a unique technology that could give Nokia an edge over the current leaders in smart health wearables.
Profiting From Managed Healthcare Services
The acquisition of Withings is clearly not just to compete with FitBit's products. Nokia wants to build an alternative to the HealthKit service of Apple (NASDAQ:AAPL). The Withings team will now be responsible for Nokia's proposed "WellCare" service.
There is money to be made in cloud-based, real-time 24/7 patient monitoring that hospital and corporate wellness programs need. Nokia could charge a recurring fee to set up/manage a secured health-related network for big and small clients.
Withings' expertise on mobile/cloud-based health data collection/analysis can help WellCare become more competitive with Apple's HealthKit. One-to-one health status monitoring also is more cost effective using gadgets that patients already own. Patient-generated data could be instantly transmitted to doctors, health coaches and caregivers.
Of course, the highly-sensitive nature of medical records is best served with an absolute privacy guarantee. Nokia's purchase of Nakina Systems now allows it to secure data shared and stored over mobile devices, cloud-based services, software-defined networking and Internet of Things.
Conclusion
The diversification into digital healthcare products is one more reason to keep holding on to our NOK's shares. Withings reduces Nokia's overdependence on building 4G/LTE networks. Bidding for telco infrastructure/LTE contracts against Huawei and ZTE (OTCPK:ZTCOY) doesn't offer much growth opportunity.
Being Chinese state-owned firms, Huawei and ZTE could offer lower bids anytime they want.
I believe that Nokia's future is better if it could compete in gadgets that people need. A return to consumer products could again take advantage of Nokia's consumer brand power. Yes, Nokia is no longer one of the top 100 most valuable brands. However, there are still millions of loyalists who would appreciate a smartwatch or fitness tracker.
I also still look forward to Nokia's eventual return as a smartphone/tablet vendor. There is little money to be made on Android handsets. However, fitness bands and wireless weighing scales still need smartphones to display more comprehensive fitness/health data. The proposed WellCare software/network will likely be more secure and compatible on Nokia-branded phones.
Disclosure: I am/we are long NOK.
I wrote this article myself, and it expresses my own opinions. I am not receiving compensation for it (other than from Seeking Alpha). I have no business relationship with any company whose stock is mentioned in this article.