More than a year ago, I wrote an article for Seeking Alpha suggesting that, while Service Corporation International (NYSE:SCI) is a great company with a bright future, shares were very richly priced and investors should exercise caution. Since then, even with dividends being paid, shares are down 5.7%. So it appears as if my warning has been more or less correct thus far. In what follows, I will look back at SCI and determine, based on more recent data, whether or not an investment in the business makes sense at this point in time.
A Look at SCI and the Industry
As of the time of this writing, SCI is the largest player in this space in the U.S. It has a market cap of $4.83 billion, nearly 2.7 times larger than Hillenbrand (NYSE:HI), the next-largest player (though Hillenbrand is not a pure-play operator, so it's hard to say this is a perfect comparable by any stretch). Using data provided for last year, SCI has a 16% market share on the funeral and cemetery business in North America. Its operations are spread all across the continent, as you can see in the image below. This works out to the company controlling 1,535 funeral service locations and 469 cemeteries, many of the latter being locations that offer funeral services and happen to be situated in cemeteries.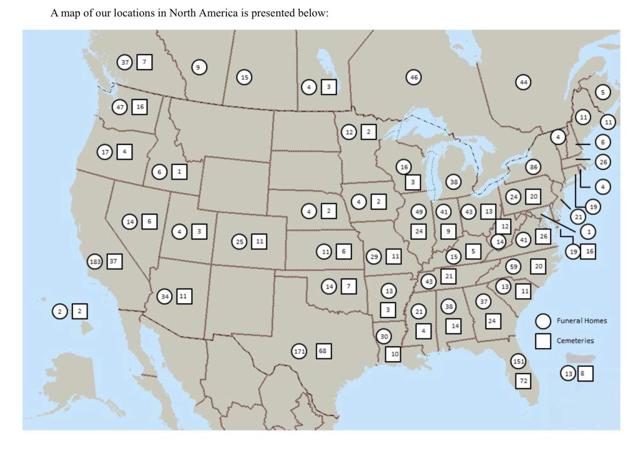 Source: SCI.
Despite being the big fish in this space, even SCI is plagued by the slow growth of the industry. Backing out data presented by management in the company's annual reports, total revenue in the death care space in North America stood at $18.69 billion. This represents an increase of just 0.8% from the $18.54 billion the industry stood at in 2012, implying an annual growth rate of less than 0.3%.
Part of the trouble here has been the fact that the death rate in the U.S. is so low (821.5 deaths for every 100,000 people, which converts to about 2.6 million deaths per year) since life expectancy has been increasing. Other causes are competition and low rates of inflation. However, one other source of slow sales growth has been a gradual trend away from traditional burials and toward cremations. In 2015, 51.6% of SCI's services were cremations. This is up from 51% in 2014 and only 50.2% a year before that. Cremations, as a rule of thumb, tend to have lower sales revenue. But the potential for margins in this area can be more significant.
What's Happening With SCI?
Fundamentally, SCI appears to me to be quite healthy. Last year, the business generated sales of $2.99 billion, roughly the same as we saw in 2014 and up significantly from 2013's sales number of $2.55 billion, driven chiefly by an acquisition. On the bottom line, as you can see in the graph below, things have gone quite well. Net income for the company has risen by 58.7% from $147.33 million to $233.77 million. This came despite weaker performance in the company's funeral segment, which reported a modest growth rate during the past three years of just 10.8%. Meanwhile, the bulk of the increase in profitability came from SCI's cemetery segment, which saw its gross profit soar 42.7% as high-margin merchandise revenue skyrocketed. That made up nearly 45% of the company's rise in sales during this time frame.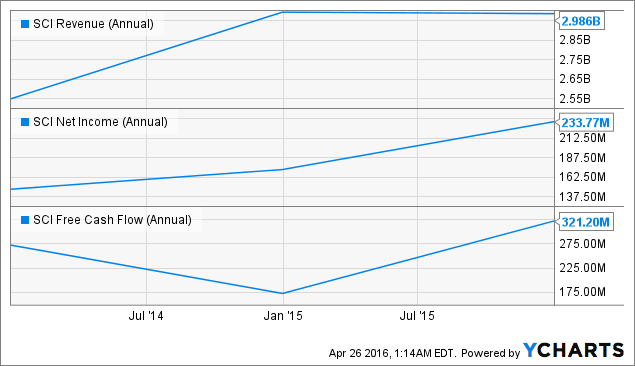 SCI Revenue (Annual) data by YCharts
More important than sales or profits, however, has been SCI's free cash flow, which can also be seen in the above graph. Over the past three years, despite being quite bumpy, free cash flow for SCI has risen by 18.2% from $271.77 million to $321.20 million. Although this growth rate is lower than net income's growth rate, the margin is higher, with a free cash flow margin for the company last year of 10.7%. This, in turn, suggests a trading multiple for SCI of 15 times free cash flow. That is fairly pricey but not unreasonable for a business of this nature, which is virtually guaranteed to maintain operations moving forward (absent fraud, of course).
My one concern for SCI is the company's debt, which stands at $3.17 billion compared to equity of $1.19 billion, resulting in a long-term debt/equity ratio of 2.66. But I am not as concerned as I was last year about the issue because of the business's strong free cash flow numbers. Furthermore, I am encouraged by the fact that backlog for SCI is quite high at the moment, coming out to $9.5 billion. This means that, absent some major flaw by management, SCI has years' worth of revenue that is almost guaranteed. It's probable that the trend will only continue to improve as the years progress.
As an example of the company's health, we need only look at the contracts signed for pre-need funeral services. Last year, this number came in at 83,060, up 25.9% from 65,982 contracts two years earlier. In addition to seeing this number rise, SCI reported more revenue associated with insurance policies that it has sold to its customers. While the amount of pre-need insurance proceeds received fell from $570.1 million to $543.8 million, general agency revenue earned by the business jumped from $106.50 million to $137 million.
Takeaway
At this moment, SCI is still a fairly costly company on a multiples basis, but its health is undeniable. Despite having a hefty debt load that should probably be reduced, cash flow and earnings are both very strong and the company's backlog is extremely high. Sure, sales growth is disappointing right now and will likely be in perpetuity, but this is to be expected of a company like SCI. Moving forward, it will be very interesting to see how things progress with the business. I'm hopeful that management will allocate the company's cash flow optimally, and that the business will continue to capitalize on the inevitable in a way that rewards its shareholders and likely future customers.
Disclosure: I/we have no positions in any stocks mentioned, and no plans to initiate any positions within the next 72 hours.
I wrote this article myself, and it expresses my own opinions. I am not receiving compensation for it (other than from Seeking Alpha). I have no business relationship with any company whose stock is mentioned in this article.