After having reading one too many bullish Apple (NASDAQ:AAPL) articles, I decided an update piece to my original bearish/cautious Apple article was poignant: Are iPhone Margins Sustainable? Seeking Alpha published the original article on August 11, 2015.
Incidentally, it appears my thesis has been proven correct, as consensus estimates were too high in early August 2015.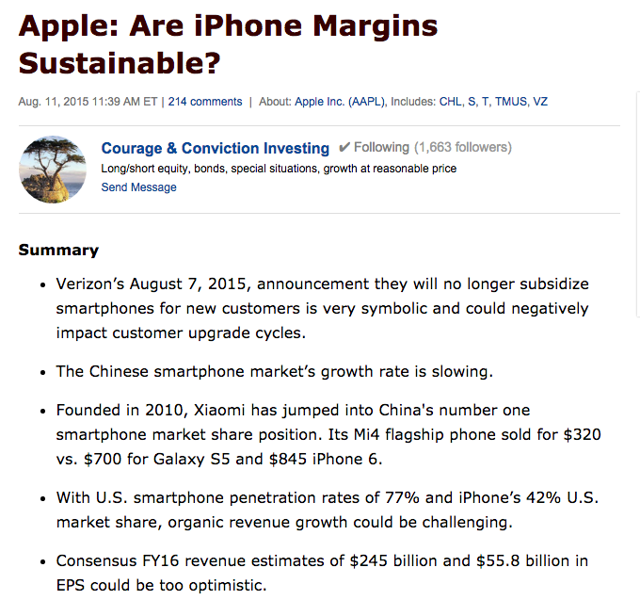 As of Tuesday night, FY16 consensus estimates were calling for $227 billion in revenue and earnings of $9.03 per share. With 5.54 billion fully diluted shares in Apple's float, $9.03 consensus earnings would equate to $50 billion. Lo and behold, my view that FY16 estimates for both revenue and earnings were too high has been proven correct. Moreover, outside of the significant weakness in China, the biggest shock for the bulls may have been that Q3 guidance called for $47.24 billion in revenue, yet Apple guided revenue in a range of $41 to $43 billion. Where I am from, $5 billion in a quarter is material.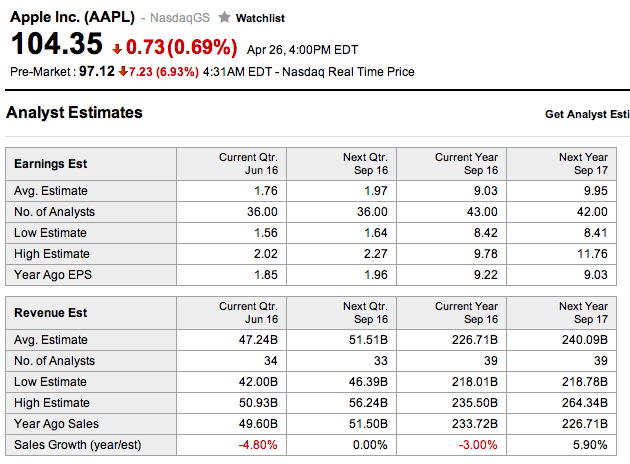 Source: Yahoo Finance
Here is a snapshot of Apple's FY16 Q3 revenue guidance.

Source: Apple
The forces of gravity have asserted themselves. A key piece of my bearish thesis was that the ASP and unit growth for the iPhone were unsustainable, especially in China. As we can clearly see, YoY Greater China revenue was down 26%. As I argued then and still argue today, for the average Chinese consumer, the ASP for an iPhone is way too high as a percentage of their disposable income. Moreover, there are lots of formidable competitors, notably Xiaomi (BATS:XI), willing to offer a handset with great components as well as sacrifice margins to win/maintain market share.
Although, Apple is very guarded sharing detailed results, at a high level, we can see the drivers of sales decline.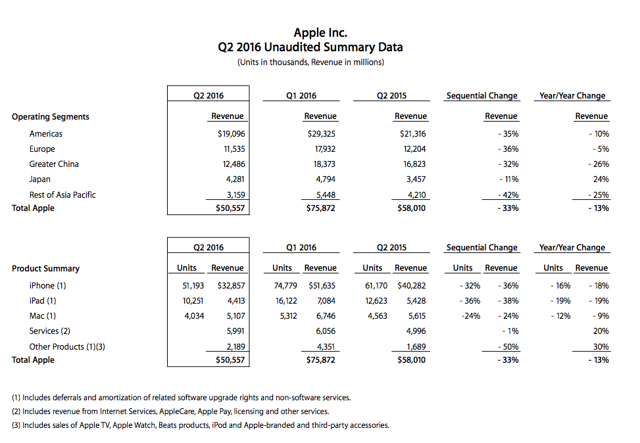 Now I am sure I will receive lots of negative commentary telling me about Apple's low P/E ratio, its $200 billion in cash and the iPhone 7. My point in August 2015 and my point now is that Apple is the most widely covered stock on Wall Street. The best and the brightest from the storied Ivy League institutions cover the name. Everyone in the world knows Apple has a low P/E ratio, so this mere fact alone equates to "magically thinking." A low P/E ratio will not somehow give investors an edge.
I am not suggesting that Apple isn't a great company, and of course, I am fully aware of its great ecosystem, but I have read far too many glowingly positive article here on Seeking Alpha as well as other sites that are simply blind faith-based.
Here are two articles I cite as examples of magical thinking.
Now let me be clear and forthright, I have made plenty of bad calls over my career. Making investment mistakes are par for the course. It is almost a full time job to have the bandwidth to really understand how consensus estimates are derived, model earnings, and have the vision to anticipate the future. It is a skill very few people are blessed with and have the dedication to hone. Even the hedge fund Masters of the Universe get it wrong.
Perhaps, the iPhone 7 will be revolutionary and Apple's most auspicious product launch. Candidly, I have no idea and anyone who does is fooling you. I point these articles out as I don't want investors to blindly re-mortgage the house to buy Apple at $96 because they think it is a can't miss bet with a low P/E ratio.
Finally, let's look at valuation. Apple has $177.6 billion in marketable securities and $20 billion of positive working capital. However, we have to back out $69.3 billion in long-term debt. So Apple's net cash balance is closer to $128 billion, not the $200 billion figure loosely cited in the popular press. Next, we have to discount that cash by 35% as it would have to be repatriated.
So at $96 per share x 5.54 billion shares less call it $100 billion in cash, we are looking at an enterprise value $400 to $430 billion depending on how you think about tax rates. I personally am not enticed to buy shares of Apple given the significance of last night's miss, but my broader point is that SA investors need to think twice before going all in Apple in the high $90s. I know that I miss Steve Jobs' vision and imagination as I haven't seen much new product innovation during Mr. Cook's reign.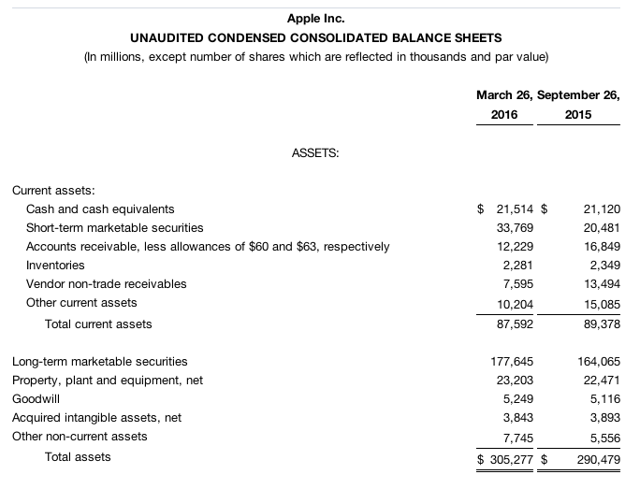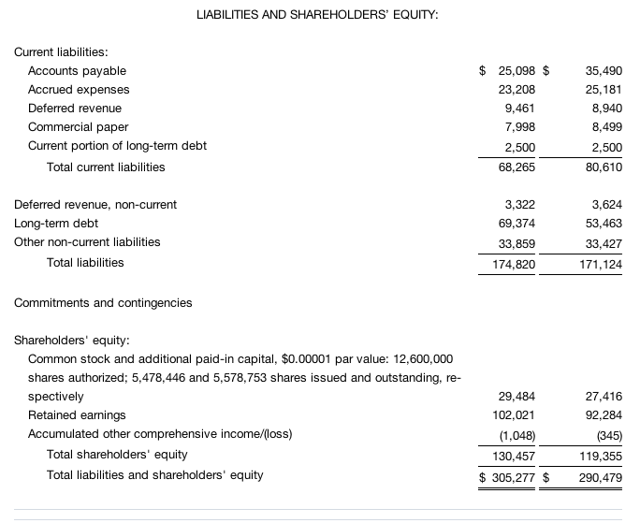 Disclosure: I/we have no positions in any stocks mentioned, and no plans to initiate any positions within the next 72 hours.
I wrote this article myself, and it expresses my own opinions. I am not receiving compensation for it (other than from Seeking Alpha). I have no business relationship with any company whose stock is mentioned in this article.