Lancaster Colony Corporation (NASDAQ:LANC) is a manufacturer and marketer of specialty food products for the retail and foodservice markets. The Company is focused on its specialty foods segment. It manufactures and sells a range of food products, including salad dressings and sauces; fruit glazes, vegetable dips and fruit dips; Greek yogurt vegetable dips and hummus; frozen garlic breads; frozen Parkerhouse style yeast dinner rolls and sweet rolls, as well as biscuits; dry egg noodles; croutons and related products; snack sticks and flatbread wraps and pizza crusts. The Company offers its products under Marzetti, Cardini's, Simply Dressed, Katherine's Kitchen, Girard's, Otria, New York BRAND, Mamma Bella and Mamma Bella's, Sister Schubert's, Marshall's and Mary B's, Sister Schubert's, Marshall's, Mary B's, Reames, Aunt Vi's, Texas Toast, Chatham Village, Flatout and Romanoff names. —Via Lancaster Colony Corp. website
Lancaster Colony Corp is currently trading just below its 52 week high, which values it at about $3.0B. It has presented its investors with very strong growth in recent quarters and we believe that this growth will continue due to its margins, valuation metrics, and consistent performance. The market is wrong about Lancaster for a number of reasons as well. The overall market believes that Lancaster is overvalued at its recent prices and that its growth is beginning to slow down. However, we believe that this is still an excellent investment and the risk to reward is skewed in the investor's favor for a number of reasons.
It is currently trading at a P/E of about 29.86x, which although is above the industry average and that of its peers we believe that there is still room for more growth. This growth will come from Lancaster's strong ability to manage and maintain its resources as well as overall growth in this unique industry. It has a P/S of 2.79x, which is also above the industry average due to relatively low sales. However, we do see Lancaster turning its sales around and we expect its P/S to be in line with the industry average in the coming quarters. It also has a P/B of 5.33x, which is below the peer average. This is due to Lancaster's strong book value per share, which is one of the many reasons why we believe the risk to reward is skewed in the investor's favor.
Lancaster has a 23.56% gross profit margin, which is slightly below the industry average but we see its operating profit margin and its net profit margin to more accurately reflect its potential for future growth. Its operating profit margin of 14.24% is above the industry average and in line with its peer average. It has also shown investors recent growth here as well as growth in its net profit margin of 9.36%. Lancaster also has a dividend of 1.82% for investors who like to get paid to wait. It has shown very strong dividend growth when compared to the industry as well, and substantial dividend growth when compared to its peers. In recent quarters its dividend growth rate has been between 8-9%. On top of this, Lancaster has a revenue growth rate of about 6%, which is well above the industry average. This is one reason why the market believes Lancaster is overvalued at its current levels. The market believes that its growth rates will mean revert, but we believe that this momentum will continue to follow through. Lancaster's management team is one of the best in the industry as well, and is very underrated. It has an excellent ability to sustain and manage its equity, assets, and investments.
Lancaster, based on the table below, has an outstanding quarterly revenue growth when compared to the revenue decays of its peers. Its EPS is also very strong, and significantly more consistent than that of its peers. General Mills (GIS) and Mondelēz International (MDLZ) do have strong EV/EBITDA ratios, however their market caps are over 10x that of Lancaster so we do not see this ratio very relevant when assessing Lancaster's growth potential. On top of this we do believe that GIS and MDLZ have already shown their growth potential in recent quarters and will begin to decay similar to its recent decays in revenue. Its PEG of 3.37x is the final metric we analyzed to confirm our thesis that its current growth will continue in upcoming quarters.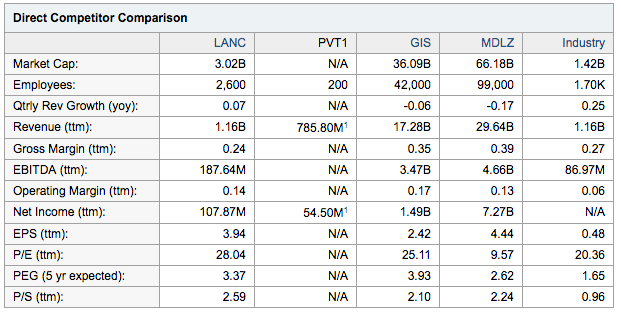 Lancaster recently trended higher off of its February lows of about 95-97.5/share. Since then, it has shown very strong growth on relatively strong volume. We saw the break of the 105-107.5/share level to be a key technical event going forward. This previous resistance level now acts as our key level of support going forward. As long as the volume maintains its stability and strength, we see a high probability of Lancaster trading through its previous high of 199.8/share.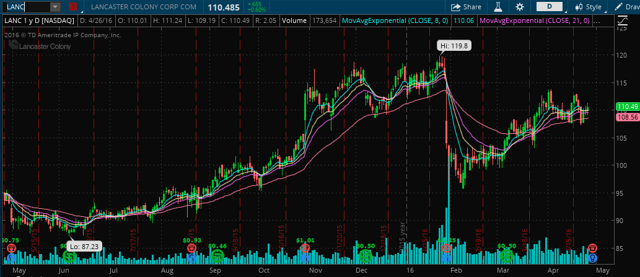 Lancaster is a very consistent company at the end of the day no matter how the market values its growth. It has shown that its revenues are very consistent since early 2011, something that not a lot of companies within the industry can say. Its cash flows are also very steady when compared to the fluctuating cash flows across the industry. Lastly, Lancaster has no debt! We believe that issuing debt would further increase its growth potential. We do see issuing debt as a minor short term risk, however its consistently strong cash flows will allow it to easily pay off its short and long term debt if it should choose to issue any.
Disclosure: I/we have no positions in any stocks mentioned, but may initiate a long position in LANC, GIS, MDLZ over the next 72 hours.
I wrote this article myself, and it expresses my own opinions. I am not receiving compensation for it (other than from Seeking Alpha). I have no business relationship with any company whose stock is mentioned in this article.