Company History
Not long after leaving school Mike Ashley opened his first Sport and Ski shop in Maidenhead under the name of Mike Ashley Sports. Funded by private money, the chain expanded quickly and was rebranded to Sports Soccer in 1996. The international expansion started in 2000 with store openings in Belgium. With the purchase of the Lillywhites stores and the Lonsdale brand, a series of multiple acquisitions started including Dunlop, Slazenger, LA Gear, Kangol, Everlast and many more brands. After the company went public in 2007, Mike Ashley continued being the majority shareholder owning around 55% of all outstanding shares.
Business Overview
Today Sports Direct (OTCPK:SDIPF) is the U.K.'s leading sports retailer and owner of a number of famous sports, fashion, and lifestyle brands. The company operates around 661 stores in Europe with the majority of stores trading under the SPORTSDIRECT.com fascia. The focus is on large format stores, representing over 300 brands and being famous for a competitive pricing.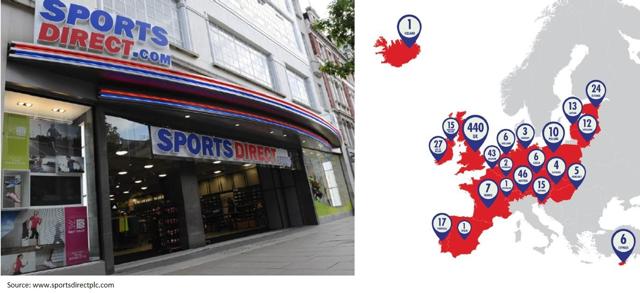 In the last year, the sports retail division with its sports stores accounted for 85% of total revenue. A minor part of total revenue is earned by the premium lifestyle division with 7% and the brands division with 8%. The premium lifestyle division consists of around 90 stores selling clothing, footwear, and accessories from a large number of brands. These fashion stores run under different names including USC, Cruise, Flannels and Van Mildert. The brands division licenses their brands to partners across the world through a committed network of licensing and distribution partners. In addition, in 2015 the company entered the fitness industry with the development of Sportsdirect Fitness.com, comprising 25 standalone gyms purchased from LA Fitness and an additional two new built gym spaces.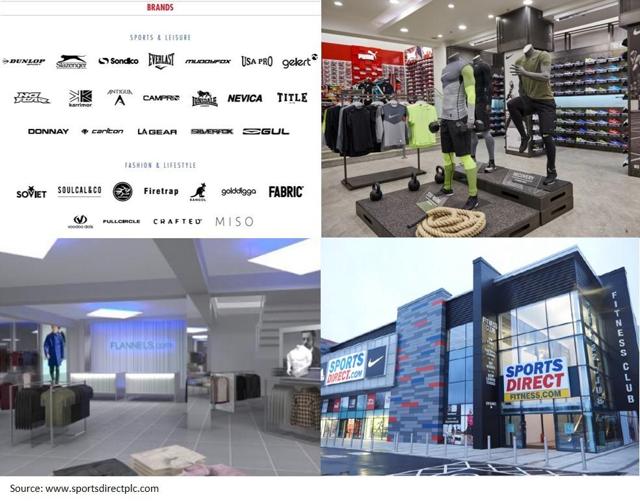 Financial Overview
As reported in their annual reports, the company experienced strong revenue growth since 2011. A large part of their growth came from new stores opening outside of the U.K. Today there are 221 international stores compared with 79 in 2011. Despite the rapid international expansion, the U.K. remains the dominant market with a revenue share of 80%. Additional growth also came from online sales which today represent 16.5% of total revenue versus 7.0% in 2011.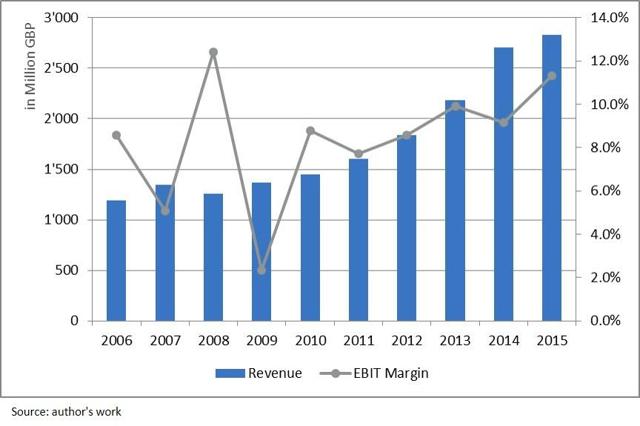 Despite the strong revenue expansion in the last 5 years, margins increased by 50% which resulted in a net income margin of 9% in 2015. However, after this strong growth period, it seems that Sports Direct has reached a peak. At the beginning of this year, it had to issue a profit warning blaming poor Christmas sales due to unseasonably warm weather. In March profit expectations were further clarified, now guiding towards lower earnings compared to last year. While the mild weather has been unhelpful, there are more fundamental issues at play here to which I'll come back later.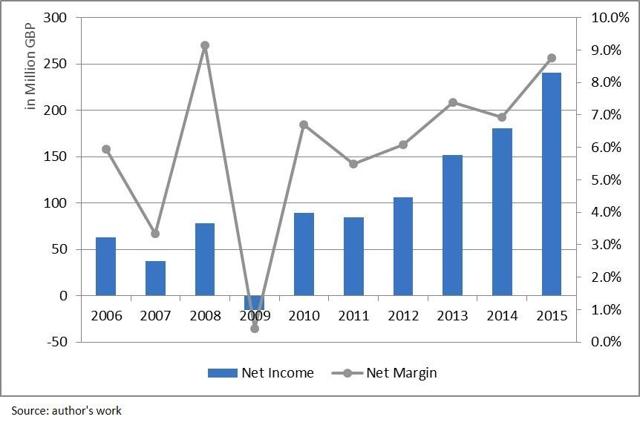 The current financial situation of the company is quite comfortable with 66% of Equity. Total Bank loans and overdrafts stood at GBP 138 million, which compared to a 5-year average free cash flow of GBP 100 million and GBP 80 million cash at hand, is insignificant. Additionally, there is an undrawn unsecured revolving facility with 13 banks of up to GBP 738 million available which provides a sufficient liquidity buffer.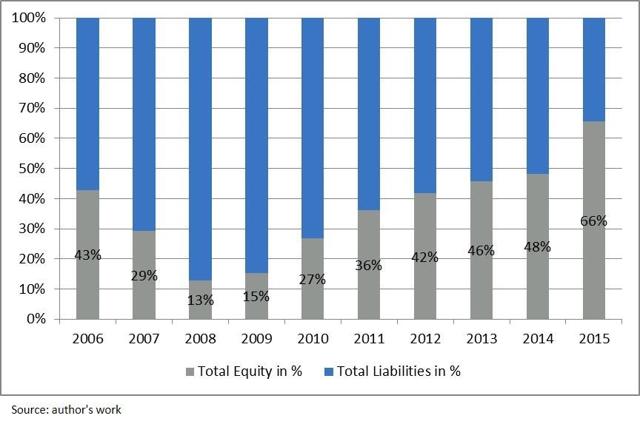 The company's return figures are quite impressive and were consistently above the ones of their main competitor, JD Sports over the last 5 years. Part of the reason for their strong returns is the direct ownership model of brands like Slazenger, Lonsdale, Everlast and many more which gives Sports Direct more pricing power. In addition, being the market leader in the U.K., together with a good multichannel concept, further enables it to achieve these high returns.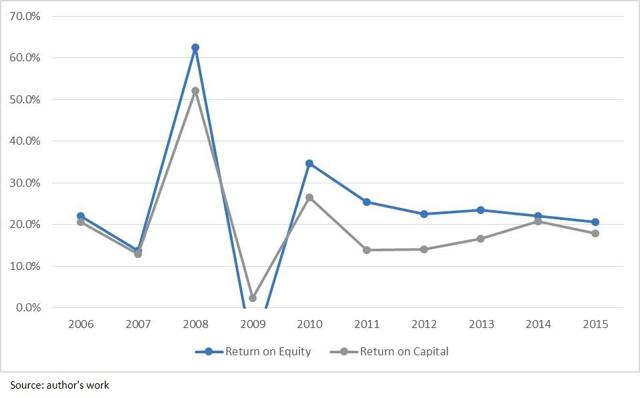 Capital Allocation
In recent years, the company managed to consistently produce a free cash flow which it mainly used for acquisitions and for paying down debt. The high cash outflow in 2008 was financed with bank overdrafts which were swapped into longer term bank loans in 2011.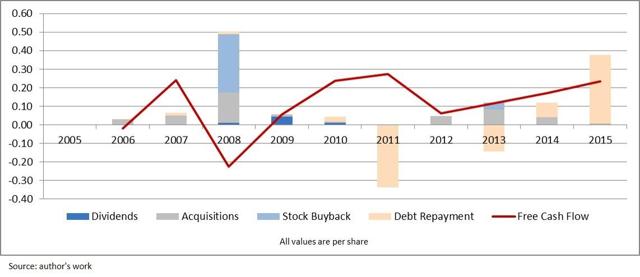 Current Issues
After a period of strong growth, the company started to face some headwind lately. While there is some negative sentiment towards retailers in general, other issues are clearly homemade and raise some questions about the future development of the company.
Questionable work practices
In early December, The Guardian newspaper revealed a number of questionable work practices in the warehouse in Shirebrook. For example, there is a compulsory search by security staff after each shift. Based on the Guardians reporter's experience, this adds an extra hour and 15 minutes to the working week which is unpaid. This raises the question of whether such practices are within the law relating to the minimum wage. The Guardian article can be read online.
As an outsider, it is obviously hard to judge how many of these accusations are true and are potentially against the law. The negative press certainly hurts the image of the company and gives me a bad feeling about their company culture.
International expansion at what price?
Another issue is the expansion outside the U.K. where Austria is one of the largest markets with 46 stores. But particularly in Austria, the expansion is more challenging than expected. In the last year, the revenues decreased dramatically and the company even reported a loss. It seems, that the discounter strategy is not working well in Austria and I wouldn't be surprised if Sports Direct faces similar issues in other European countries.
Clear strategy is missing
The company has a history of taking strategic stakes in related companies including Debenhams (OTCPK:DBHSY) and JD Sport. In January, it announced a 2.3% stake in Dick's Sporting (NYSE:DKS), a US Sports retailer. Later in March it reported that the stake in the online specialist Findel was increased to 29.79%, just below the 30% level at which it would have to launch a full takeover bid. It is however not clear yet, whether Sports Direct will make a bid or not.
Personally, I am always skeptical when companies start to invest in new ventures outside their core business. Already the expansion into the gym business made me think if this really brings the expected synergies. The potential acquisition of Findel with their gift catalogs and educational supplies business looks even more questionable to me.
Overall, I miss a clear strategy from Sports Direct on how to further expand the business. To me, it looks like that their sports retail store expansion is slowing and they get now tangled up in ventures outside their core business.
Valuation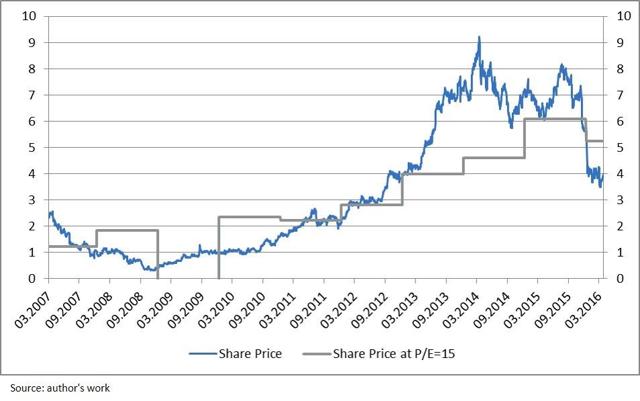 The last two years have been a tough ride for Sports Direct shareholders. Since August 2015, the stocks lost 50% of its value. On the one hand, markets did in general perform poorly but also the company's profit warnings, and negative press for their working practices in their warehouse led to additional downward pressure.
Given the outlined issues and an uncertain business outlook, the stock seems to be fairly valued at the current price level with limited upside potential right now.
Key Figures

Conclusion
At first glance, the company looks quite attractive given the successful expansion of their business, strong presence in their home market, high returns and a healthy balance sheet. However, the highlighted issues show that the company has to address a number of problems and that the future development of the company is more than blurry. It comes as no surprise that under these circumstances the stock prices declined 50% since last summer.
If one expects that the current profit decline is only a short-term setback, then the stock might offer an attractive investment opportunity at current price levels. Personally, I believe the issues are more fundamental and won't be solved quickly.
Disclosure: I/we have no positions in any stocks mentioned, and no plans to initiate any positions within the next 72 hours.
I wrote this article myself, and it expresses my own opinions. I am not receiving compensation for it. I have no business relationship with any company whose stock is mentioned in this article.
Editor's Note: This article discusses one or more securities that do not trade on a major U.S. exchange. Please be aware of the risks associated with these stocks.