Background
As many of you know, I have spent a fair amount of time and effort over the past couple of years to create a diversified dividend growth portfolio. If you look back at past articles of the Minne n' Monthly ("MnM") series you will find that through this journey I have learned many lessons as well. When I started writing I had hoped that my experiences could be of benefit to the Seeking Alpha community.
Throughout all of the successes and failures, I would say that the most important lesson I have learned and shared is to remind other investors to be cognizant of the risks of overexposure and yield-chasing, both of which resulted in disaster for me. All of these things I have written about in previous articles, so if you are new to my series, feel free to check them out.
Last month I made the decision to rebalance and reconstitute the portfolio. My primary objective throughout the exercise was to re-balance positions to be a consistent dollar amount ($2,500), improve the portfolio quality by replacing several positions, and to further bolster diversity by adding several new positions. The one caveat to this rebalancing was that I also had concerns about valuations within the portfolio given the quick run-up in prices that we experienced in March as the market recovered from the sell-off at the start of the year.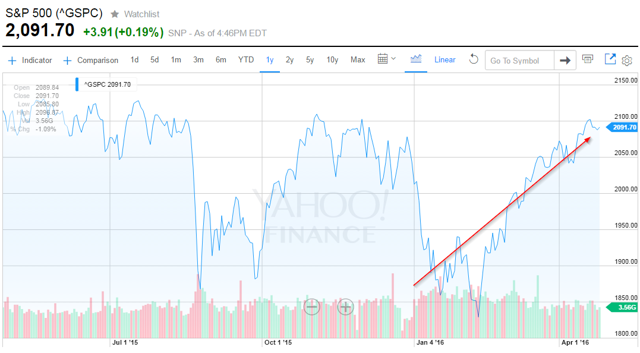 Source: Yahoo Finance, 26 April 2016
I made the bold call to sell everything and reposition, a move I knew came with elevated risk over merely trimming existing positions and deploying the proceeds. I took a considerable amount of criticism for this maneuver, notably from Dale Roberts, who was quick to point out the ills of trying to time the market.
I was prepared for some backlash, and as much as I wanted the market to tank so I could do a victory lap around Dale, to forever hold it over his head and remind him that I had called a top; I was more concerned with where I was going and how I wanted to allocate my funds going forward. I want to reiterate that the "timing" element in this whole exercise was not the primary objective in what I was doing. The proof of this is now evidenced by how quickly the portfolio was put back together.
This all being said, I am happy that I have accomplished my objectives in a little over a month, and will share the experience with you as follows.
Where the portfolio sits today
At this minute virtually every dollar within the portfolio has been redeployed. Of the original 26 positions in the portfolio all but 7 were retained and Wells Fargo (NYSE:WFC) and CVS Health (NYSE:CVS) were added to the portfolio.

When I sold the portfolio to cash, I was not 100% certain what stocks I wanted to keep and which ones I wanted to remove. For me, it was almost a zero-based budgeting exercise, where every stock had to prove to me that it belonged. I had several positions in mind, and ultimately I made the following changes:
Fifth Street Finance (FSC) was removed from the portfolio and replaced with Main Street Capital (NYSE:MAIN). This was probably the easiest decision to make, as Fifth Street has been a serial underperformer and cut its dividend in 2015. I should have sold when it cut, a practice I have now adopted. This security was the last remnant of my yield-chasing from 2014.
Gladstone Land (NASDAQ:LAND) was replaced with EPR Properties (NYSE:EPR). Gladstone land has been a bit of a disappointment in its performance, and while I think that management will grow the Company, I did not like the high payout ratio (barely covering the dividend) and the overexposure to land in California.
Whitestone Reit (NYSEMKT:WSR) was replaced with Lexington Realty (NYSE:LXP). This is one of the more speculative, high-yield positions within the portfolio, and I like the lower payout ratio, higher market cap, and overall fundamentals of Lexington much better. Similar to Gladstone Land, I also had concerns with Whitestone's exposure in Texas.
Unum Group (NYSE:UNM) was replaced with Travelers (NYSE:TRV). I have had an eye on Travelers for some time now, and while there is nothing really wrong with Unum, I found the dip in price of Travelers to present a decent buying opportunity. I will keep an eye on Unum for potential re-introduction in the future.
T. Rowe Price (NASDAQ:TROW) was replaced with Coca-Cola (NYSE:KO). I have been struggling with T. Rowe for some time. It's a very well-run Company; however, over the longer-run I am worried that the on-going transition to ETFs, which is being led by Vanguard, will erode their business model and fee structure. T. Rowe has not yet introduced ETF products, and that concerns me. Coca-cola pulled back after their earnings release, and presented me the opportunity to add it to the portfolio.
Johnson & Johnson (NYSE:JNJ) was replaced with Illinois Tool Works (NYSE:ITW). I did this based upon concern about Johnson & Johnson's growth and worries that the stock valuation has gotten too lofty. I have wanted to add Illinois Tool Works for some time, and opted to make this switch. I made a similar decision with Cardinal Health (NYSE:CAH) swapping it for Apple (NASDAQ:AAPL). I would say that of any of the securities replaced, I would consider adding both JNJ and CAH back to the portfolio in the future, if they were to pull-back in price.
So, did I profit from selling everything?
Probably the most burning question you might have is, is did I profit from selling everything, and buying back on the dips? The short answer is yes, for the stocks that I sold and rebought, I did recognize a net gain.
I will preface this by saying that had this been a mere "timing" exercise, where I would have just rebought everything exactly as I had sold it, at this point in time I would probably not be fully invested.
For the sake of a fair comparison I limited my analysis of the re-buys to the lower of either the number of shares sold or bought back, to show the true gain/loss of selling everything and repurchasing what I wanted in the portfolio.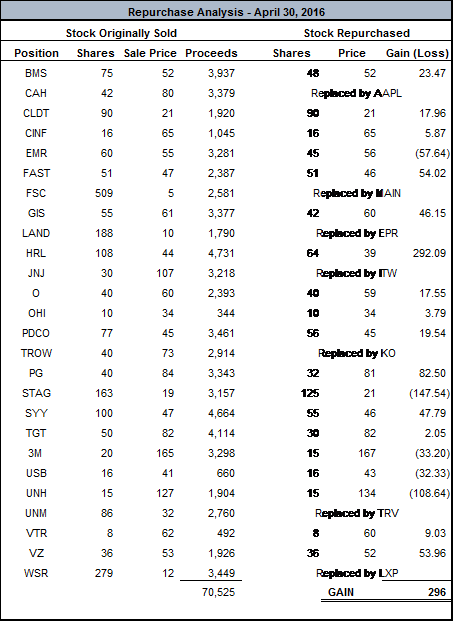 As Dale pointed out in his comments, there was an opportunity cost associated with this transaction, which came in the form of lost dividends and capital gains. I would argue that the capital gains are about a wash, as while some of the portfolio positions are up since I sold them; the portfolio is also already sitting on some unrealized gains as I was able to make some opportunistic purchases with available cash into positions which have already appreciated.
I will; however, recognize nearly $300 less in dividends this quarter, and given this, on the whole, from a profit/loss perspective, the transaction comes out at about a wash from a gain/loss perspective.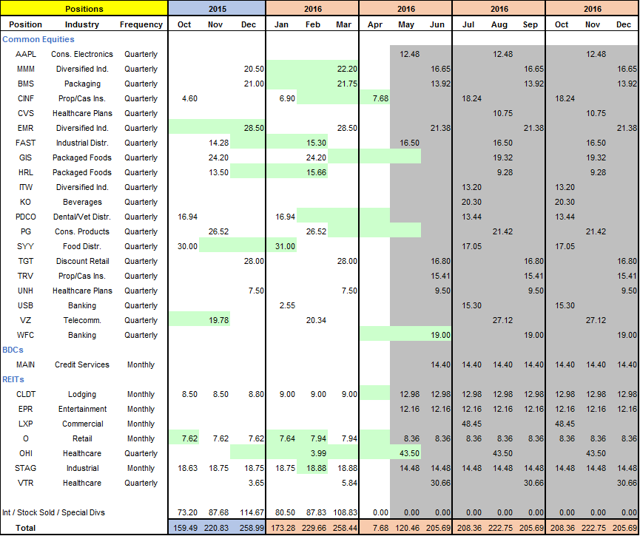 Lessons Learned
Was I right that valuations were stretched? Yes, in the consumer defensive portion of the portfolio in particular, I benefited from a pullback in stock prices. While most stocks were repurchased at lower prices, there has not been a broad-based pullback in the market as I half suspected, and some positions ultimately were bought back at higher prices.
So, this all being said, was the wholesale sale of the portfolio the best decision? This is a tough question to answer because I feel that I accomplished my objectives of balancing position sizes, adding new positions and improving the portfolios quality by replacing positions I viewed unfavorably.
The caveat to all of these enhancements is the stress of wondering if I was making the right decision and the risks that the market would run away from me. I would not recommend wholesale sales of your portfolio unless you have a plan of reinvestment or are willing to assume the risks involved. Trimming of positions will be the process I will follow (and would recommend) should I ever rebalance in the future.
I'm not afraid to say that I've done more trading than I intended, or even should, but, as I keep learning and adding experience I am not afraid to admit mistakes and make changes.
My dividend growth strategy is long-term hold and now it's time to stick to it.
Disclosure: I am/we are long THE STOCKS LISTED IN THE PORTFOLIO.
I wrote this article myself, and it expresses my own opinions. I am not receiving compensation for it (other than from Seeking Alpha). I have no business relationship with any company whose stock is mentioned in this article.