There are exciting industries and there are boring industries that we can invest our money in. Often times boring industries provide the best value for our investing dollars, and seeking out micro- and small-cap companies in those drab areas can prove beneficial. I've chosen to isolate companies inside the aerospace and defense industry and have landed on a small Israeli company that provides rather boring yet essential goods and services for aircraft.
Company Profile
TAT Technologies (NASDAQ:TATT) is an Israel-based diversified technology and services company, operating in the defense and aerospace sector. Through TAT Technologies and its wholly-owned subsidiaries of Piedmont Aviation Component Services, Limco Airepair Inc., and Turbochrome Ltd., the company provides specialized components for commercial and defense aerospace applications as well as component maintenance, repair and overhaul services, or "MRO."
TATT has a $61.7 million market cap and employs 623 people in Israel and the United States. It has operated since 1969 and is currently held by its parent company FIMI Opportunity Group. TATT's products are sold to and used by a number of very large customers such as Boeing (NYSE:BA), the US and Israeli governments, American Airlines (NASDAQ:AAL), Honeywell (NYSE:HON) and Lockheed Martin (NYSE:LMT) among many others. What makes the company an interesting idea is that it is trading at just .7 times book value with a great balance sheet. The company has been growing mostly organically, but has added a coatings company and initiated a JV in Russia recently. Downside risk seems low and patient investors could be rewarded should the market take notice.
Company Performance
TATT has some pretty clean financials from the looks of its last 20-F. Total assets held by the company, minus intangibles, is $108.3 million with $18.7 million of that being cash. Liabilities come to $18.2 million and include no long- or short-term debt. Already, we have more cash on hand than total liabilities. With 8.8 million shares outstanding and shareholders' equity of $91.4 million, we are left with a book value of ~$10.38 a share. Trading on the 26th of April at $7, we have what appears to be a great margin of safety. Each share also has $2.12 in cash on the books, providing even more safety. We will revisit book value in a moment. Let's take a look at its revenues and performance.
The company draws revenues from products and services. The products segment has remained somewhat stable through the years with $31.3 million in 2015, $31.3 million in 2014 and $34.3 million in 2013. Services is where the company has been growing and has been focusing its efforts. In 2013, TATT brought in $45.1 million from services, and in 2015, took in $54.3 million for $85.6 million in total revenues for the year. Unfortunately, gross profit has suffered and came in at just $13.6 million compared to $16.2 million in 2014. Net income for the year jumped considerably from $1.9 million to $5.8 million due to a gain on bargain purchase of $4.8 million from its acquisition of what is now Turbochrome. Overall, the company had a solid 2015 and reported $.66 per share in earnings, a $.50 YoY gain.
The screenshot below from the 20-F shows the four segments and their performance back to 2013. Turbochrome is accounted for as "overhaul and coating of jet engine components" and has been accretive thus far while only contributing from October of 2015.

No one customer accounts for 10% or more of TATT's total revenue, and sales to both the US and Israeli governments were just 5.5% of revenues for 2015. The company derives a large portion of its revenues from Europe as well, as illustrated in the screenshot below:

Being so diversified geographically and with such a small percentage of the revenue coming from the US and Israeli governments, the company is well protected from lower defense spending, a common concern with aerospace and defense companies.
TATT is also structured in such a way to benefit from both lower and higher spending, both in defense and commercial segments. During periods of higher spending, more aircraft are purchased, providing more possible recipients of TATT's products and services. With lower spending comes an increased emphasis on maintaining what is currently owned versus purchasing new assets, a reality TATT is also well positioned for. Currently, though, it seems that defense spending will likely be maintained amidst a growing regional instability especially in the Middle East.
Acquisitions
The majority of the growth in the company has come organically, but it has made a handful of acquisitions to round out its capabilities. These acquisitions have been accretive and resulted in TATT being a very well-rounded company in the industry.
The most recent acquisition was its $3.5 million purchase of Chromalloy Israel in October of 2015, which it has renamed Turbochrome. The acquisition has already registered a $4.8 million positive contribution to the net income from a gain on bargain purchase line item. From October 19, 2015, to December 2015, Turbochrome contributed $1.9 million to TATT's revenues during those 73 days. If we assume it generates the same every 73 days, that would translate to ~$9.5 million in revenue for a full year of operations. A recent deal inked between Turbochrome and United Technologies (NYSE:UTX) for 15 years to provide MRO on certain parts for the Israeli Air Force and its F100 229 engines used in F15 and F16 jets will provide long-term cash flows. This long-term agreement, while providing no up-front cash, will provide a great amount of stability for the small company.
Its ownership of Limco-Piedmont was completed in 2009 after the company was acquired completely by TATT in an all-stock deal. Prior to this deal, TATT had only owned 61.8% of the company. It had a stake in Limco since 1993 and came to own Piedmont via Limco after the company purchased Piedmont in 2005 for ~$16 million; in 2004, the company had $27 million in revenues. In that deal, TATT assumed and paid off ~$11 million in debt that Piedmont carried. The merger has been extremely beneficial to TATT; in 2005, the company generated just $49.1 million in revenue; after a full year of having Piedmont contributing, it produced $77.5 million in revenue for a YoY gain of $28.4 million.
The company is conservative with its capital when approaching acquisitions and has managed to keep debt off the books.
Value Opportunity or Value Trap
Finding any company trading below book value raises the obvious question of "Why?". The company operates in a steady and predictable industry and has carved out a nice niche for itself. It has over 45 years of experience and has a solid balance sheet. The stock has traded below book value since at least 2010, as I've drawn up in the table below:
YEAR
BV
HIGH
LOW

BV DIFF

FROM HIGH

% DIFFERENCE
2015
$10.38
$7.76
$6.11
$2.62
25.24%
2014
$9.69
$8.54
$5.85
$1.15
11.87%
2013
$9.71
$8.05
$5.58
$1.66
17.1%
2012
$9.70
$6.05
$3.64
$3.65
37.63%
2011
$9.79
$6.32
$4.20
$3.47
35.44%
2010
$9.99
$9.38
$5.19
$.61
6.11%
Digging back further, it appears the last time the company traded in excess of its book value was in 2008 where it hit $12.14 a share. In 2007, the company hit its high water mark of $28.18 and has come nowhere close since.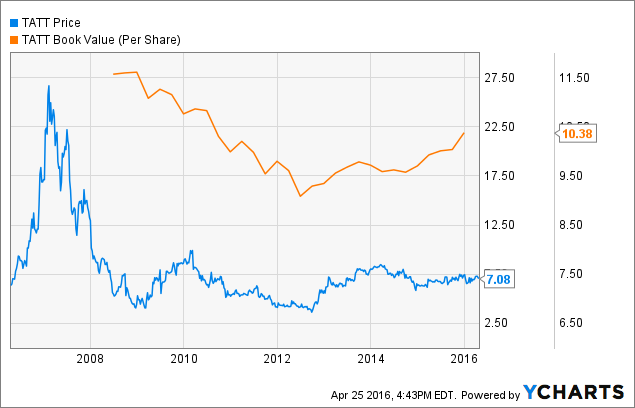 TATT data by YCharts
Clearly, the company is in a range-bound trading pattern. Volume is incredibly low as well, with an average of just 1,500 shares trading hands daily. Trading below book value for so long gives investors little hope that it can break that trend.
Could It Break Out?
With a better understanding of the company and establishing that the market cares little about the book value at this point, I have to wonder what could cause the share price to break out and start trading at a premium, or at the very least close the large gap.
One possible catalyst for upside is its recent JV formed in Russia with Engineering Holdings of Russia. The JV, TAT-Engineering LLC, will provide local MRO for its heat exchange and other products. Based at Novosibirsk's Tolmachevo airport, this JV places TATT in an otherwise untouched market and will contribute to revenues as well as provide additional diversity. The impact to revenues is unknown at this point, but as the company reports, we will have a better idea.
Its slow and steady growth and rock solid balance sheet could also attract a buyer. Buying shares in a business because they could be bought out is rarely a good idea. With TATT, however, this is a real possibility and one that should at least be considered. The company could be acquired at BV, about $91.4 million, and provide shareholders with a ~33% premium to current prices.
One company that appears well positioned to purchase TATT is Ametek (NYSE:AME). The company is a direct competitor to TATT and its heat transfer products, but has a market cap of just over $12 billion. Ametek has been on a hot streak of acquisitions recently and TATT would fit well into its overall business. Its last two acquisitions of Brookfield Engineering and ESP/SurgeX were both completed at 3 and 3.25 times annual sales respectively. With TATT's annual sales of ~$85 million, if Ametek were to pay 3 times, that would be ~$255 million, giving each shareholder ~$28.37; an insane premium of over 300% to current share price. I highly doubt Ametek would pay that much for a business with 16% gross margins that has been trading below book value for so long. That makes TATT an even more compelling takeover target because it could be purchased at a deep discount and still provide a premium to shareholders. If the company were purchased at a 30% premium to BV. that would be a little over $13 a share. At just $114.5 million, that is a bargain for a company with annual revenues of over $85 million.
The company has also paid special dividends; the most recent in 2014. It has also previously initiated share repurchase programs with the last one in 2009 that totaled around $2 million. A repurchase program of that size could retire over a quarter million shares. With a large amount of cash on hand and a discount to book value of over 30%, it would be nice to see the company repurchase additional shares to create some value for shareholders. The long-term boost to EPS would provide additional justification for a rise in share price as well.
Turbochrome is likely to contribute an additional $9.5 million in revenues for 2016, bringing that figure to ~$95.1 million. If the Russian JV contributes just $5 million more and BV shoots to $12.15 (assuming shareholders' equity of ~$107 million), then shares should begin trading around $8.50 if the same discount to BV is maintained. This ~22% upside is assuming nothing else changes with the company and it continues to languish below BV despite solid growth.
Even without a breakout, we should still see price appreciation as book value increases along with revenues. Being so thinly traded and with 53.8% of the shares owned by FIMI, I don't see much risk for the company to head lower.
Conclusion
An investor with some patience could take a risk with TATT. The possibility for downside seems very low due to trading at a ~30% discount to BV with a solid cash-heavy balance sheet, no debt and growing revenues. The company has been growing with some common-sense acquisitions and JVs, which could draw the attention of Mr. Market as well. I began my position recently at $7 with a 1-2 year horizon to see if the price can begin a climb. Should revenues continue to grow, I see little reason why the company wouldn't begin trading near the current book value of at least $10 following its next annual report in April of 2017. At the very least, 22% upside resulting from the increase in revenues is acceptable and worth the investment.
Disclosure: I am/we are long TATT.
I wrote this article myself, and it expresses my own opinions. I am not receiving compensation for it (other than from Seeking Alpha). I have no business relationship with any company whose stock is mentioned in this article.
Editor's Note: This article covers one or more stocks trading at less than $1 per share and/or with less than a $100 million market cap. Please be aware of the risks associated with these stocks.