More information about the BarclayHedge BTOP50 index used in this article can be found in a previous SA article. Performance results for March and April of this year are estimated to be negative by BarclayHedge, after a positive January and February. If this year's performance is negative, it will be the fifth yearly loss in the last eight years.
Below is the yearly performance of the top 50 CTAs according to BarclayHedge: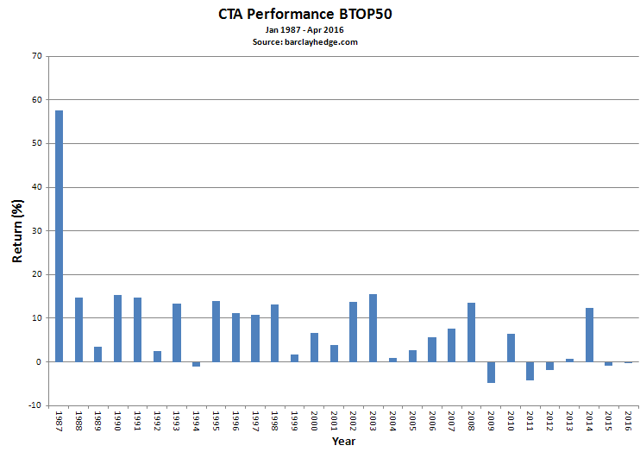 Note that the majority of top 50 CTAs (there are actually 20 CTAs in that index) are systematic trend followers. The compound annual return of this group since 2009 is about 0.75% versus 14% for the S&P 500 total return (NYSEARCA: SPY). The positive performance in 2014 offers some hopes for the future of this group.
Main reason for CTA woes in recent years
Trend-following is a crowded space where fairly simple models are used, most already disclosed by managers who have turned book authors. Jim Simons, the founder of Renaissance Technologies, has argued that trend-following has not been great since the 1980s.The market cannot deliver profits to all trend-follower as it did in the 1980s when there were only a few players around. Some must lose and this contributes to the gross underperformance.
The future of trend-following
Trend-following is slowly being converted into an asset/risk allocation method to survive, in hope of better returns in the future. One problem with this approach is that when a trend develops in a market that has experienced a high volatility period, the allocation is small to make a large contribution to portfolio returns.
Maybe after a significant percentage of the players withdraw, trend-following will become profitable again. In the meantime more CTAs adopt other trading methods, such as statistical arbitrage or even macro investing, to name just two. The transition to other methods may be painful for some traditional funds that still rely on old trend-following methods. CTAs as a group will not disappear and will continue offering significant diversification benefits.
Related article that includes analysis
Disclosure: I/we have no positions in any stocks mentioned, and no plans to initiate any positions within the next 72 hours.
I wrote this article myself, and it expresses my own opinions. I am not receiving compensation for it. I have no business relationship with any company whose stock is mentioned in this article.