Background
GulfMark Offshore (NYSE:GLF) engages in the provision of marine support and transportation services. It operates through three business segments: North Sea, Southeast Asia, and Americas. Its services include platform supply, anchor handling, towing, marine construction support, and crewboats. As of April 25, 2016, GLF owned a fleet of 70 offshore supply vessels (OSV) of which 38 were stacked. The following is a breakout of owned (stacked) vessels by region: 27 (8) in the North Sea, 13 (6) offshore in Southeast Asia and 30 (24) offshore in the Americas. In addition, GLF managed 3 vessels in the North Sea region.
At the time of this article, GLF's stock price was $5.74 - significantly above its 52-week low of $2.50 with a negative current PE, a negative forward PE and a market capitalization of $148.15 million. In addition, GLF unsecured bonds due March 15, 2022 (GMRK3956992) last traded at $41.84, yielding 26.35%.
This analysis is based on information from GLF public SEC filings, press releases, earnings calls and investor presentations from the period 1Q14 through 1Q16.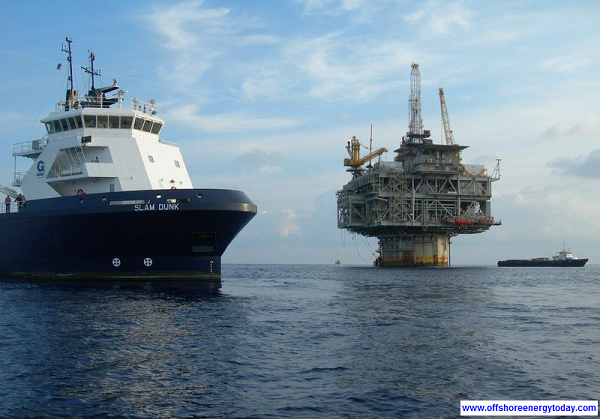 Achieved Positive Operating Cash Flow
A preliminary review of the cash flow statement evidences GLF generated only $100,000 from operating activities. Although this is essentially breakeven, a closer analysis reveals a $10 million credit related to the gain on extinguishment of debt negatively impacted operating cash flows. Since repurchasing debt is not a part of GLF's normal operating business, I have transferred this amount to the cash outflow for financing activities from operating activities. This agrees with the latest EITF Issue No. 15-F project update provided by the Financial Accounting Standards Board (FASB). The revised statement of cash flows is provided below. Please compare to the cash flow statement in the 1Q16 10-Q and note the total cash agrees, but the $10 million has simply been moved from operating cash flow to financing cash flow. Corporate accountants sometimes refer to this as a "Top-side journal entry."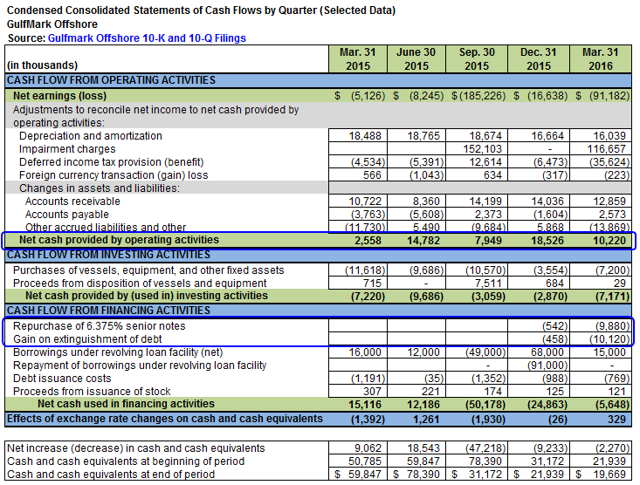 After the revision, it becomes apparent that operating cash flow has improved substantially from 1Q15, although down substantially from 4Q15. This quarter-over-quarter decline was expected as the business is seasonally weak during 1Q due to poor weather conditions in the North Sea as stated by the CEO on the earnings call.
Bonds Repurchased at Substantial Discount
The cash flow revision above reveals management's strategy of paying down long-term debt when the opportunity appears. In this case, positive operating cash flow and substantially discounted debt provide an easy return by retiring debt that is currently yielding over 26% to maturity.
In addition, the retirement was accomplished with a combination of cash from operations as well as a drawdown of the revolving credit facility. The issuance of substantial additional equity was avoided. Management is likely aware that issuance of equity at current prices is unnecessary and would substantially dilute existing shareholders.
Lower Utilization and Day Rates Partially Offset by Expense Rationalization
A review of revenue by region is necessary to determine the root cause of the substantial decrease in revenue from prior quarters. Impairment charges are omitted in this analysis as these can create "noise" when comparing the segments.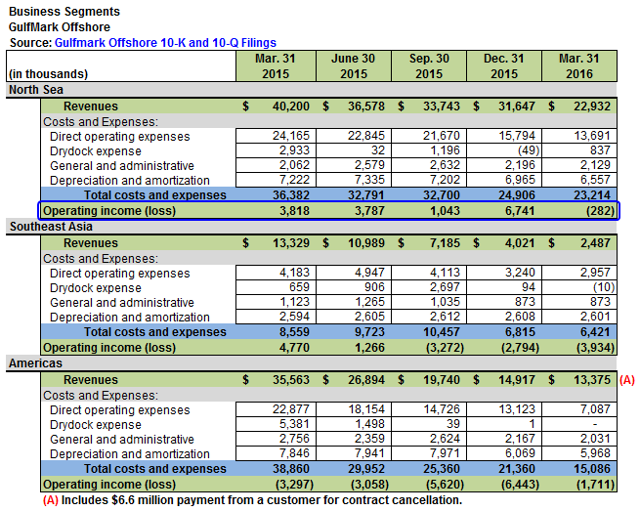 A preliminary review indicates all business segments suffered a decline in revenue from the prior quarter. While the weather supports the revenue decrease for the North Sea region, the other business units do not have a similar excuse.
Further review in the 10-Q reveals that $6.6 million of the revenue generated by the Americas segment was related to a one-time cancellation fee from a customer. After taking this charge into account, it becomes evident that revenue generated from the Americas segment declined over 50% from 4Q15.
An additional table was created to review activity by business segment.

As the table evidences, the Americas business segment has stacked the most vessels, resulting in the lowest overall vessel utilization. In addition, the Americas segment is essentially tied for last in active vessel utilization.
Conclusion
Based on a review of the 1Q16 financial statements and management's earnings call, it appears that GLF operations were a mixed bag. GLF was successful in maintaining positive operating cash flows and putting the cash generated to good use in retiring substantially discounted debt, the dramatic decrease in revenue generated by the Americas business unit is a concern.
GLF should consider stacking more vessels in the Americas segment to increase utilization as well as rationalize operating expenses to lowered revenue. In addition, disclosing more information concerning the sources and characteristics of revenue would be helpful to investors and analysts in determining future revenue and cash flows.
Selling and/or scrapping older vessels does not appear feasible at the current time as management stated the prices offered by potential buyers is significantly lower than the book values that GLF is looking to obtain.
Although the current stock price has dropped since my last article, it may be time to average down the equity position and/or consider buying the high yielding bonds. I expect GLF to continue open market purchases of the bonds while they remain discounted.
Disclosure: I/we have no positions in any stocks mentioned, and no plans to initiate any positions within the next 72 hours.
I wrote this article myself, and it expresses my own opinions. I am not receiving compensation for it (other than from Seeking Alpha). I have no business relationship with any company whose stock is mentioned in this article.