Normally such a reliable performer, H&R Block (NYSE:HRB) has become anything but that currently. The company has had a disastrous tax season as consumers seemingly shift to filing returns electronically. Whilst this shouldn't necessarily be a huge problem as the company provides software for this exact purpose, it appears the consumer has turned to rival Intuit (NASDAQ:INTU) for their software needs, leaving H&R Block questioning how things could go wrong so quickly.

Every year millions of tax returns are filed, and every year as technology advances it becomes more and more apparent that people are switching to filing them electronically rather than face-to-face through one of H&R Block's tax advisors. So much so, it has just announced it is laying off 250 employees as part of its cost-cutting plans. This will reduce the current workforce by 12.6% to a total of 1,735. A difficult decision, but arguably a smart move by management in this challenging environment.
The cost-cutting came as a result of the company handling 5.8% fewer tax returns this season as volume fell to 12.2 million. Perhaps the most worrying aspect of this is that it wasn't just face-to-face filings that fell, its software filings also fell. This time by 2.6% as companies like Intuit appeared to steal market share away from the company through price cuts.
We are sure there are many now wondering if CEO William Cobb is up to the job. But in fairness, he has held his hand up and taken personal responsibility for these failings. Although the company has lost well over a third of its market value in the last six months, we feel he should be given time to get things right in fiscal 2017.
He does seem confident that the company will come back stronger from this, which does make the shares a very tempting option when the market opens today. At present the shares are expected to open down by around 6%. This would leave the shares yielding a 3.6% dividend, as well as offer the prospect for share price gains in the future.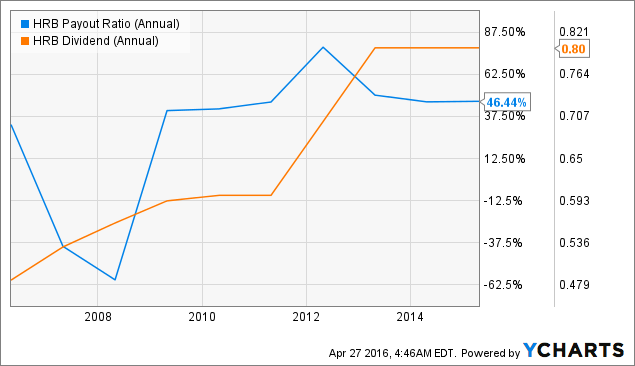 As the chart shows above, the company has grown its dividend at a reasonable rate in the past 10 years whilst maintaining a modest payout ratio. We do believe the company will be able to get its act together in the future and start growing its earnings again. This should allow it to grow its dividend at a similarly consistent rate, making this a great long-term pick for income investors.
Although many are calling this tax season a disaster, it is worth noting that the company managed to pull in reasonably strong levels of revenue, all things considered, and is still expected to produce earnings per share only a little lower than what was produced last year.
So by next year we expect cost-cuttings and an overhaul of the business strategy to help the company grow its earnings in the region of 10%. We see the dividend growing at this rate, or maybe even greater as the company rewards shareholders for keeping the faith, meaning potentially a FY 2017 dividend of at least 88 cents.
All the while its share price, which has been sold to three-year low, has plenty of room to grow in the next twelve months. It is for this reason we do plan on snapping up shares when the market opens today. We have a tendency to buy and hold with certain investments and this looks like one that we will be doing that with.
If the company does grow both its earnings and dividend at a reasonably good rate for the next five years then the total returns we would expect from buying in at this price will be mouth-watering. The company may be going through an incredibly tough time as technology catches up on it, but it has the knowledge, the name, and the resources to get back on track and start to grow its bottom line once again.
Even at a modest price-to-earnings ratio of 15, which is far lower than its 5-year average of 18.76, we would see the stock being fair value at $26.10 today. As we expect earnings to come in flat for the year that is also our one-year price target. Depending on where the stock opens at today, this will be a total return of at least 14% when you include the dividend.
Troubling times, but things will improve.
Disclosure: I/we have no positions in any stocks mentioned, but may initiate a long position in HRB over the next 72 hours.
I wrote this article myself, and it expresses my own opinions. I am not receiving compensation for it (other than from Seeking Alpha). I have no business relationship with any company whose stock is mentioned in this article.