The US dollar will eventually collapse. Despite deteriorating economic fundamentals, multiple rounds of quantitative easing, and rock-bottom interest rates, the dollar remains overbought. Total debt as a percentage of US GDP has skyrocketed, and stood at 104% at the end of 2015, according to the World Bank. Last year marked the fourteenth consecutive year that the government has run a deficit. The trade balance has worsened, as the US has become reliant on foreign borrowing to finance consumption of the goods it no longer produces.
Ultimately, this model of spending in excess of production and saving is not sustainable. The dollar's status as world reserve currency has kept demand for dollars high and borrowing costs low, despite an economic backdrop that under any other circumstances would induce capital flight and a currency crisis. For comparison's sake, Puerto Rico, which is currently undergoing a debt crisis, had a debt/GDP ratio of only 70% in June of last year.
In recent years, the dollar has appreciated further due to the expectation of higher interest rates. But it is starting to become evident that the economy is not strong enough to withstand multiple rate hikes. Eventually, the world will smarten up to the dire position of the US economy and refuse to accept dollar payments for the goods they export to the United States.
The collapse may begin as early as this year with the Fed continuing to backtrack on its rate hike path. When the dollar does sell off, inflation will soar. To protect the value of one's hard-earned savings, one must shield himself from the loss of purchasing power caused by a currency crisis. The most effective way to do so is by investing in gold, a natural hedge against fiat currency. The following are the best ways to prepare for the oncoming collapse.
Gold ETFs
ETFs have the advantage of high liquidity, relatively low fees, and diversification. But not all ETFs are created equal. The best ETFs will be closely linked to the price of gold. Less desirable ones will feature a collection of gold producing stocks that do not necessarily perform in tandem with the price of the underlying commodity. The firm-specific risks associated with individual gold stocks create the potential for a divergence between the price of gold and the ETF's performance.
We recommend the SPDR Gold Trust ETF (NYSEARCA:GLD) and the iShares Gold Trust ETF (NYSEARCA:IAU), two ETFs that own physical gold. Because these funds own gold, their performance tracks that of the commodity itself. GLD and IAU have almost identical risk/return profiles, with 10-year betas of 0.47 and 0.49 respectively. Year to date GLD has returned 15.9%, and IAU 16.13%, reflecting the rising gold price since the beginning of the year. Neither of these investments produces income, but this is less of a concern for us given that one can be relatively certain the investment will pay off assuming one's thesis on gold is correct. Figure 1 illustrates how GLD closely mimics the performance of gold, whereas the Market Vectors Gold Miners ETF (NYSEARCA:GDX) does not.
Figure 1: Gold Price in USD vs. SPDR Gold Trust and Market Vectors Gold Miners ETF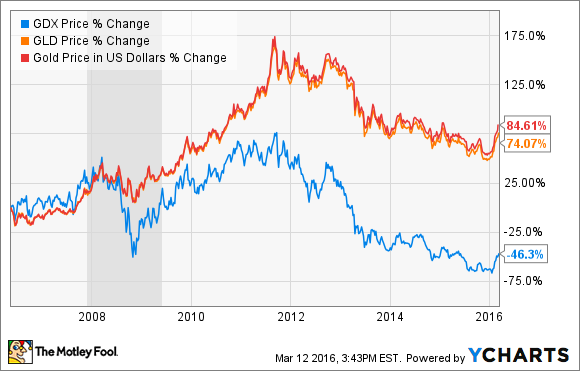 Source: fool.com
Gold Stocks
If you do decide to purchase gold stocks, we recommend ones that pay a dividend since there is no precise time target for gold's recovery. Until gold prices rise, earnings will likely stagnate or show very modest growth. Rather than search for bargains that may outperform in the near term, we suggest three well-known names that have appreciated since the beginning of the year, but remain cheap based on our long-term thesis.
Newmont Mining (NYSE:NEM) is one attractive option. The company's dividend is directly linked to the price of gold, giving investors greater exposure to the performance of the underlying commodity. Unlike many gold stocks, the company has found a way to stay profitable in recent years by trimming fat and focusing on efficiency. Gross margin increased from 37.7% in 2013 to 44.21% in 2015. While costs have risen at the company's Peru and Ghana mines, Newmont has been able to boost productivity through its Nevada mines, a tight-knit complex of 20 sites that allows for shared processing facilities. Furthermore, Newmont has implemented growth projects to replace older, less-efficient mines, which should drive cost savings in the years ahead. With the price of gold rising and the cost curve coming down, NEM is poised to generate strong earnings growth.
Figure 2: NEM Price Performance January 2010-April 2016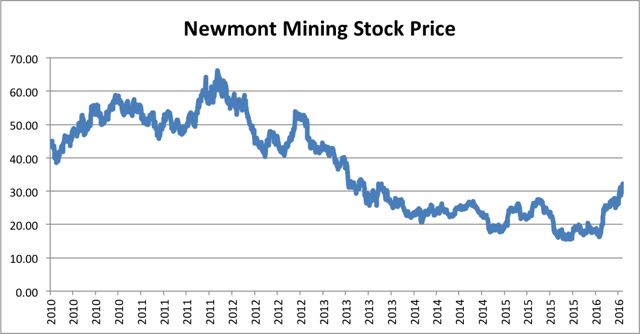 Barrick Gold (NYSE:ABX) is riskier than NEM, but has greater upside. The company is highly levered (financial leverage is 3.67), but has taken steps to reduce debt through restructuring and cost cuts. Despite its high debt levels, ABX may be the closest thing to a Buffett-style investment in the gold sector. Barrick has a competitive advantage thanks to its ability to produce at costs far below the industry average at its large core mines, which account for 60% of the company's production.
Gold's status as a commodity means that competition is predominately based on price. Thus, the most efficient companies tend to grab the largest market shares. However, ABX is far from perfect. The company made some unwise acquisitions when gold prices were higher and now owns a slew of overpriced assets, some of which are yet to open. We believe Barrick could create shareholder value by selling off some of its non-core mines. When the price of gold recovers, ABX's high financial leverage will work to the advantage of investors, allowing earnings to grow faster than sales.
Figure 3: ABX Price Performance January 2010-April 2016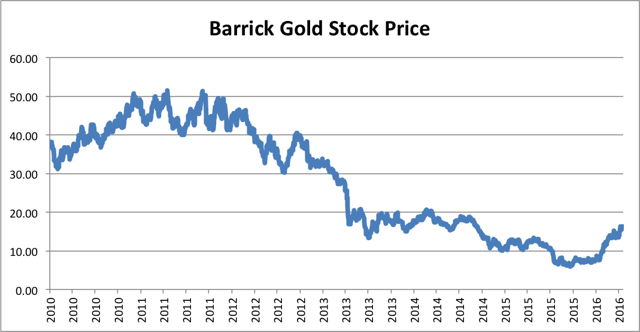 Gold's weak performance in recent years has forced many producers to slash dividends. This is not the case with Randgold Resources (NASDAQ:GOLD), which recently announced a 10% increase over last year's dividend. Thanks to its strong cash flow generation, the company has been able to maintain a progressive dividend policy during a difficult period for gold prices. Randgold's superior cash flows are a product of high profitability.
The company's five-year average net profit margin of 25.5% is higher than the EBIT margin of most firms in the sector. As a result, the company converts a relatively high portion of sales into free cash flow (16.5% in 2015). GOLD's strong financial health is another selling point. The company has no debt on its books and cash as a percentage of total assets increased from 1.13% in 2013 to 5.71% at the end of 2015. We expect Randgold to continue increasing its dividend, and GOLD may be the best of the bunch for income-seeking investors.
Figure 4: GOLD Price Performance January 2010-April 2016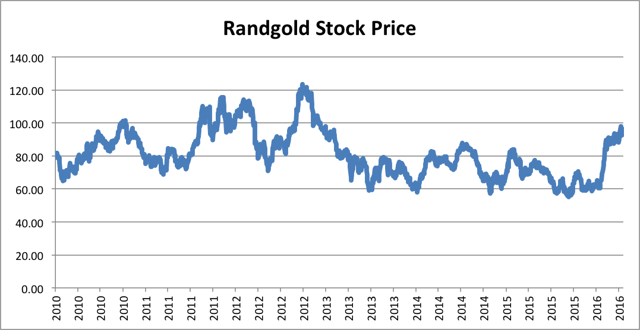 Conclusion
We do not know exactly when the dollar will take a dive. All we do know is that the economic fundamentals do not support its current valuation. The catalysts for a fall are beginning to manifest, and will strengthen throughout the year as the Fed continues to backtrack on its rate guidance. With nominal interest rates so low, real rates are likely negative because inflation is higher than the CPI would suggest.
Inflation as measured by the CPI is not an accurate measure of the cost of living because big-ticket items such as rents and healthcare (which have skyrocketed) are omitted from the basket. Investors need to protect their savings against the protracted erosion in purchasing power that will accompany a dollar collapse. The best way to do so is by holding fewer dollar-denominated assets and increasing exposure to gold, a store of value that cannot simply be printed into existence.
Disclosure: I/we have no positions in any stocks mentioned, and no plans to initiate any positions within the next 72 hours.
I wrote this article myself, and it expresses my own opinions. I am not receiving compensation for it (other than from Seeking Alpha). I have no business relationship with any company whose stock is mentioned in this article.