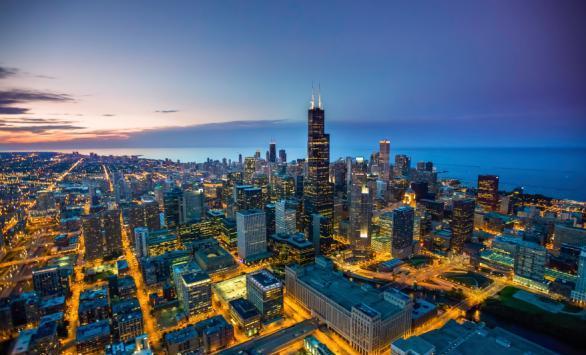 A decision from Illinois' Supreme Court to reject pension reforms has seen Chicago's municipal bond spreads widen, with little effect on neighboring municipalities.
Municipal bond spreads in surrounding cities widened 20% on the back of Chicago's 'junk' downgrade last year.
Spreads across the board tightened significantly towards the end of 2015, reversing much of the post-downgrade spread deterioration.
Latest Fitch and S&P downgrades have seen Chicago's spreads widen again, but this time in isolation.
Chicago's credit woes deepened last month as Fitch slashed the city's credit rating by two notches to BBB-. The downgrade means that both Fitch and S&P (BBB+) now have the city teetering above 'junk' status, a perilous position as it struggles to deal with $30bn of unfunded pension obligations.
The downgrade was a blow for the credit worthiness of Chicago's municipal bonds, which have diverged versus neighboring cities' municipal bonds since the third major rating agency, Moody's (NYSE:MCO), downgraded Chicago to 'junk' last May.
Junk status
On May 12, 2015, Moody's downgraded the city of Chicago from investment grade to 'junk' status in a move which deviated from the opinions of the other two major rating agencies, which held Chicago's issuer rating higher. $8.1bn of outstanding general obligation (GO) debt, $542m of outstanding sales tax revenue debt and $268m of outstanding and authorized motor fuel tax revenue debt were all simultaneously downgraded.
Chicago's municipal bond spread (premium over 10-yr AAA rated bonds) widened more than 30% after Moody's' decision, as surprised investors re-evaluated Chicago's credit worthiness. The downgrade also caused contagion in surrounding municipalities, which saw spreads widen in tandem.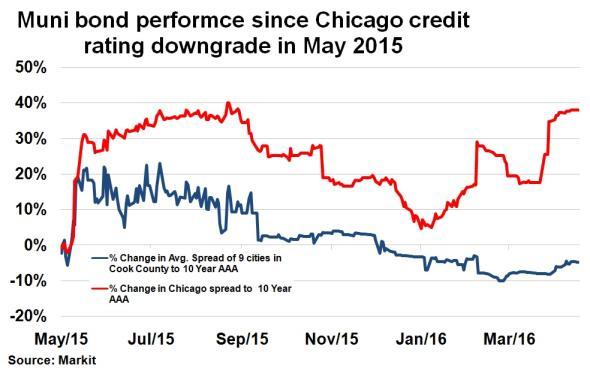 Taking nine neighboring cities in the Cook County area (Bellwood, Berwyn, Cicero, Elk Grove, Evanston, Highland Park, Lemont, Niles and Oak Lawn) and averaging their spreads, Chicago's downgrade had a 20% (wider) instantaneous impact.
Diverging paths
Municipal bond spread performance of both Chicago and surrounding cities continued to remain volatile over the following months (June 2015 to Sep. 2015), although Chicago continued to see steady deterioration.
September 2015 until year end saw investor sentiment reverse, with volatility decreasing and spreads tightening across the board. By January this year, the average spread for the Cook County cities had retracted all the spread underperformance encountered after the Moody's downgrade, while Chicago's percent change in spread fell from the 40% highs seen in September last year to just 5%.
But the positive sentiment was short-lived as Chicago was forced to offer above average yields to garner investor demand in January. As fears started to escalate again around Chicago's inability to raise funds or cut costs, the supreme court of Illinois rejected pension reform legislation for two of Chicago's four pension plans last month, triggering a spate of downgrades from Fitch and S&P. The move, seen as a negative for credit quality, meant that rating agencies were now seeing their ratings converge towards the negative.
Chicago's municipal bond spread has since widened again, back near levels seen after last year's Moody's downgrade, but interestingly, in divergence to fellow Cook County city spreads. As the crisis deepens, it seems Chicago is left more and more isolated.