With U.S. super majors Exxon (NYSE:XOM) and Chevron (NYSE:CVX) set to report Q1 results this Friday, I thought it would be interesting to take a look at an overseas supermajor to get a feel for what its results might have in store. Total SA (NYSE:TOT) is one of the six biggest oil companies in the world and has integrated operations in the same way that Exxon and Chevron do. This means that they explore for crude and other hydrocarbons, produce them, refine them into chemicals, transport them, and more.
Company Overview
Founded in the years after the end of World War I, Total SA used to be known as Française des Pétroles Compagnie (French Petroleum Company). The company's genesis was the rejection of partnering with Royal Dutch Shell by then prime minister Poincare. The country then decided to create their own, wholly owned French oil behemoth. The Total name comes from its popular line of gasoline that the company eventually adopted.
Recent Quarter Results
In terms of brent crude pricing, the company said their average price was $33.9 per/b versus $53.9 per/b in the prior year Q1.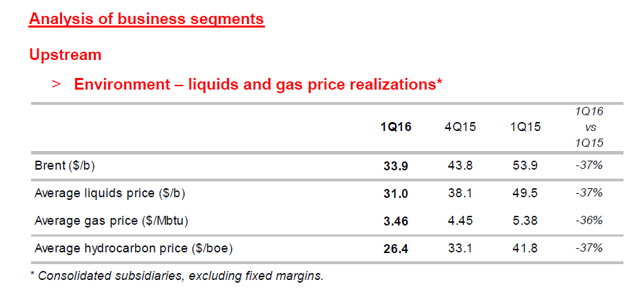 Production was actually up versus Q1 2015 and the prior quarter.

The company said that new project startups and slightly better field production and low maintenance offset some troubles in places like Yemen and Nigeria.
In refining, production was again up almost 100 kb/d versus the prior quarter and Q1 2015. The continued weakness in crude and other raw material prices that this segment uses continues to help with the good results here that somewhat offset the terrible upstream results. That pattern has been seen before and should continue across all of the major oil companies.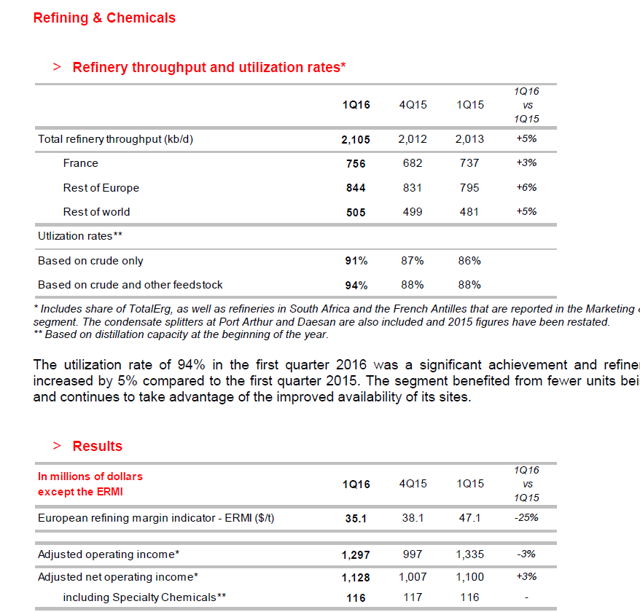 Results Continued
Net income fell 37% in the quarter due to continued pressure on Upstream earnings, while the downstream portion remained flat across the board. The company sold its FUKA gas pipeline network for $885m in the quarter, which was the only divestment of note.
The company plans for $19b in capex for 2016 and expects production to increase by 4%, due mainly to project startups in places like Angola. The company's quarter looked a lot better than the past few as it finally managed to have a quarter without any impairments. This, plus slight production increases, led to a quarter that was above analysts expectations -- but it was still pretty ugly, as expected.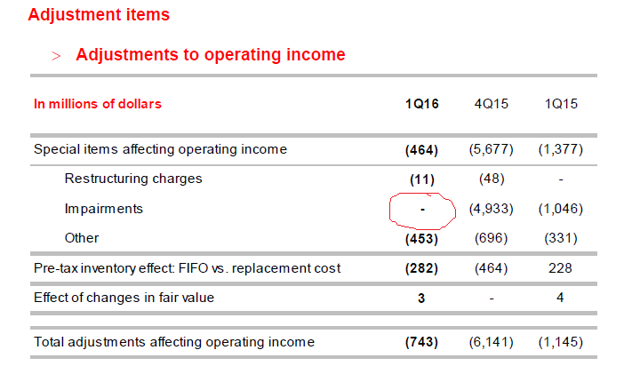 Most major oil companies have increased their debt load over the past few years -- especially since the end of 2014 -- to continue to fund shareholder payouts and capex. Total SA has increased its as well, but not as severely as some other companies.

If you do not think this is a big deal, then witness the fact that Exxon Mobil just lost its AAA credit rating due in part to this doubling of debt and low future oil price expectations.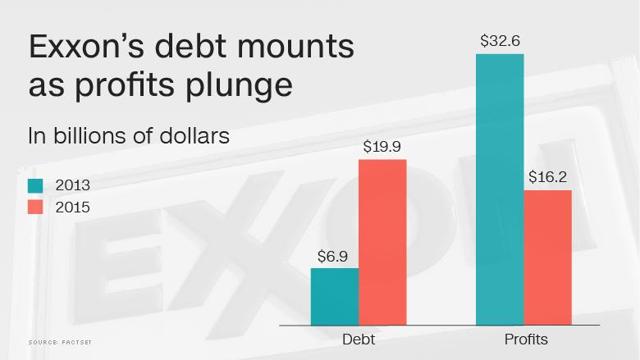 As you can see in the table above, Chevron has tripled its debt. So time will tell if the rating agencies come calling on their door as well.
Dividend Policy
The one thing I like a lot amount many European firms is that they have much more realistic dividend policies, especially if they operate in an industry prone to swoons to the degree that energy is. In American companies, it is virtually anathema to cut the dividend and you must go down to the last moment promising you will not cut.
Total has cut or kept the dividend flat. The general European dividend policy is to pay out a set or reasonable amount in relation to profits for that year, not simply a set and slowly increasing amount regardless of what is actually going on.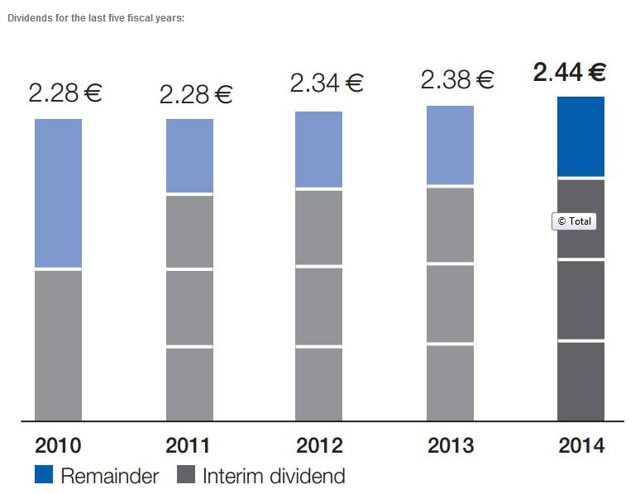 It is my opinion that this is a more realistic mindset. While it's to get a ever increasing payout every quarter, it does look quite foolish to raise the dividend one year then declare bankruptcy the next.
Conclusion
Total or other non-American majors might be an interesting way to play the oil rebound if you are not a fan of the Exxon and Chevron types. Their prices have fallen much more than those companies, and might have more upside in addition to having more reasonable debt loads. Total's production achievements this quarter are optimistic, and if the price of oil would only cooperate, an increase in profits from these depressed levels could quickly follow.
Disclaimer: This article covers a stock that reports results using a different accounting methodology other then U.S. GAAP and results may not be comparable. You can learn more about tax withholding policies for French companies and how to purchase the ADR shares of Total here, or by contacting your broker.
Disclosure: I/we have no positions in any stocks mentioned, and no plans to initiate any positions within the next 72 hours.
I wrote this article myself, and it expresses my own opinions. I am not receiving compensation for it (other than from Seeking Alpha). I have no business relationship with any company whose stock is mentioned in this article.