In December 2015, I wrote about the potential for the lithium miners. The article mentioned the lithium miners as a way to play the coming electric vehicle (EV) boom, and again here on April 7, 2016. In this article, I intend to give an overview of the junior lithium miners, in particular, the Australian and Canadian miners that dominate this sector.
Lithium Spot Price
Since late 2015, the lithium spot price has taken off moving from USD 5,000-6,000 per metric tonne to today's price range of USD 13,000-22,000 per metric tonne. The range is there because there is no exact pricing mechanism, and electric vehicle companies especially in China are paying high prices to source lithium to feed the booming EV industry.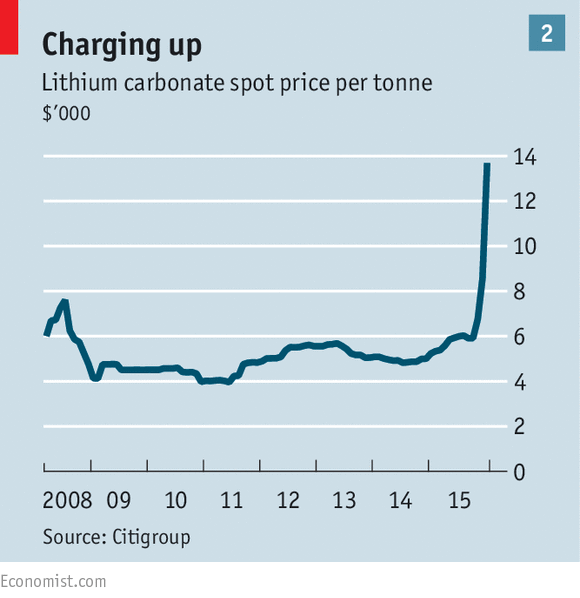 Lithium Supply And Demand
The lithium spot price is rising and reflecting the increase in demand. "Mr. Lithium," Joe Lowry, reports $20,000 per metric tonne in China, stating "the lithium shortage is real."
Right now, electric vehicles make up just over 0.5% of global new car sales, however, they are growing at 50% pa. You can read about this here in my previous article "Electric Vehicles Will Most Likely Be The Next Big Thing." Goldman Sachs in its article "Lithium is the new gasoline" states, "total lithium demand today is 160,000mT of lithium carbonate equivalent (LCE) per year. We estimate that a 1% battery electric vehicle penetration would increase lithium demand by 70,000mT of LCE/year (or roughly half of current global demand for lithium)." Stating another way, a 2% increase in EV market share would require a doubling of lithium supply.
Just imagine when Tesla (NASDAQ:TSLA), BYD (OTCPK:BYDDF), and the conventional car makers get serious about EVs. Imagine if global EV penetration rises just 2% pa, causing lithium demand to double each year. Add to this the energy storage revolution. It all adds up to a massive increase in demand for lithium, and strong spot pricing. Goldman Sachs has forecast global EV market share to reach around 25 million sales pa by 2025, or around 22% market share. That would mean lithium supply by 2025 would need to increase by around 9-10 fold from today's levels, just to support EVs, not mentioning energy storage.
Lithium is here to stay. Lithium is the lightest solid element on earth with double the energy density of the next closest alternative. Lithium battery technology will no doubt improve, but lithium will remain the key mainstay of the EV battery. Lithium is also used in about 75-80 different products.
Previously, I focused on the major lithium miners (Albemarle (NYSE:ALB), SQM (NYSE:SQM), FMC Corp. (NYSE:FMC), Galaxy Resources (OTCPK:GALXF) (ASX:GXY), Ganfeng Lithium (SHE:002466), Sichuan Tianqi Lithium Industries (SHE:002466) and Orocobre (OTCPK:OROCF) (ASX:ORE) (TSX:ORL)). Those are the safer and perhaps boring way to play the lithium boom.
This time I will look at the juniors. Make no mistake, these are risky. They are high risk/high reward. Some of the Australian miners have already increased over 1,000% in the past year (e.g. Altura Mining (OTCPK:ALTAF) (ASX:AJM) up 1,990%, Pilbara Minerals (LSE:PLR) (ASX:PLS) up 1,685%, General Mining up 1,258%), so perhaps better to find the lithium miners that have not yet run up in price so much. But remember if lithium demand doubles for 10 years in a row, those miners may have looked like bargains today.
The Australian Junior Lithium Miners
Market Caps, Total EV/Resource Comparison - As of April 8, 2016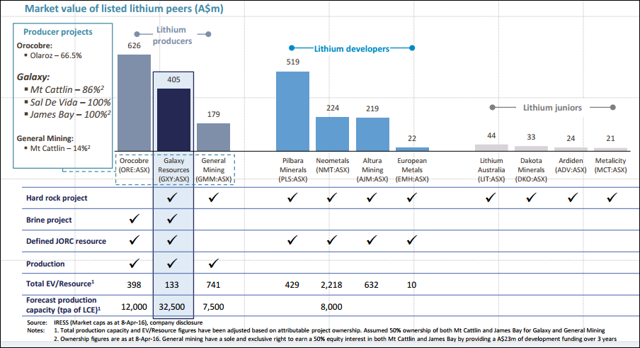 The above graph gives an excellent summary of the Australian lithium miners, and where they are placed.
The lithium producers of Australia are Orocobre, Galaxy Resources and General Mining. They all trade at fairly high valuations and market caps as you would expect of companies that are selling lithium right now into a booming spot market where lithium prices have recently tripled. Buying the producers is a safer way if you don't pay too much for them. Monitor their forward PE ratios and make your own assessments based on an assumed spot price. Also, consider their production ramps, cost of production, and their total lithium resources. My preference would be towards Orocobre as it has recently doubled production levels, so strong profits should soon come through. Galaxy also has appeal. However, I think better value can be found elsewhere, albeit with higher risk.
The lithium developers of Australia include Pilbara Minerals (OTCPK:PILBF) (ASX:PLS), Neometals (OTCPK:RDRUY) (OTCPK:RRSSF) (NMT), Altura Mining (ASX:AJM), and European Metals Holdings Ltd (ASX:EMH) (LSE:EMH).
Pilbara Minerals - Price = AUD 0.625
Pilbara Minerals is developing lithium and tantalum projects in the Pilbara region of Western Australia. PLS's flagship asset is its Pilgangoora Lithium Project in WA. Pilgangoora is the world's second largest hard rock lithium deposit, ranking only behind the world-class Greenbushes mine. Compared to other emerging hard-rock lithium producers, Pilgangoora ranks above-average in terms of size, grade, and costs, as well as demonstrating favourable metallurgy to date. The stock has rallied 1,685% in the past year, currently has no PE, and a market cap of AUD 632m.
Neometals - Price = AUD 0.385, USD = 0.34
Neometals is exploring and developing its lithium, titanium, vanadium, and other base metal properties. It has a 70% share of the Mt. Marion lithium project, Western Australia, with Mineral Resources (OTCPK:MALRY) (MIN) having a 30% share. The stock has rallied 409% in the past year, currently has a PE of 12, and a market cap of AUD 215m.
Altura Mining - Price = AUD 0.23, USD 0.215
Altura mines for uranium, iron, industrial garnet, coal, tantalum, and gold, and has a mining services arm. Altura has a hard-rock spodumene lithium deposit at Pilgangoora project in Port Hedland, Western Australia, with 25.16mt at 1.23% LiCo3. The stock has rallied 1,990% in the past year, currently has no PE, and a market cap of AUD 221m.
European Metals Holdings Ltd- Price = AUD 0.25, GBP 14.0
European Metals is an Australian- and UK-listed minerals exploration and development company advancing the Cinovec Lithium/Tin Project in the Czech Republic. It has an EPS of -0.01. I see some relative value here given the relatively smaller stock price run-up, and based on a lower total EV/resource ratio of 10 (see graph above). The stock has rallied 78% in the past year, currently has no PE, and a market cap of AUD 26.5m.
The lithium juniors of Australia include Lithium Australia (LIT), Dakota Minerals (ASX:DKO), Ardiden (ASX:ADV), and Metalcity (ASX:MCT).
Lithium Australia - Price = AUD 0.27
Lithium Australia acquires and develops mineral properties. It has developed an extraction method (sileach) from lithium mica which gives it cost-effective lithium production from the world's largest lithium resource - Li mica rocks, found in many parts of the world in large amounts which hitherto, have been too expensive to process. It currently has a JV with Alix Resources (OTCQB:ARXRF) (CVE:AIX) bordering Bacanora in Sonora. It also has a prospective lithium project at the Ravensthorpe tenements in Western Australia. The stock has rallied 242% in the past year, currently has no PE, and a market cap of AUD 61.8m.
Dakota Minerals - Price = AUD 0.18
Dakota is a copper and gold miner turned lithium explorer in Victoria and NSW Australia. The stock has rallied 927% in the past year, currently has no PE, and a market cap of AUD 45.6m.
Ardiden - Price = AUD 0.041
Ardiden operates as a mineral exploration company focusing on identifying, acquiring, and developing mineral projects in Canada. The stock has rallied 583% in the past year, currently has no PE, and a market cap of AUD 28.6m.
Metalcity - Price = AUD 0.06
Metalcity is a base metals company that focuses on the discovery, development, and acquisition of base metal projects such as zinc, copper and nickel in Australia. The stock has rallied 233% in the past year, currently has no PE, and a market cap of AUD 21.6m.
You can read more about the Australian lithium miners here. Also the junior miners here.
Overall, I have not spent too much time on the Australian lithium miners as mostly they have been the early stock price movers, and in many cases, buying them now after exponential rises may be a bit too late. It will depend on your time frame, however best to be cautious.
The Canadian Junior Lithium Miners
The majority of the Canadian junior miners are focused on Nevada, and in particular on the Clayton Valley where Albemarle runs the successful Silver Peak lithium project.
Lithium X Energy Corp. (ROCEF) (LIXXF:US) (TSXV:LIX) - Price = USD 1.70, CAD 2.20
Lithium X is exploring in the key "Lithium Triangle" area of Argentina and is the largest land holder in Nevada's Clayton Valley, the only producing lithium area in the entire United States. Lithium X has over 15,000 acres in Clayton Valley, near Albemarle's Silver Peak mine, and the very promising Sal de los Angeles project in Argentina. The stock has rallied 628% in the past year, currently has no PE, and a market cap of CAD 125.8m.
Clayton Valley Miners Holdings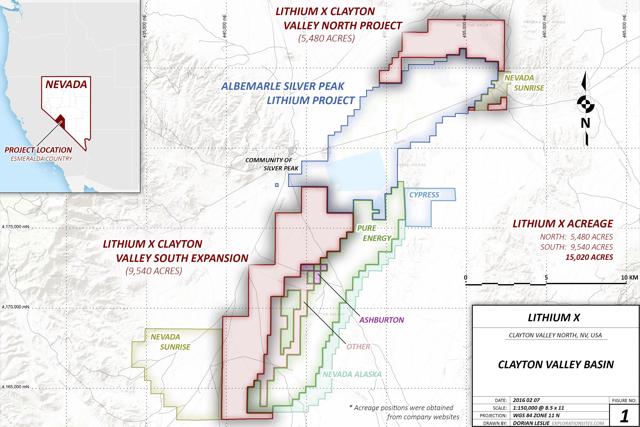 Pure Energy Minerals (HMGLF) (PE) - Price = USD 0.72, CAD 0.89
The Canadian company Pure Energy has signed an agreement to supply Tesla's gigafactory. Its flagship project includes the lithium brine project, covering approximately 8,000 acres in Clayton Valley, Nevada. Pure Energy Minerals has no current earnings or PE, has rallied 314% in the past year, and has a market cap of CAD 59.6m.
Lithium Americas Corp. (LACDF) (TSXV:LAC) - Price = USD = 0.58, CAD 0.73
Lithium Americas is a merged entity between Western Lithium (WLCDF) and Lithium Americas Corp. It owns the Kings Valley clay lithium mine in Nevada. Kings Valley production is about three years away. Additionally, it has recently combined with SQM for a 50% joint venture in the Cauchari-Olaroz brine project in Argentina, which you can read more about here. The author puts a current target on LAC of CAD 2.00. The project should be producing by 2018/2019, with Lithium Americas' share of the production being around 20,000mT pa. Lithium Americas has no current earnings or PE, has rallied 9% in the past year, and has a market cap of CAD 227m. Plenty of potential.
Nevada Energy Metals (OTCQB:SSMLF) (TSXV:BFF) - Price = USD 0.16, CAD 0.205
Nevada Energy Metals has 100% ownership in 87 claims over 1,740 acres (704 hectares) in Clayton Valley, only 250m from Albemarle's Rockwood Lithium, the only brine-based lithium producer in North America. It has also acquired 100 claims covering 2,000 acres (809 hectares) at Teels Marsh West, Mineral County Nevada, a highly prospective lithium exploration project, 100% owned without royalties. The company's first lithium project, Alkali Lake, in Esmeralda County, is a 60% earn in option agreement from Dajin Resources (OTCQB:DJIFF) (DJI), where near-surface lithium has been confirmed. Nevada Energy Metals has no current earnings or PE, has rallied 60% in the past year, and has a market cap of CAD 15m. Plenty of potential.
Nevada Lithium Hub and Clayton Valley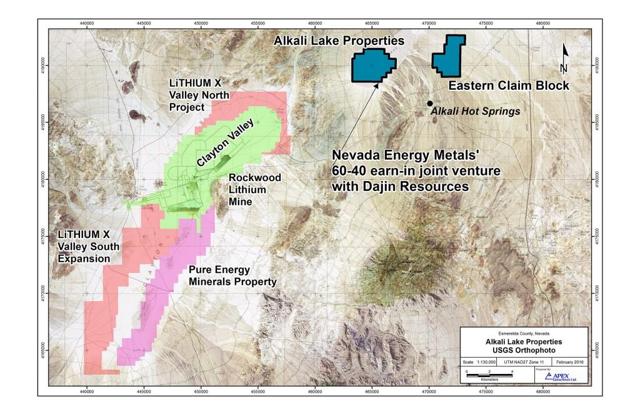 Other Clayton valley lithium miners include Nevada Sunrise Gold (OTCPK:NVSGD) (NEV), Alix Resources (TSXV:AIX), Ashburton Ventures (OTC:ASHXF) (ABR), Cypress Development (OTCQB:CYDVF) (TSXV:CYP), Sienna Resources (HBNRD) (TSXV:SIE), Noka Resources (OTCPK:NOKAF) (NX), Matica Enterprises (OTCPK:MQPXF) (CSE:MMJ).
Beyond that, there are a number of companies with projects that are not quite in the Clayton Valley, but that are still relatively nearby in Nevada.
Dajin Resources - Price = USD 0.19, CAD 0.22
Dajin Resources has lithium deposits in Nevada not far from the Clayton Valley, therefore also located near to Tesla's gigafactory. It has 3,851 acre Alkali Lake project in Nevada, 5,282 acre strategic Teels Marsh in Nevada, and 230,000 Salinas Grandes Salar in Argentina, next to Orocobre. You can read more about Dajin here. Dajin Resources has rallied 186% in the past year, currently has no PE, and a market cap of CAD 28.4m.
Other nearby miners are Eureka Resources (OTC:ERKAF) (TSXV:EUK) and Ultra Lithium (OTC:ULTXF) (TSXV:ULI).
International Lithium Corp. (OTCPK:ILHMF) (TSXV:ILC) - Price = USD 0.18, CAD 0.235
International Lithium Corp. renders clean technology lithium resource development services, and acquires lithium properties and rare earth metal projects around the world. ILC has recently reinforced its relationship with strategic partner Jiangxi Ganfeng Lithium Co. Ltd. from China, whereby Jiangxi bought an equity stake of 17.5% in ILC to further advance the core ILC projects. The company's primary focus is the Mariana lithium-potash brine project in Argentina within the renowned South American "Lithium Belt" that is host to the vast majority of global lithium resources, reserves and production. The 160 square kilometer Mariana project strategically encompasses an entire mineral rich evaporite basin that ranks as one of the more prospective salars, or "salt lakes" in the region. Complementing the company's lithium brine projects are rare metals pegmatite properties in Canada and Ireland that have revealed through recent highly positive results. International Lithium Corp. has rallied 840% in the past year, currently has no PE, and a market cap of CAD 18.1m.
Nemaska Lithium (NMKEF) (TSXV:NMX) - Price = USD 0.92, CAD 1.14
Nemaska Lithium has Whabouchi hard rock lithium project in Quebec, as well as the Lac Levac deposit (nickel and copper). It has approval to build its Whabouchi mine, and is more advanced than most of the juniors. You can read more about it here. The stock has rallied 629% in the past year, currently has no PE, and a market cap of CAD 230m.
Bacanora Minerals (OTC:BCRMF) - Price = USD 1.20, CAD 1.50
Tesla has also agreed to buy lithium from Canada's Bacanora Minerals from its clay deposit in Mexico's northwest should the new project reach production. It plans to produce 35,000 tonnes of lithium pa when in full production, with a 20-year mine life. The company plans to be a low-cost producer around $2,100 per tonne (and are reported to be closer to $3,100 for Phase 1 and $2,700 for Phase 2). You can read more on Bacanora with its company presentation here. Bacanora Minerals has no current earnings or PE, has fallen 16% in the past year, and has a market cap of CAD 146m.
I have not considered the Chinese or other lithium miners in countries such as Argentina, Chile, or Bolivia in this article as they are very hard to invest in; however, I may do another article on this if demand and access to purchasing the stocks are there.
Lithium Life Cycle Chart - "not updated"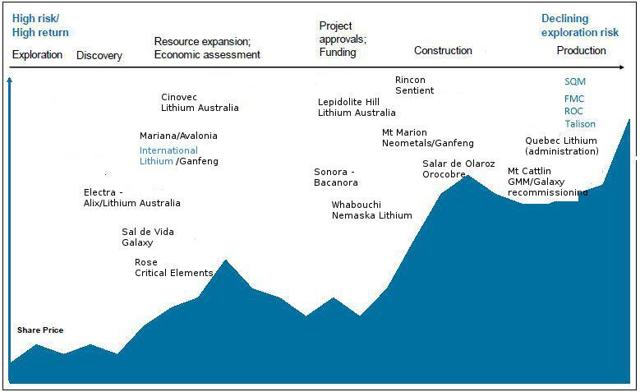 The above chart can help investors decide the level of risk they want to take. As explained earlier in the article, the lithium producers (see top right corner) are lower risk compared to the lithium explorers (most of the lithium juniors) at the bottom left of the graph.
Conclusion
If we see rising EV sales and rising home energy storage using lithium batteries, then the demand for lithium will continue to grow rapidly. It may even double every time EV sales rise by 2% of global sales, as a very rough guide.
The lithium miners have already had a tremendous run the past few months as the lithium spot price spiked late in 2015 from around 6,000 per metric tonne towards 20,000/mT. Current supply is short, so lithium spot prices should remain strong.
My preferred picks amongst the producers are Albemarle, Orocobre, and Galaxy Resources. Amongst the juniors I like European Metals, Lithium X, Lithium Americas, Dajin Resources, International Lithium Corp., and Nevada Energy Metals.
Investors must remember that the junior lithium sector is very risky, and should invest accordingly. Risks to consider are corruption, sovereign risk, liquidity, and the lithium supply/demand issues.
In most cases, it would be wiser to buy the Australian miners on the ASX and the Canadian miners on the TSXV, to ensure adequate liquidity. Generally, brine projections have a running cost advantage as it is easier to process than hard rock or clay.
Finally, please bear in mind I am not a lithium analyst, and I am not advising any individual stocks here, but merely trying to give investors a broad understanding and overview of this very exciting sector. Investors should do their own research and due diligence.
Disclosure: I am/we are long TSLA, BYD CO (HK:1211), ALB, TSXV:DJI, TSXV:LIX, TSXV:ILC, TSXV:BFF, TSXV:LAC, ASX:EMH.
I wrote this article myself, and it expresses my own opinions. I am not receiving compensation for it (other than from Seeking Alpha). I have no business relationship with any company whose stock is mentioned in this article.
Additional disclosure: The information in this article is general in nature and should not be relied upon as personal financial advice.
Editor's Note: This article covers one or more stocks trading at less than $1 per share and/or with less than a $100 million market cap. Please be aware of the risks associated with these stocks.