Eagle Point Credit Co. (NYSE:ECC) is a dividend-yielding gem. With an 11% yield on the shares currently, it's time to load up on this stock before it takes off.
The company invests in equity and junior debt tranches of collateralized loan obligations (CLOs). The CLOs are collateralized below investment grade U.S. senior secured loans.
I am excited about this dividend yield play given my expectation of future cash flow growth, a sustainable dividend, and reasonable valuation.
By analyzing the company's most recent financials and IR deck, I have performed my own analysis that supports the current dividend level over the next three years with a declining payout ratio.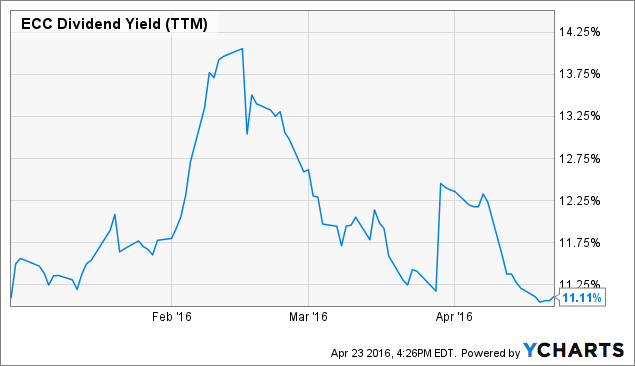 ECC Dividend Yield (TTM) data by YCharts
Portfolio overview
As of December 31, 2015, ECC had a $234 million investment portfolio consisting of:
$182.95 million of CLO Equity
$5.84 million of CLO Debt
$45.48 million of Loan Accumulation Facilities
Also as of December 31, 2015, the company had exposure to 1,078 unique underlying borrowers, with the largest individual borrower exposure representing 1.0% of total assets and the 10 largest borrowers representing 7.3% of total assets.

(Source: Company IR deck)
Key statistics from the most recent investor deck include:
Average borrower exposure - 0.1%
Top 10 borrowers - 7.3%
Weighted average spread - 4.01%
Weighted average credit rating - B+/B
Weighted average maturity - 5 years
US FX exposure - 100%
Growth Drivers
I expect the yield on the entire portfolio to improve to 13% in 2016 and up to 14% in 2017 (compared to 12.4% in 2015), driven by three key factors:
#1 - The addition of the 20.75%-yielding Bowman Park CLO (added in 4Q 2015) will help drive up the average yield over the next few years (Source: Annual Report).
#2 - The addition of the 21.0% Sheridan Square CLO (due 4/15/25), also added in 2015, will have a full year of yield reflected in 2016.
#3 - Market volatility in CLOs means that reinvested capital is at lower prices and higher yields. Volatility can be the friend of a yield portfolio if funds are reinvested at opportunistic times.
Combining the higher-yielding investments described above results in the financial analysis presented below.
Financial Analysis
Based on my financial analysis from the company's most recent filings and IR deck (as well as the reasons described above), the payout ratio should come down to a more manageable level in 2017.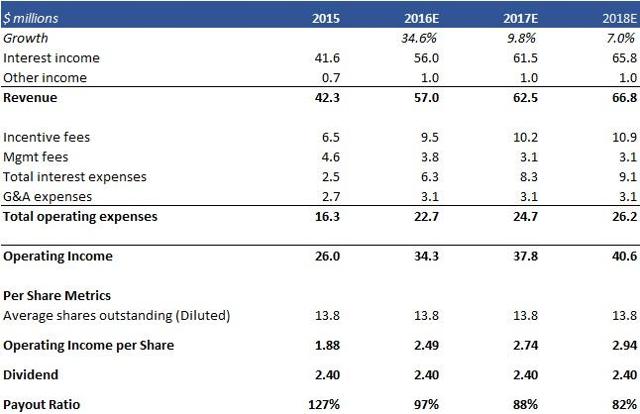 (Source: Analysis by author and financial modeling template)
As you can see in my analysis above, the payout ratio dips below 90% in 2017 and allows for the possibility of a dividend increase by 2018.
2015 was a challenging year from a cash flow and payout perspective; however, the company has indicated that this pressure will ease, and I believe my analysis is conservative.
Risk Factors
While the 11% yield is extremely attractive for someone with high risk tolerance, this investment is not for everyone. ECC could be negatively impacted by an economic downtown, which would put pressure on profitability if the underlying borrowers are unable to repay their loans.
Given that the majority of the loans are below investment grade (i.e., speculative), the prices of those securities will be very sensitive to changes in economic conditions.
CLO equity and junior debt securities have a higher risk of default compared to CLO debt securities.
In addition, when CLO equity securities are initially created, they are often under-collateralized, meaning they have more liabilities than assets. This means ECC could be in a first-loss position with its CLOs.
In summary, I believe the yield justifies the risk, and the 11% yield is attractive for investors with higher risk tolerance.
Disclosure: I/we have no positions in any stocks mentioned, but may initiate a long position in ECC over the next 72 hours.
I wrote this article myself, and it expresses my own opinions. I am not receiving compensation for it (other than from Seeking Alpha). I have no business relationship with any company whose stock is mentioned in this article.