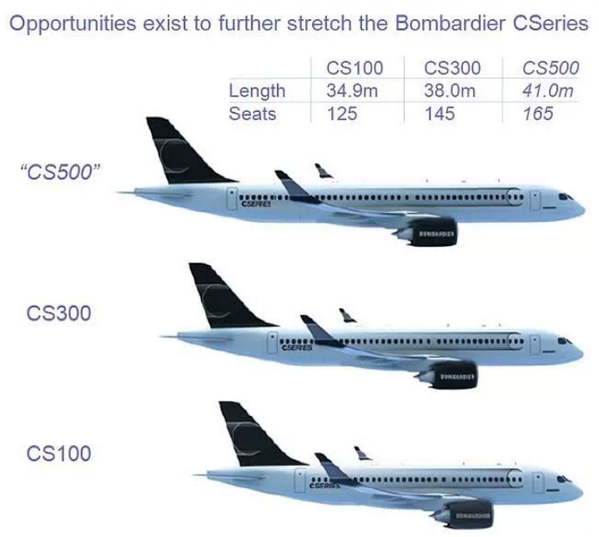 Img 1: CSeries Aircraft
The CS500 has been talked about on and off for many years and offers excellent potential for Bombardier (OTCQX:BDRBF, OTCQX:BDRAF). Compared to the CS300 that targets up to the 145-seat market, the CS500 would put the aircraft in the lucrative ~165-seater market and head to head against Boeing's (NYSE:BA) top selling aircraft, the Boeing 737-800.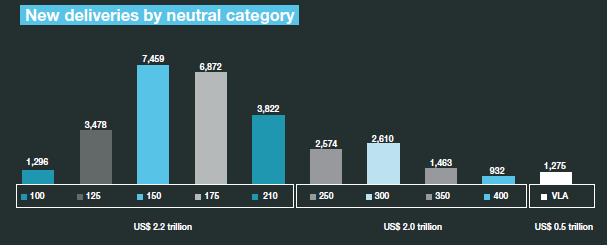 Img 2: Projected sales by aircraft size 2015-2034
As the above chart shows, the forecasted number of aircraft sales in the 150-seat range where the CS500 would fall, is substantially larger than the smaller 125-seat market that the CS100 and CS300 would fall into. Having a range of aircraft from ~70 seats all the way up to 165 would also make Bombardier a more compelling vendor for many airlines versus Airbus (OTCPK:EADSF, OTCPK:EADSY) and Boeing.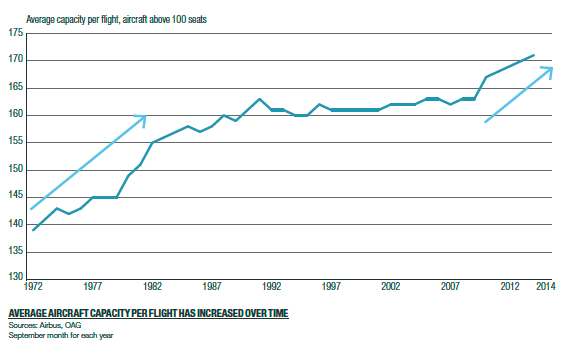 Img 3: Average aircraft capacity per flight over time
A CS500 would also insulate Bombardier from a move by airlines into larger and larger aircraft over time, as the above chart shows. AirInsight believes that a CS500 would have a 16% operating cost advantage over the A320NEO, and a 24% operating cost advantage over the 737-800. Despite the positives from such an offering, there are a lot of problematic unanswered questions which could put such an offering in jeopardy.
Delta Order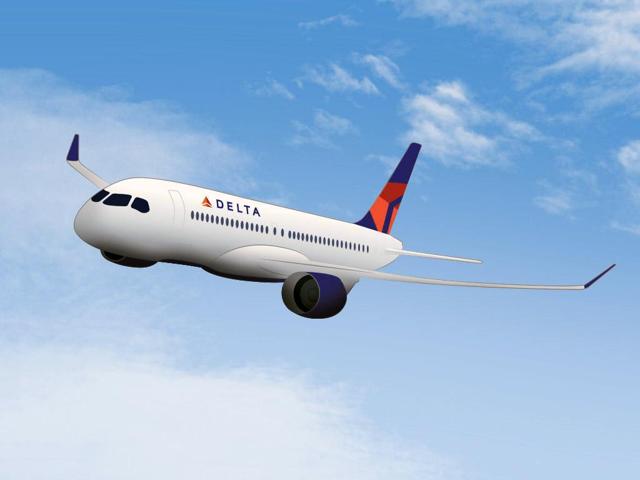 Img 4: Rendering of a Delta CSeries aircraft
As information continues to leak regarding the status of the talks between Delta (NYSE:DAL) and Bombardier on a CSeries order, there is talk of Delta requesting Bombardier pursue a CS500 product. It has been reported that Delta requested this in 2011 and Bombardier's failure to comply is one reason the deal fell apart. While such a pursuit may not be imminent on Bombardier's end, it may be closer to reality than before due to continued pressure from Delta. Any options that Delta places as part of any order may have been placed by Delta with the intention of converting them to firm orders for the CS500 once Bombardier launches the product.
Financial
Despite the potential for the aircraft there is one big question, how will development be financed. Bombardier is in a tough financial situation at the moment and the last thing the company needs to do is take on another project, and deal with the associated financial risk in doing so. The Delta order is unlikely to be very profitable, as Airbus and Boeing will have driven the price down substantially. More than anything, it will validate the aircraft and drive future profitable sales.
While the Canadian government may offer some sort of package to aid the company, it will not be able to give financial aid for development of the CS500. Previously when European nations were caught giving development aid to Airbus for the A380 and A350, the WTO ruled that such aid was illegal. This leaves the financial markets as Bombardier's source for funds, and with the state of the company it may have difficulty raising additional funds until investors can see that the original CS100 and CS300 are profitable, and selling well beyond a few orders.
Production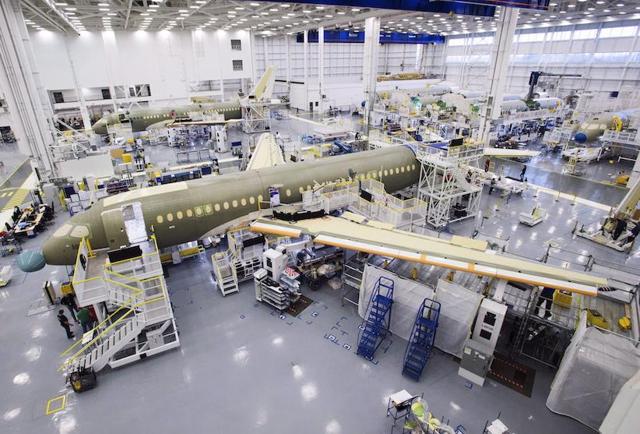 Img 5: CSeries production line
With such a low production rate due to lack of orders, the company may have difficulty building three versions of the aircraft at once in an efficient manner. A CS500 would therefore require a large investment in a larger production line.
Time Frame
The time frame for such a product is another big question. With development work still under way for the current CS100 and CS300 programs, how can Bombardier quickly get the CS500 designed and to market?
The time frame issue also leads to another concern, and that is Boeing.
Boeing
Despite the inability of Bombardier to launch the CS500 at the moment due to its financial situation, it would need to do it sooner rather than later. As time goes on, Boeing will be closer to launching its Boeing 737 replacement, which would likely make the CS500 obsolete as the 737 replacement will be based on even newer technology. Such an offering by Boeing would also be produced at a substantially larger production rate leading to economies of scale, and therefore pricing power that Bombardier could not match.
Q400 & Regional Jets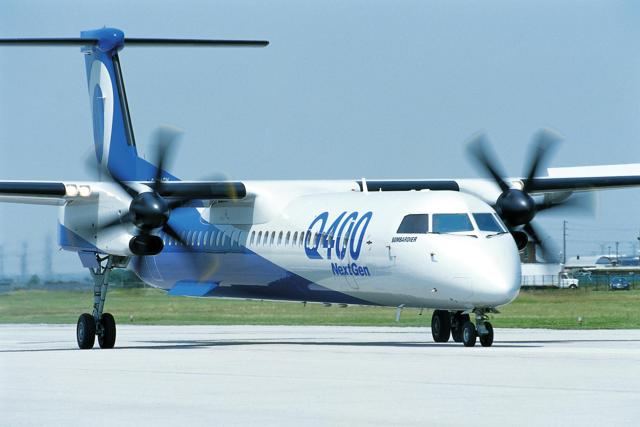 Img 6: Bombardier Q400
Finally, one major issue if Bombardier decides to pursue a CS500 is the state of the Q400 and regional jet programs. These programs have seen little attention for many years, as Bombardier has turned its resources to the C Series. As a result, Bombardier has lost substantial sales to ATR and Embraer (NYSE:ERJ). It is troubling that Horizon Air, a subsidiary of Alaska Airlines who flew exclusively Bombardier aircraft, decided to get rid of its Q400 aircraft and upgrade to jets but rather than go with the Bombardier CRJ jets it switched entirely to Embraer. What happens going forward if Bombardier decides to further defer upgrades to these profitable products that have their development costs paid off and instead focus on the CS500?
Conclusion
While the CS500 sounds good in theory, there are a lot of unanswered and concerning questions that remain. A move into the CS500 market could make the CS100 and CS300 more appealing to airlines, and the CS500 would have far more potential than the smaller two models due to the much larger market. Despite this, issues on financing remain along with the time frame for such a product to be launched. A CS500 may also remove what little focus remains at Bombardier on the regional jets and Q400, leading to reduced sales for products that have had their development costs paid off and are selling profitably albeit slowly. What happens if Bombardier abandons development of these products in favor of developing the CS500, and a competitive response by Boeing renders the CS500 obsolete before it has gained any real momentum? Investors should consider the implications of all of this when any talk arises concerning a CS500 aircraft.
Disclosure: I am/we are long BDRBF.
I wrote this article myself, and it expresses my own opinions. I am not receiving compensation for it (other than from Seeking Alpha). I have no business relationship with any company whose stock is mentioned in this article.
Editor's Note: This article discusses one or more securities that do not trade on a major U.S. exchange. Please be aware of the risks associated with these stocks.