ConocoPhillips (NYSE:COP) will report first quarter earnings on Thursday. In this article, I'll try to examine what investors can expect from the oil and gas company.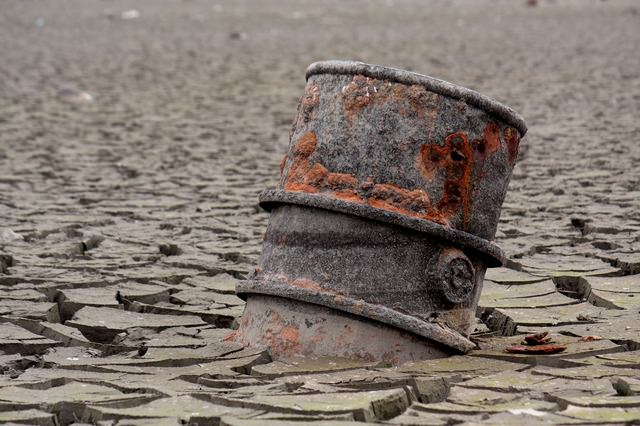 In the fourth quarter of 2015, ConocoPhillips had grossed revenues of $6.8 billion, whilst reporting a net loss of $1.1 billion. This equaled to a loss per share of $0.90. Those were rather bad results, but ConocoPhillips will report even worse results for the first quarter of the current year.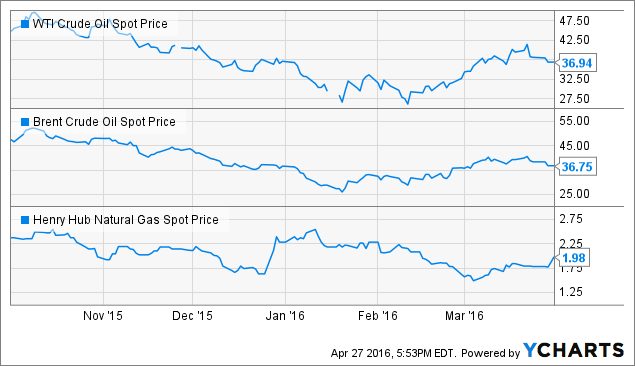 The reason is an even worse environment for oil and gas companies. During the fourth quarter of 2015, oil prices had averaged $44 per barrel, whereas oil prices in the first quarter of the current year averaged just $34 - a whole $10 difference in the price of a barrel of oil over just three months. Natural gas prices were not supportive for ConocoPhillips' earnings either, as the spot price for natural gas has dropped even lower during the first months of the current year than the lows seen in the previous quarter.
ConocoPhillips produces about 1.52 million barrels of oil each day, so a $1 price change in the price of oil means a $140 million change in the company's quarterly revenues ($1 * 90 days * 1.52 million barrels of oil per day). A $10 price drop - like the one we have seen in Q1 in comparison to the prior year thus means that revenues are impacted by roughly $1.4 billion. With ConocoPhillips grossing revenues of $6.8 billion in the fourth quarter, and an expected revenue drop of $1.4 billion, this means that this year's first quarter revenues will likely come in around $5.5 billion, which would mean a significant 20% hit to the company's top line on a quarter-to-quarter basis.
Since ConocoPhillips' operating expenses will not have changed by $1.4 billion in a very short period of just three months, we can further assume that its bottom line will be impacted in a meaningful way as well. When we assume that the cost structure remained the same in comparison to the prior year's quarter, ConocoPhillips' operating losses would be hit by $1.4 billion as well. Since ConocoPhillips is engaging in cost-saving activities in order to bring down the breakeven price, I believe, however, that the hit to the bottom line will be less severe. When we calculate with $2 billion in annual savings ConocoPhillips was able to put in place, this would mean that the company's expenses in the first quarter would have dropped by $500 million. In combination with a $1.4 billion revenue drop, this would equal an additional $900 million drop in the company's earnings. Starting at the fourth quarter's loss of $1.1 billion, we get to a $2.0 billion net loss estimate for this year's first quarter, which would equal a net loss per share of roughly $1.60.
Since ConocoPhillips' revenues and earnings is thus expected to drop in the first quarter, we can expect the company's cash flows to have dropped as well. In the fourth quarter, ConocoPhillips reported operating cash flows of $1.6 billion. When we assume that operating cash flows move in line with the company's earnings, we can subtract $900 million from this number to get to a quarterly operating cash flow of $700 million. With ConocoPhillips' capital expenditures guidance of $7.7 billion for the current year (which equals roughly $1.9 billion per quarter), we get to an expected free cash flow of -$1.2 billion. In other words, the company has burned through a little more than $1 billion in just one quarter. Adding the additional cash expenses for the company's (reduced) dividend of $300 million gets us to a total cash burn of roughly $1.4 billion for the first quarter, which means an annualized cash burn rate of about $5.5 billion.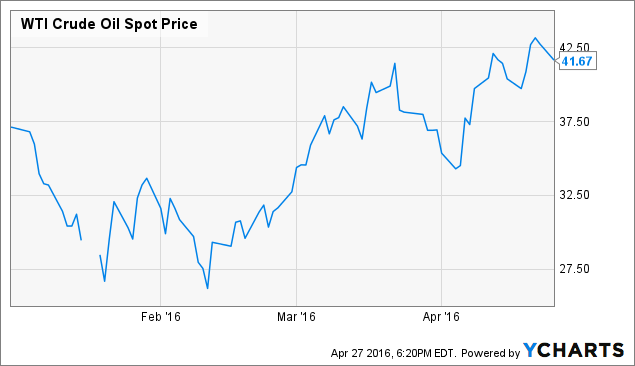 Luckily oil prices have increased from the February lows, and as it looks right now, the second quarter's oil price average will be closer to the one we saw in the fourth quarter of 2015 (a little over $40 per barrel), which means that ConocoPhillips' revenue number, net income and cash flow situation will improve from the first quarter numbers which will be reported this week.
Nevertheless, we have to face the fact that oil prices are about as high as they were in last year's fourth quarter right now, and back then ConocoPhillips' earnings and cash flows did not look good (although they were better than this year's expected first quarter numbers). As long as oil prices remain in the low-$40 levels, investors have to expect that ConocoPhillips will remain cash flow negative (the company plans to break even at an oil price of $45, with capex at a level that will just ensure that production rates do not drop). It will take very meaningful oil price gains from the current level for ConocoPhillips to be cash flow positive and to allow for capital expenditures that will lead to growing production numbers in the future (or higher dividends in the future). I believe growing dividends as well as growing production would be needed in order to grow shareholder value in the long term. Since ConocoPhillips' share price has rallied 55% from this year's lows, I believe a lot of the expected oil price recovery is already priced in, which makes the company's shares not very attractive right now (at a time when the company is still burning cash and reporting net losses).
Takeaway
ConocoPhillips' Q4 2015 was bad, and the first quarter of the current year is expected even worse. With oil prices and natural gas prices dropping even further, the company will have lost a lot of money, and at the same time, it will have burned through a lot of cash.
The outlook for the second quarter is better, but ConocoPhillips will still be cash flow negative as long as oil prices do not improve significantly from the current level.
Disclosure: I/we have no positions in any stocks mentioned, and no plans to initiate any positions within the next 72 hours.
I wrote this article myself, and it expresses my own opinions. I am not receiving compensation for it (other than from Seeking Alpha). I have no business relationship with any company whose stock is mentioned in this article.