In the backdrop of a sustained downturn in the oil & gas industry, day rates for offshore drilling units have plunged, and many leveraged offshore drilling companies have come under immense pressure. The sector is under immense pressure, as the market fundamentals are no longer able to support such an oversupply of rigs at reasonable day rates. Along with this, shares of Awilco Drilling (OTCPK:AWLCF) have plummeted as contract issues and weak outlook for North Sea drilling activity have led to a pessimistic outlook.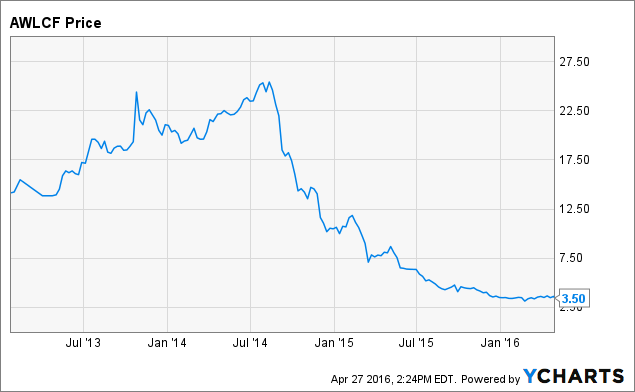 AWLCF data by YCharts
The company owns two semi-submersible drilling units that were built in the early 1980s: the WilHunter and the WilPhoenix. The WilHunter is currently warm-stacked after the company agreed to an early termination to its contract with Hess (NYSE:HES); however, the contracting outlook is grim given the fact that there are already a number of comparable rigs that are warm-stacked and in short-term contracts in the North Sea, and that drilling activity in the area has drastically declined. The WilPhoenix has come into trouble recently, as the rig underwent a yard stay. The yard stay has reportedly come in under the $42.5 million figure that was budgeted for, which includes a new blowout preventer. Following these upgrades, the WilPhoenix had returned to England to recommence drilling for Apache North Sea, a unit of Apache (NYSE:APA), for the 22 months remaining on their contract at a very attractive day rate for Awilco Drilling. On Tuesday, Awilco Drilling issued a press release stating that it deems the rig to be completely ready for drilling under this contract, but Apache North Sea agrees neither with this assessment nor that Awilco Drilling is entitled to a standby day rate. It is unclear if this dispute surrounds any actual or operational issue with the WilPhoenix or whether this precedes potentially further dispute over this contract. It may very well be a way that Apache North Sea is looking to get out of this contract with Awilco Drilling, and if it is successful with this, it would be tremendously detrimental to Awilco Drilling and its share price. I am not familiar with the particular stipulations with this specific contract; however, with similar agreements it is often difficult for the lessee to break the contract without paying the remaining amount due under the contract or without negotiating a settlement with the lessor. Last summer, Awilco Drilling and Hess agreed to a mutual termination of their contract, and Apache North Sea may very well be looking to engage in a similar agreement. To be clear, it is ambiguous whether Apache North Sea has an actual issue with the rig's current status; however, given the current industry status and the high day rate the contract demands, it would make sense that it would explore avenues to potentially terminate the contract early.
If the WilPhoenix contract with Apache North Sea is successfully terminated by the lessee, it would have tremendous negative implications for Awilco Drilling's finances, especially as its other rig has remained warm-stacked and without a contract. The company would be faced with significant losses, as the loss of this contract would effectively put the firm without a revenue source, yet with a sizable debt load and limited contract outlook. Furthermore, it is likely that the current market value of Awilco Drilling's rigs is markedly lower than their carrying value on the company's balance sheet, due to the oversupply of rigs and lack of well-financed buyers to purchase such assets.
In its Q4 2015 earnings presentation, Awilco Drilling included the following slide which illustrates the troubled position that the North Sea drilling market is in.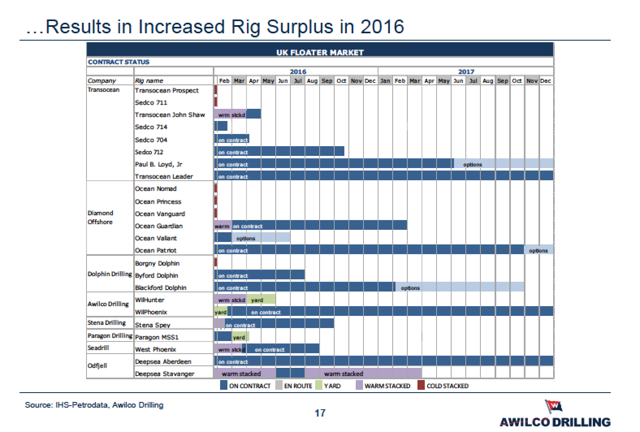 Source: Awilco Drilling Investor Presentation
This slide shows the drastic oversupply that the North Sea drilling market has, and with a number of warm-stacked rigs and those in short-term contracts, similar to Awilco Drilling's units, it would be very difficult to enter into a drilling contract at an attractive day rate, especially as the E&P companies have cut back CAPEX drastically in the area.
Given this troubled outlook and the potential lack of any substantive revenue streams if both the WilHunter and WilPhoenix are warm-stacked, it would be hard to envision a scenario in which Awilco Drilling would be able to sustain its current dividend payments which have attracted income-focused investors. It is unclear whether the Apache North Sea contract concerns surrounding the rig's ability to drill will be settled in the near term; however, the amount of time since the rig returned from the yard stay makes this appear to be wishful thinking. Awilco Drilling may very well be forced to enter into a legal dispute of the contract with Apache North Sea, and this would be a concerning trend. Apache North Sea is clearly trying to rid itself of this contract with Awilco Drilling, and its share price could fall meaningfully if a solution is not reached in the near term.
Please follow my ongoing Seeking Alpha publications by clicking on the "Follow" button next to my name at the top of this article. Thanks.
Disclosure: I/we have no positions in any stocks mentioned, and no plans to initiate any positions within the next 72 hours.
I wrote this article myself, and it expresses my own opinions. I am not receiving compensation for it (other than from Seeking Alpha). I have no business relationship with any company whose stock is mentioned in this article.
Editor's Note: This article discusses one or more securities that do not trade on a major U.S. exchange. Please be aware of the risks associated with these stocks.