Investors are by now aware of the existence of Synchrony Financial (NYSE:SYF), or at least they should be. The company recently reported their seventh quarter independent from General Electric (NYSE:GE) after it was spun-off in July of 2014. The quarter's results were mostly positive and show that the company is headed in the right direction and growing . Fellow contributor WG Investment Research provided a very good analysis of the earnings for those of you who would like more background. Something not provided in the earnings release or the conference call was more insight into the company's quest to initiate a capital return program to shareholders.

The first hurdle for Synchrony to clear on their road to sharing their success with shareholders is mostly self-imposed. Currently Synchrony is not subject to the Comprehensive Capital Analysis and Review, CCAR for short, from the Federal Reserve. However, having between $10 billion and $50 billion of total consolidated assets the company must complete a Dodd-Frank Act Company-Run Stress Test which it last completed in June of 2015. Despite not being subject to CCAR the company still adheres to those regulations and as a result is seeking their approval for a capital plan.
The company is rapidly growing and as a result they intend to submit their capital plans in accordance with CCAR requirements to avoid having to adjust in the future. In the Q4 2015 conference call CFO Brian Doubles stated that they would sit down with the board and their regulators in early April to submit a plan to the Fed to hopefully hear back by June. Since no further guidance was given during the last conference call we can only assume the timeline remains unchanged and that the plan has been submitted.
If the company receives approval we could expect a dividend and share repurchase announcement at the next earnings release in July of this year. So far the only solid guidance we have received on what we can expect has once again come from the Q4 2015 conference call. The company was very adamant about creating a conservative plan their first ask in order to get a capital return program off the ground. They are also wary of their competitors being subjected to elevated payout ratios; Mr. Doubles stated that in order to retain favorable capital ratios they would need to retain 35% of their earnings in the future. For now, however, I doubt 65% of earnings will be returned to shareholders in the first cycle of the program.
In the most recent quarter the company earned $582 million. If we assume they earn the same each quarter they will pull in $2.3 billion for the year. In 2015 the company earned $2.2 billion on the year so $2.3 for 2016 may be low but we will use that figure to calculate the possible dividend and repurchase program.
The company aims to retain 35% of earnings when the program is more mature. With management incredibly cautious lets assume that they will retain 60% of earnings during the first year of any plan.
By retaining 40% of the estimated $2.3 billion we are left with $931.2 million to pay a dividend and buy back shares of the company. If we split that down the middle a hefty $465.6 million is allocated for each.
With those figures in mind I expect the dividend to be ~$.14 a quarter which at current market prices of about $31 a share would be a 1.7% yield. If we compare that to their peers it may seem high with Visa (NYSE:V) and Mastercard (NYSE:MA) at just .7%. Looking at Synchrony with the same lenses that one might look at Visa won't produce an accurate view of the company, the closest comparison in my view is American Express (NYSE:AXP).
With $465.6 million left for share repurchases the company could reduce share count by just over 15 million at current prices. Had the company been able to reduce share count to 820 million for this quarter the EPS would have been positively impacted by another penny. Not a huge sum by any means but over the course of several years the impact would be quite large. Though I'm not the biggest fan of share buybacks the company is trading at a relatively low multiple to earnings and with their growth it may be wise to reduce the share count.
Currently the company is trading at a discount to peers with a P/E of just 11.5. I expect the capital program to close that gap. Using American Express as an industry comparison I anticipate 29% upside to current prices by year's end implying a price of ~$40. I arrived at that number using American Express' 10 year average P/E of 14.4.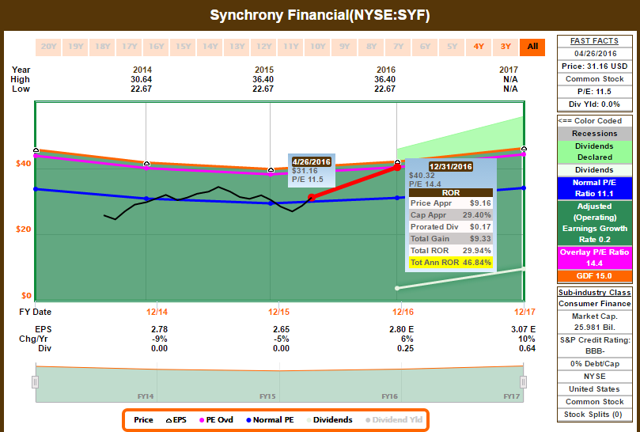 There is also the possibility that Synchrony is granted a premium to American Express due to their outstanding growth and potential to expand their banking segment. Should Synchrony settle somewhere between AmEx and Visa and trade at 20 times earnings we could get a share price of $56. Although I see this as unlikely it is still fun to consider.
Conclusion
I do not think the market has taken a proper look at Synchrony and it remains undervalued. With the company actively trying to return profits to shareholders as soon as this summer I went ahead and started a position this week. The rock solid balance sheet, growing deposits, and rapidly rising NII make the company a great buy even without repurchases and dividends. I think a ~$.56 annual dividend would drive the share price higher, bring attention to the company and allow the company to trade in line with the rest of the industry. There is no telling where prices will be in July but I anticipate them to go higher making the yield seem less impressive at the time which influenced my decision to purchase shares now.
Should the dividend come in below my expectations, I have little doubt that annual raises would be significant and quickly close that gap; price appreciation would also increase total return. The company is an incredibly enticing investment regardless of a dividend or share repurchases and I have high hopes for the next 3-5 years.
Disclosure: I am/we are long SYF.
I wrote this article myself, and it expresses my own opinions. I am not receiving compensation for it (other than from Seeking Alpha). I have no business relationship with any company whose stock is mentioned in this article.