Freeport-McMoRan (NYSE:FCX) reported earnings of negative $.16, which beat analyst estimates of negative $.18. While shareholders would love to see actual profits, the news still counts as a positive sign. The stock has been on a tear following their announcement. Well, it has been on a tear since shortly after the announcement. The share price chart in this case is very interesting: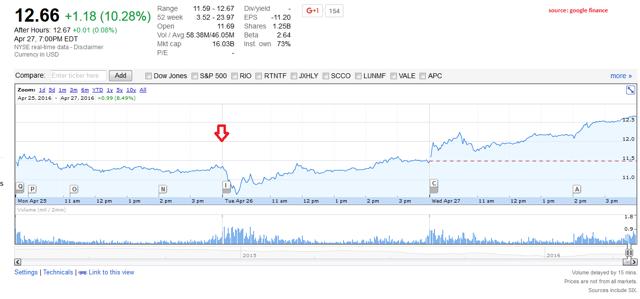 The red arrow indicates the earnings release. In early trading, shares were down hard and then a huge bounce back began. After a bottom around $10.61, shares rallied almost 20% from that point to close at $12.66 less than 48 hours later.
During that same time period, gas prices moved up materially which is very favorable for FCX. On the other hand, the copper prices are even more relevant to valuing FCX and copper prices moved down materially. The net effect on earnings expectations from the combined movements between oil and copper would be negative. This rally in share prices is clearly driven more by management's commentary and an appetite for risk from investors rather than improvement in the underlying fundamentals of harvesting oil and copper assets.
Important Developments
The factors that are driving traders are significantly more complicated than simply looking at the earnings. During the earnings release, management indicated other favorable developments that wouldn't be immediately reflected in the financial statements.
Freeport-McMoRan announced a plan to cut their oil and gas workforce by 25%. Conserving cash is not merely important for Freeport-McMoRan, it is critical to survival. While commodities have rebounded some since their lows over the winter, there is still substantial pressure on Freeport-McMoRan to effectively manage their cash flows. Remember that these cash flows were struggling so much during the last several months that Freeport-McMoRan was stuck issuing equity at weak prices to create a source of cash flows.
Eventually Freeport-McMoRan was able to shift to a better strategy where they were selling a portion of the equity interest in their assets rather than selling equity in the company directly. The prices realized through those sales indicated that the market was valuing the assets at higher levels than the stock.
Charges to Q2 of 2016
There was some other useful commentary in the earnings release. Management indicated charges of $40 million should be expected in the second quarter of 2016 in recognition of the costs associated with restructuring and reducing the work force.
Earnings Call
On the earnings call, management made some fairly positive comments about copper pricing and the benefits of favorable policies from central banks:
"With the copper market itself the initial benefit came of course from monetary policies to encourage business activity in China and dovish positioned by the U.S. Fed initially created more positive environment for copper and other commodities prices, but recent data at China's internal economy has been encouraging in the power grid business automobiles, but recognized that it is a mix situation there, its construction remains subdued, but there is improved market sentiment, short positions have been closed, long positions have been taken which is just a function of the marketplace, and globally demand is improving modestly.

So what's the net of all this is been that the large anticipated surplus in the copper markets have not materialized. Companies are reducing costs as we are and we are pleased with our progress there. There has been some curtailment not as much as might be expected, but almost 800,000 tons per year today, but the pipeline of new supply projects is declining as companies are deferring projects cutting CapEx and all of this is resulting in a longer-term outlook for very positive copper price environment and therefore we focused on finding a way to structure our business to take advantage of that."
From simply reading the transcript, you might believe that copper prices are in a strong recovery. A simple look at the price charts over the last six months will quickly dispel that notion: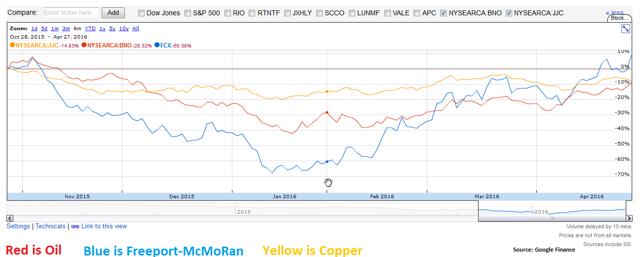 For copper, the yellow line is the iPath DJ-UBS Copper Total Return Sub-Index ETN (NYSEARCA:JJC) and the red line is the United States Brent Oil ETF, LP (NYSEARCA:BNO). Copper is up about 4% to 5% since the start of the year. For simplicity sake, I'm using tickers that represent investments in futures contracts for the commodity. This is one of the quickest ways to chart the futures prices for commodities and the futures market is the easiest way for a large commodity producer to effectively lock in their sales price.
Oil has recovered quite significantly during the period, but the movement in copper has not been as impressive.
Movement Over Time
Freeport-McMoRan is significantly disconnecting from the commodity prices as evidenced by shares being roughly flat with their level from 6 months ago despite oil and copper prices both being materially lower than their levels from 6 months prior.
Conclusion
Freeport-McMoRan slightly beat analyst expectations but the real fuel for the rally came from investors believing that FCX would be capable of intelligently managing their cash flows to reduce the risk of running out of cash. By reducing capital expenditures and laying off a substantial portion of the workforce, the company has reduced the risk of going belly up. On the other hand, laying off a substantial portion of the workforce shouldn't be taken as a sign that the core business is doing great.
Disclosure: I/we have no positions in any stocks mentioned, and no plans to initiate any positions within the next 72 hours.
I wrote this article myself, and it expresses my own opinions. I am not receiving compensation for it (other than from Seeking Alpha). I have no business relationship with any company whose stock is mentioned in this article.
Additional disclosure: Information in this article represents the opinion of the analyst. All statements are represented as opinions, rather than facts, and should not be construed as advice to buy or sell a security. This article is prepared solely for publication on Seeking Alpha and any reproduction of it on other sites is unauthorized. Ratings of "outperform" and "underperform" reflect the analyst's estimation of a divergence between the market value for a security and the price that would be appropriate given the potential for risks and returns relative to other securities. The analyst does not know your particular objectives for returns or constraints upon investing. All investors are encouraged to do their own research before making any investment decision. Information is regularly obtained from Yahoo Finance, Google Finance, and SEC Database. If Yahoo, Google, or the SEC database contained faulty or old information it could be incorporated into my analysis.