Introduction
Shares of Perrigo (NASDAQ:PRGO) took a dive on Monday after CEO Joseph Papa resigned in favor of Valeant (NYSE:VRX) and the company lowered its earnings guidance for 2016. After falling 12.8%, Perrigo now sits at a 52-week low. The investor uncertainty is understandable. Anytime a company loses a long-time CEO with a history of delivering strong results, there are bound to be questions about how the business will perform going forward. Combine this with increased pricing pressures in PRGO's prescription pharmaceuticals segment and weaker-than-expected performance at the firm's Omega division, which caused analysts to trim EPS estimates by a dollar, and you have all the makings of stock whose valuation, at least on the surface, seems justified. But it is not. The market has overreacted to the news and is ignoring favorable long-term demand and margin expansion trends that should sustain earnings growth in the out years. Based on our price target of $124.47, Perrigo is undervalued by 21.5%.
Business
Perrigo develops, manufactures, and distributes over-the-counter (OTC) and prescription pharmaceuticals, nutritional products, active pharmaceutical ingredients (APIs), and consumer products. It is the world's largest manufacturer of OTC pharmaceuticals for the store-brand market. Private-label or store-brand pharmaceuticals are comprised of the same ingredients as name-brand products, but are sold at lower price points. The company also produces and sells branded prescription drugs through licensing agreements. Its consumer products include a wide range of private-label and branded items, such as analgesics, cough and cold medications, gastrointestinal and smoking cures, baby formula, vitamins, and minerals, as well as personal care products, such as cosmetics, toiletries, detergents, and soaps. PRGO generates 61% of its revenues in the US, and the rest in Europe. Figure 1 breaks down the company's reporting segments by percentage of sales and operating profit margin.
Figure 1: FY2015 Segment Analysis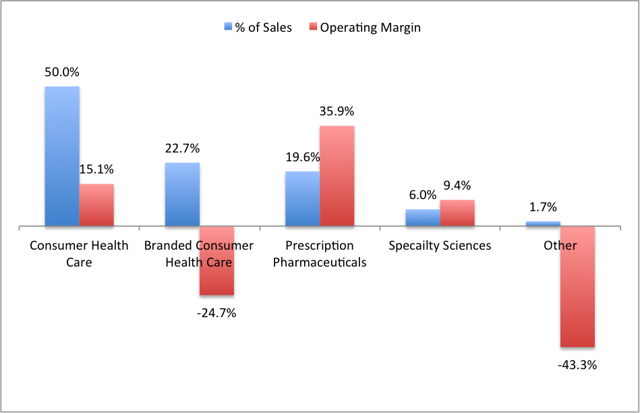 Management has pursued an aggressive acquisition strategy in recent years to diversify its operations. Since 2012, the company has spent over $5.2 billion. In 2013, it purchased Rosemont Pharmaceuticals to grow its generics business. It acquired Sergeant's Pet Care in 2012 and Velcera in 2013 to expand into veterinary products. In 2013, Perrigo purchased Elan Corporation for tax-inversion purposes, moving its headquarters to Ireland in the process. Management estimates this move will provide $150 million in tax savings annually. In 2015, the company acquired Omega Pharma, a producer of OTC products, to grow its consumer healthcare segment.
Industry Analysis and Competitive Position
We maintain a positive fundamental outlook for both the healthcare sector and the pharmaceutical industry. Ageing populations should continue to drive demand for pharmaceuticals, which earn some of the highest margins in business, while patent expirations for numerous brand name drugs open the door for companies with strong generics pipelines to enter new markets. We expect these trends to offset headwinds posed by healthcare reform, specifically lower third-party reimbursements for high-priced drugs, and grow sector-wide revenues at a slightly faster rate than GDP through 2020.
Perrigo has an economic moat thanks to economies of scale, a low-cost business model, and regulatory protection. As the largest maker of store-brand OTC products, the company earns higher profit margins than most peers because it spreads larger volumes across its fixed cost base, lowering unit costs. It further keeps costs down through vertical integration, as the company sources many of its pharmaceutical inputs from its API business. Perrigo's expansive scale means that the company plays an integral role in the pharmaceutical industry's supply chain. It sells its products through drug store chains, wholesalers, distributors, and supermarkets, and many of these customers depend on the company's large volumes and distributor networks to fill their shelves. Perrigo's distributor relationships raise entry barriers and discourage many firms from competing in the private-label consumer healthcare market, forcing them to direct their efforts to the prescription business.
FDA regulations further raise barriers to entry and give the company a near-monopoly in certain products. Perrigo, Mead Johnson (NYSE:MJN), Abbott Laboratories (NYSE:ABT), and Nestle (OTCPK:NSRGY) are the only companies with FDA approval to produce baby formula. The costs and time it takes to secure regulatory approval isolates Perrigo from most competitors in this segment. The company's prescription pharmaceuticals business also benefits from regulatory protection. This business manufactures topical generic drugs, such as creams and ointments, whose effectiveness must be validated through clinical trials. This is in contrast to standard generic drugs, which typically only require a simple blood test. According to Morningstar, "the FDA approval process for a topical generic can cost up to four times the amount of the convention generic process". These competitive advantages allow Perrigo to experience a relatively low amount of pricing pressure and earn higher returns on capital compared to most peers.
Financial Analysis and Valuation
The company has grown revenues at a 15% CAGR over the past five years mainly due to acquisitions. While gross margin has slightly improved over this period, operating expenses as a percentage of sales have increased due to acquisition-related expenses and higher R&D costs, negatively impacting operating margins. Shareholder returns during the past two years, in particular, have plummeted as the company incurred "other expense" items of $343.2 million in 2015 (mainly due to hedging losses from euro-denominated contracts used with the purchase of Omega and GlaxoSmithKline (NYSE:GSK)) and $165.8 million in 2014 due to a loss on the extinguishment of debt. 2015's results were also impacted by a $25 million increase to the valuation allowance, which increased the effective tax rate to nearly 50%, compared to 25% in 2014. While management has made some prudent capital allocation decisions in the past, it appears the company has overspent on some of its more recent purchases. Perrigo's ROE was 1.32% in 2015 and 3.72% in 2014, compared to 21.13% in 2013.
Figure 2: Profit Margin and ROIC Trends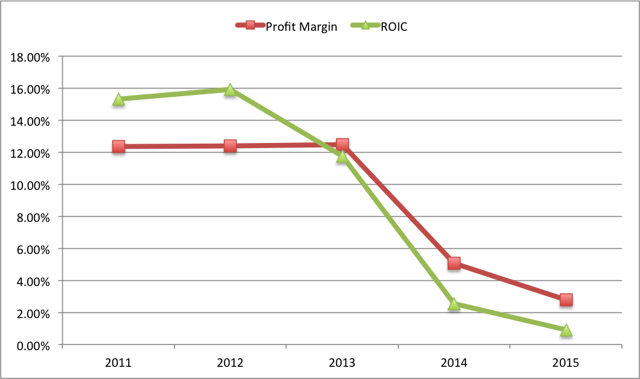 We expect the company to achieve annual organic revenue growth (pre-FX and acquisitions) between 4% and 6% over the forecast period. In addition to favorable demographic tailwinds, Perrigo will benefit from a more challenging economic climate that will drive demand for its relatively cheap private-label products. Compared to brand-name pharmaceutical manufacturers, we expect Perrigo's sales to be less volatile because the company's cheaper OTC products are less exposed to changes in government reimbursement rates. While Johnson & Johnson's (NYSE:JNJ) return to the OTC market will increase competitive pressures and slow market share advances in the private-label segment, we believe the Omega acquisition will bolster volumes long term and partially offset this headwind. Profit margins should expand as one-time charges moderate and Perrigo begins to achieve cost synergies in SG&A from recent acquisitions. Payroll cuts will provide additional upside, as will a lower corporate tax rate and the decision to sell off its low-margin vitamin supplement business. We therefore expect operating margin to recover to the high-17% to mid-18% range over the forecast period, compared to 16.24% in 2015. Net margin will expand to approximately 12.5% as a result of lower taxes. These effects will gradually drive Perrigo's return on invested capital back up to the low-to-mid teens, slightly above the firm's long-term average of 12.65%.
Based on our fair price target of $124.47, the shares are undervalued by 21.5%. Our model assumes a weighted average cost of capital of 8.2%, which reflects the company's low market volatility and reasonably strong financial position. The fair value estimate equates to a forward P/E ratio of 14.8, based on our EPS estimate of $8.40 for 2016. This represents a substantial improvement over the current multiple of 11.6, but is still at the lower end of Perrigo's historical range of 13-26. Given the company's promising long-term prospects and margin expansion potential, the current valuation is not justified. With prescription pharma accounting for less 20% of revenues, pricing pressures will have a small impact and be more than offset by continued volume growth in consumer healthcare, which comprises 75% of sales.
Conclusion
Joseph Papa's replacement, John Hendrickson, should be able to perform competently in his new role as CEO. He has been with Perrigo since 1989, and we don't see any reason why his experience as president won't translate into success as CEO. Monday's sell-off was simply an overreaction to near-term headwinds that will subside as Perrigo continues to experience strength in its largest segments.
Disclosure: I/we have no positions in any stocks mentioned, and no plans to initiate any positions within the next 72 hours.
I wrote this article myself, and it expresses my own opinions. I am not receiving compensation for it (other than from Seeking Alpha). I have no business relationship with any company whose stock is mentioned in this article.