While the past 4 years have been a test for all precious metals companies, no 12-month period has been more difficult than 2015. Even though the price of gold did not post its largest decline, it did hit 5-year lows and placed many companies near the brink of extinction. Some gold companies cut back on production or placed mines on care and maintenance, others raised cash at depressed share prices in last ditch efforts to stay solvent. At the same time, Royal Gold (NASDAQ:RGLD) was salivating at the sector-wide distress and buying up gold-revenue streams wherever possible.
Most companies don't want to dilute their share structure near 52-week lows, which is where Royal Gold comes in handy. Companies can raise capital by selling future gold and silver production to Royal Gold, in addition to maintaining their current share structure. In 2015 alone, Royal Gold made 4 separate transactions for royalty and revenue streams with Golden Star Resources Ltd (NYSEMKT:GSS), Barrick Gold Corporation (NYSE:ABX), New Gold Inc (NYSEMKT:NGD) and Teck Resources Limited (TCK). The company currently has 65 million shares outstanding giving it a market capitalization of $3.7 billion at $57.00 a share. The company has one of the highest and most sustainable dividends in the sector paying out $0.92 per share and increasing their dividend the past 15 years.
Royal Gold Overview - A Shining Business Model
Royal Gold has an incredible business model based around the acquisition and management of precious metals royalties and streams. This business model has several advantages and allows the company to weather any storms in the commodity sector better than most other gold companies.
portfolio diversification and geopolitical stability
no-cost exploration upside
fixed-cost investments
increases in production profile regardless of gold price
Royal Gold benefits from massive diversification as it has interests in 38 producing properties, more than Agnico Eagle Mines Limited (NYSE:AEM), Goldcorp Inc. (NYSE:GG) and ABX combined. As of 2016, Royal Gold has over 90% of their net equivalent ounces coming from either Canada, Mexico, the United States and Chile, arguably some of the most stable countries geopolitically. Just this week Detour Gold (OTCPK:DRGDF) reported that it has been charged with criminal negligence causing death in Canada, relating to the death on their mine in June 2015. While deaths and charges related to this are rare for most mines, mine diversification and lack of ownership for these tragedies is one of Royal Gold's many advantages.
Royal Gold also benefits from no-cost exploration upside as its mine operators are continuously exploring for new reserves to extend the life of their mines. Royal Gold is not required to participate in any exploration costs nor provide any compensation when reserves are added to their operator's mine life. On projects like El Limon operated by B2Gold Corp. (NYSEMKT:BTG) with a 3% NSR, this means that any added reserves, which leads to a longer mine life is pure profit for RGLD.
One of Royal Gold's greatest advantages is fixed cost investments meaning that they are not forced to contribute in any way to the development of projects besides their initial payment. This gives Royal Gold protection from inflation or other costs, which may arise in either maintaining mines or construction of them.
Last but not least, Royal Gold has managed to grow its production profile from 105,000 ounces in 2010 to over 190,000 ounces per year for their full year 2015. This represents an 8% CAGR from 2010 to 2015, during a period when the gold price is still at the exact same price. While other companies like GG have lowered their production forecasts for the next three years, Royal Gold is working on increasing its production to nearly 300,000 net equivalent gold ounces annually with the addition of Rainy River, Andacollo and Pueblo Viejo. This is a 50% increase from current production levels over the next 3 years while GG has initiated a plan to cut production by 18% to 2.95 million ounces annually, after projections averaging 3.6 million ounces for the next 3 years.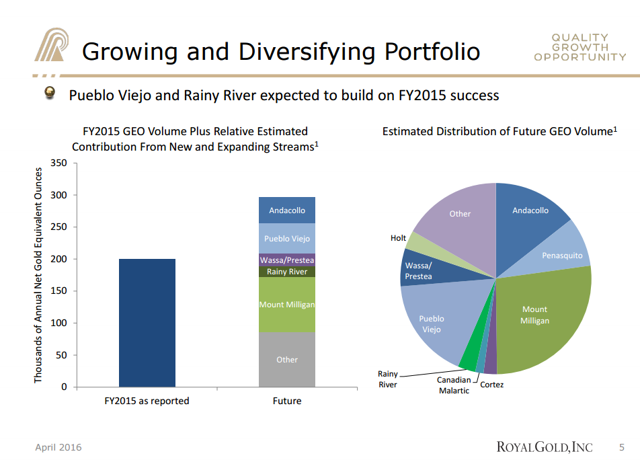 A history of generating strong returns on investments
Royal Gold has invested over $3 billion since 2001 and has impaired only $48 million, or less than 2% of total capital invested. The company has an incredible business model but even great business models can fail without proper management. Fortunately, Royal Gold does not have this problem and does exceptional due diligence prior to making investments illustrated by their extremely low impairment ratio. The beauty of Royal Gold's business model is their ability to choose what deposits they wish to stream ounces from while most gold companies must work with what they have or acquire other companies or deposits.
This trait allows them to partner with only the most impressive deposits, in what they feel to be the most stable countries to mine. Many gold producers have seen their cash flow per share cut dramatically with the 4-year erosion in the price of gold, yet Royal Gold has done the opposite. While some gold producers have struggled with gold prices under $1,300/oz and cut production or maintained production levels, Royal Gold is pumping out record production.
Royal Gold just reported record operating cash flow for their full year 2015 results, on a year that gold averaged its lowest price since 2010. As shown by the below chart, Royal Gold has already received net revenue above their initial investment in over 40% of the projects shown below. The most impressive part about this statistic is that in half of these cases, the projects still have a mine life of over 10 years despite already exceeding their initial investment.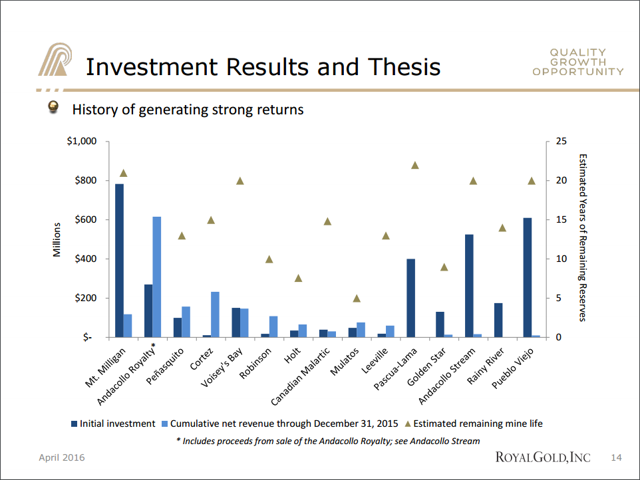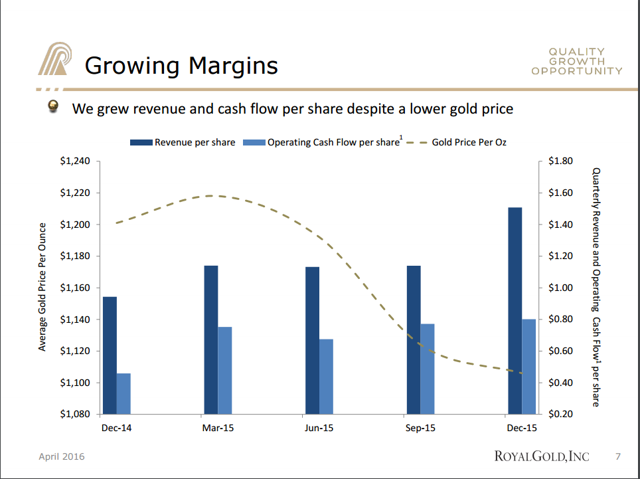 Technical Outlook
While the typical value investor would warn you it's too late to buy Royal Gold here, I would respectfully disagree.
My main strategy for buying companies, which have endured precipitous declines is likely the opposite of many value investors. Most value investors I have met prefer to buy a stock on its way down and add more shares if the stock gets cheaper. I would argue that while this can work, the opportunity cost of holding a stock that may not bottom for several weeks or even months is enormous.
Instead of trying to guess where the bottom will be, I prefer to let the stock tell me when it's ready to begin going up again. My strategy is built around waiting for the stock to stop falling and then allowing the stock to begin its ascent and prove itself. The confirmation signal I wait for to notify me that a stock is beginning its new trend is a weekly 10/40 moving average crossover.
I used this strategy successfully this year with my Fortuna Silver Mines (NYSE:FSM) article on February 22nd. Since its publication, FSM has gained over 65% from its buy recommendation at $3.60 and currently sits just shy of $6.00. I was criticized by some for not buying FSM at $2.00 and "chasing it" 50% higher, but by waiting for my signal, I have saved opportunity cost while still capturing most of the upside move. In my opinion, waiting for this cross saves investors many headaches provides a clear "green light" to go long the company.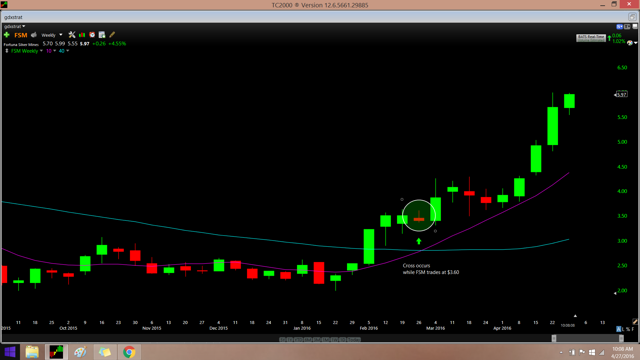 The past three crosses on RGLD shown in this weekly chart generated upwards of 30% returns in less than 6 months. The current cross occurred when RGLD was at $55.00. Therefore based on past instances, RGLD should trade up to $71.50 by September of this year. Zooming into the daily chart, the stock has regained its 200-day moving average and all moving averages are now trending up.
If the stock is put under pressure, the 50-day moving average near $50.00 should provide strong support from investors looking to buy the dip. RGLD has also carved out a nice base above its 200-day moving average, which is now finally turning positive while the stock makes consecutively higher lows.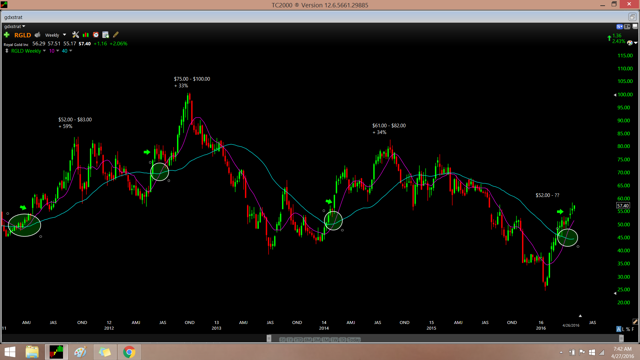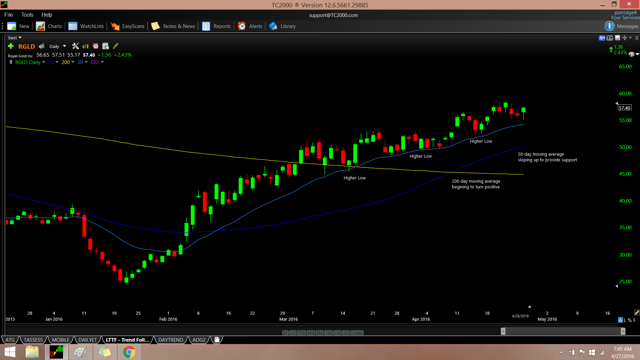 I believe Royal Gold to be one of the safest gold stocks, offering diversification in its project portfolio and improving earnings irrespective of the gold price. I am currently not confident which direction the price of gold is headed as it's stuck in a range between $1,220-$1,280/oz, which is why I believe Royal Gold to be a safe bet. If the gold price should continue to rise, Royal Gold will benefit significantly by realizing higher margins on the ounces of gold it sells.
If gold goes lower, Royal Gold will benefit from more investment opportunities, which in the long run, will add revenue to its streaming and royalty portfolio. In addition, Royal Gold's production profile will continue to grow as it has during the gold bear market, which began in late 2011 and ended earlier this year. Royal Gold's strong fundamentals combined with it being primed for a breakout lead me to believe there is considerable upside and minimal downside to this thesis.
I have been anxious to start new positions in gold miners but given the massive run, it's very difficult to do so at current levels. Most of the gold stocks are quite extended from their bases and while I am still bullish, it's difficult to manage risk entering new positions up here. My willingness to take a chance on Royal Gold lies in the fact that gold prices are not a significant factor in my thesis.
If Royal Gold should trade up to $71.50, I will reduce my position by 30% and continue to ride the rest with a trailing stop. If I am wrong and shares tumble from these levels in the coming weeks, my exit strategy is a stop at the $45.00 level on a closing basis. This closing price would represent a breach and close below the 200-day moving average, and a potential change in the current bullish trend. While I may not have caught the exact bottom in Royal gold, I've been given a green light to buy here and feel the road ahead should be traffic free.
Disclosure: I am/we are long RGLD.
I wrote this article myself, and it expresses my own opinions. I am not receiving compensation for it (other than from Seeking Alpha). I have no business relationship with any company whose stock is mentioned in this article.
Additional disclosure: If you liked this article and found it useful, please feel free to follow me by clicking on my name next to my avatar at the top of this article. I also invite you to check my performance at TipRanks.com where my average return this year is 65% on new long positions.