After the detrimental effects of the 2008 collapse and following the production of films like The Big Short and The Inside Job many eyes in Canada are fixed on the Vancouver housing market. Countless investors are searching eagerly for an opportunity to profit from the collapse of the suspected bubble that is the Vancouver housing market. But is it really as simple as taking a short position on a bank like RBC and waiting for the fat lady to sing?
I don't think so. As shown in graph below depicting mortgage credit growth (Bank of Canada), it is clear that mortgages are not growing at anywhere near the rates that they were in 2008. Banks are also subject to increasing regulation which should significantly reduce the risk of levels of systemic exposure that have been seen in the past (Canadian Bankers Association).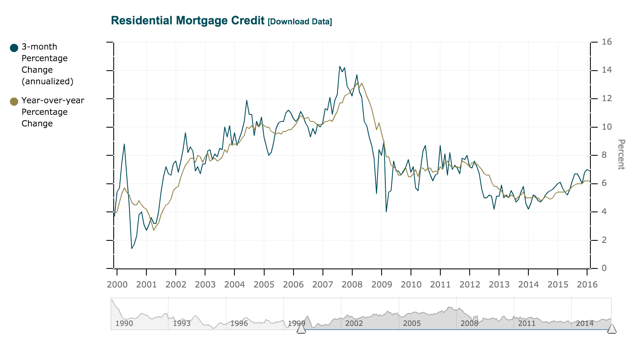 Well then you might say, why is it that with housing in Vancouver at unprecedented levels of unaffordability you are saying that there will not be a correction? To that my answer is: foreign investment. In particular, that coming from China. Further stimulated by the currently depressed Canadian dollar, the wealthy Chinese are looking for a way to get their money out from under the gaze of their government (Globe and Mail). That being said, housing is still at unprecedented levels of unaffordability for Canadians (RBC). According to a 2015 study done by Demographia, Vancouver ranks third in the world in terms of unaffordability with median house prices at 10.8 times average disposable income. This, unfortunately, is not something that I think will do anything to stifle market growth, as Chinese demand is effectively insatiable for the foreseeable future. I think that, due to Chinese demand, there is no foreseeable correction. That is unless the government intervenes. However, due to the perverse incentive that is property taxes, I think that it is highly unlikely.
With that being said, I think that there are definitely opportunities in this market for pessimistic investing. You just have to look a little deeper than the surface, and largest players. For those purchasing homes it is recommended that they purchase mortgage insurance in case anything happens to them and their ability to make debt service payments as a first line of defense. Most of these home owners chose to purchase insurance from their mortgage provider, i.e. RBC.
However, should you not be able to make a down payment of 20%, something that is becoming harder and harder for new home owners in Vancouver, you may be required to seek insurance from a third party (Canadian Mortgage and Housing Corp.). These include companies like Genwoth and Canada Guaranty Mortgage Insurance Company. Should interest rates increase - which they only can from their current position - these will be the first points of failure as the riskier mortgages begin to go into arrears. For this reason, I believe that this is an area that should be probed by investors who are wanting to bet against the "system".
For US investors looking to get a piece of the action, it is more difficult if you cannot or don't wish to invest within Canada. I think that the best place to look for pessimistic investing opportunities is REITS that have taken on unsafe levels of leverage, with significant asset holdings in Vancouver. For example, RioCan (OTCPK:RIOCF), and Boardwalk (OTCPK:BOWFF) real estate investment trusts. Other opportunities could include any other companies with interest in Vancouver
The Vancouver housing market is an incredibly complex situation that, in my opinion, no one individual can understand to its fullest extent. From a mixture of both the research I have conducted into this matter, and my own convictions, I believe that this market will not fail until there is an exogenous intervention. In a market like this a pessimistic investor will most likely not make their way through total system failure, but form the failings of individual components that are not integral to the system as a whole, or can be done without.
Disclosure: I/we have no positions in any stocks mentioned, and no plans to initiate any positions within the next 72 hours.
I wrote this article myself, and it expresses my own opinions. I am not receiving compensation for it (other than from Seeking Alpha). I have no business relationship with any company whose stock is mentioned in this article.
Editor's Note: This article discusses one or more securities that do not trade on a major U.S. exchange. Please be aware of the risks associated with these stocks.