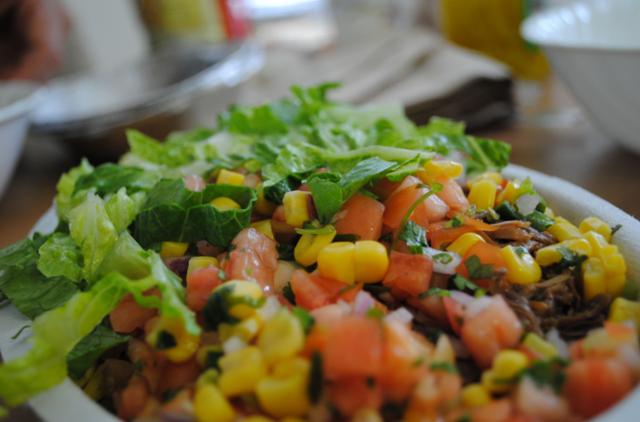 Embattled restaurant chain Chipotle (NYSE:CMG) has certainly taken its beatings from its recent brand crisis. The stock has fallen from the mid-$700s to just over $400 as a result of the loss of sales and profits from its food safety issue. I was a long time bear on CMG simply for its valuation but as the share price has come down, I've become bullish. CMG's operating prowess hasn't been impacted by its brand crisis and given that such crises are almost always temporary, I think sentiment is overdone to the downside. And given the further move down off of Q1 earnings, I think CMG is near a very important level.
As a note, I'll be using charts from Simply Wall St. throughout the article.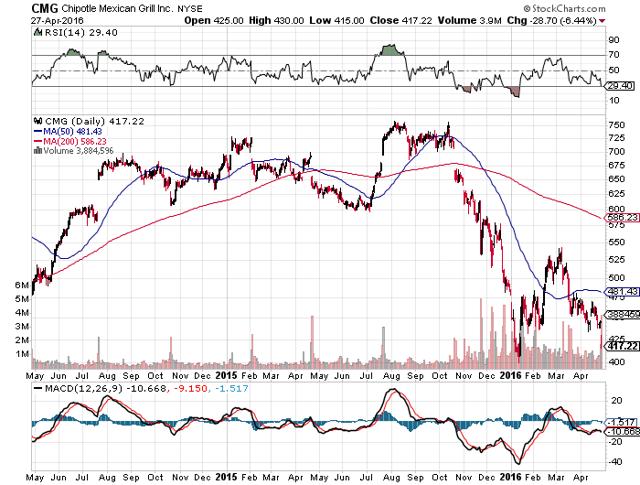 Q1 was certainly horrid but we all knew it would be; CMG warned us earlier this year that sales momentum had fallen off a cliff and that Q1 was going to be nasty. I won't read the press release to you but here are the highlights: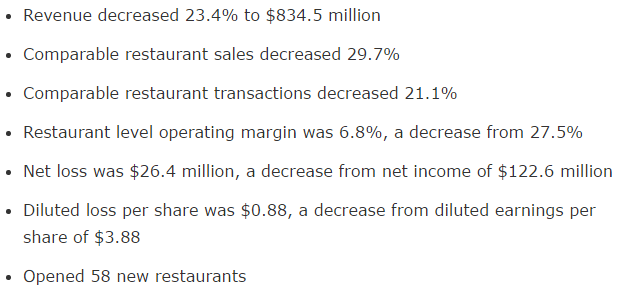 There was nothing good to be seen here as comp sales and operating margins were absolutely destroyed in Q1 and CMG actually posted a loss for the quarter. However, despite the negativity surrounding the report, I think there is cause for optimism.
But in order to build the case for the bulls, we must first see where CMG has come from in order to see where it may be going. First, let's take a look at revenue.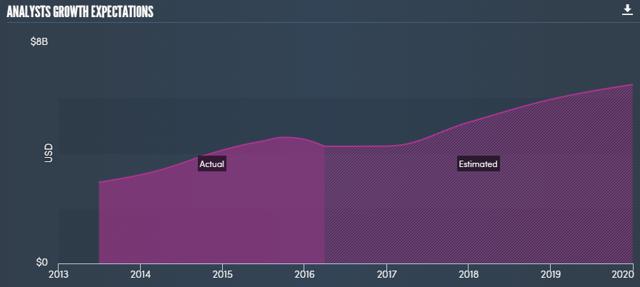 We can see the moment the crisis hit because CMG's revenue momentum went from steeply upward to steeply downward. This is no surprise of course and Q1 only made things worse but if we look at what analysts are expecting for this year and next year, the damage is quite manageable. Granted, CMG's footprint continues to grow so the fact that revenue is expected to be roughly flat next year isn't great but it does mean that we should see CMG's revenue bottom sometime this year and begin to move higher.
After 2017, the revenue picture is quite bullish as the crisis should be well and truly behind CMG by then - given the short memory of consumers - and that CMG can resume its once-impressive growth trajectory.
The profit picture is much more interesting and important so we'll take a look at that now.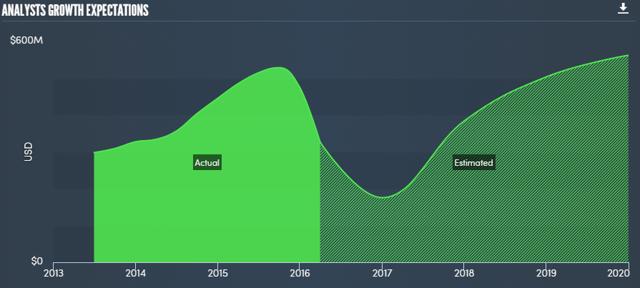 Again, we can see when the crisis hit and the fact that profits are expected to fall into next year. However, a sharp recovery is then expected as revenue levels recover. Indeed, no business in the world can withstand a 30% loss in SSS and CMG is no different. But while the move down in profit levels is swifter than the loss in revenue, so too will be the recovery. When sales begin to recover and operating margins do likewise, CMG's profit growth trajectory will be very steep indeed. That bodes well for the turnaround story and to be honest, I don't think it will take as long as analysts are currently estimating.
The reason is because I think CMG's fundamentals bottomed in Q1. Why do I think this? The simple fact is that the free burrito promotion and 30% SSS loss are both temporary; neither of these conditions can persist forever. In addition, public sentiment surrounding CMG is still up for debate, a condition I thought would have abated by now, if I'm honest. The good news is that any sort of stabilization in revenue and even simply ending the free burrito promotion will have profoundly positive impacts on operating margins.
At under 7% during Q1, unit-level margins are certainly in a trough. CMG is used to hitting the high 20s in terms of unit margins and while Q1 was painful, we know why its numbers were so weak. And like I said, the reasons for the weak numbers are all transitory and that bodes well for future operating margins. Will CMG hit the high 20s again? Of that, I have no doubt. However, I don't know when that's going to happen, I just know that 7% operating margins aren't close to the new level for CMG; it is far too efficient and profitable under normal circumstances for that nonsense to persist.
That is why I think Q1 was the fundamental bottom for CMG and why I think the stock is close to bottoming as well. In addition, an important technical development is in the cards near these levels, one that could signal the absolute long term bottom for CMG if it works out.
With CMG nearing the $400 level again - the level where it bottomed last time around - bulls and bears will be forced to battle it out to see if we collectively find value in the franchise here or if we are heading for a break lower. What happens over the next couple of weeks will determine the long term fate of CMG shares. I'm of the opinion that CMG is far too valuable to sustainably trade below $400 as its recovery from current sales and profit levels is all but assured. That means that if any sort of positive sentiment returns to the stock from analysts or investors, we should see a quick recovery in the share price. CMG is certainly not worth $757 and I don't expect a return to its highs anytime soon. However, I do expect we'll see CMG significantly off of current levels as the crisis is being discounted far more at this point than I believe it should this late on.
The bottom line is that CMG is still a premium franchise in the QSR business but it is undoubtedly going through a very rough patch indeed. However, with the terrible Q1 report behind us - and accompanying sell-off - I think sentiment on the stock is about as bad as it can get. We already know everything about the food safety crisis; what else could drive the stock lower? A lack of negative catalysts but a whole slew of positive ones (potentially) means I think CMG will make a double bottom at $400 and that we'll see shares materially higher into 2017.
Disclosure: I am/we are long CMG.
I wrote this article myself, and it expresses my own opinions. I am not receiving compensation for it (other than from Seeking Alpha). I have no business relationship with any company whose stock is mentioned in this article.