A well diversified portfolio may have a range of products from bonds to high yielding income products to leading titans like Apple (NASDAQ:AAPL) to volatile high-growth microcaps. Here are a few tiny stocks that I feel have 50 - 100% upside potential in 2012.
Multiband Corporation (NASDAQ:MBND) - This DIRECTV, phone and ISP has only a $78.6 million market cap. What do I like about this company?
First, I like that 9.5% of the company is held by insiders which gives management a vested interest in the share price.
Since 2010 they have turned profitable which is a big event in my playbook.
The last 4 quarters of reported earnings have carried some whoppers of surprises.
The coming year has just improved with the newly forged relationship with ViaSat to handle 37% of their installations which will add nicely to the 20% of all DIRECTV installations.
This company is smart about acquiring complimentary businesses and former alliances with others.
There is a big opportunity to grow their DIRECTV in multiple dwelling units (MDU).
As well, their skilled technicians will be able to branch out into other types of installations such as electronics from big box retail stores and home security.
Preferred shares were vastly reduced last year at the expense of equity share dilution.
Bottom line: Multiple branches for growth on this aggressive company makes it a timely buy with a low P/E ratio of 10. I could easily imagine this stock reaching last year's high of $6 with a couple more earnings surprises and continual focus on MDU penetration and new partnerships. This isn't some no-growth value stock, yet the P/E is quite low.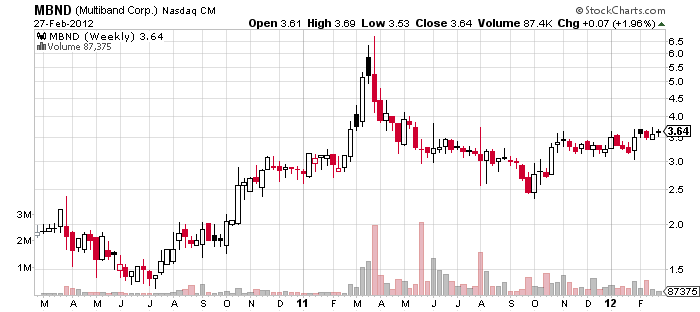 ZST Digital Networks (NASDAQ:ZSTN) - What makes this sub $3 Chinese stock worth a mention? ZST installs cable systems in China as well as GPS services. Similar to Multiband, they offer a bundled cable, internet, and telephone service.
The forecast compounded annual subscriber growth rate from 2009 to 2014 is 48% for IPTV units (bundled).
Even after accounting for share dilution, this company has been one of exceptional growth. Three year EPS growth is 57.1% with revenue per share growth figures being similar.
With a reported $4.85 in cash per share and $8.21 in book value, I believe that the trailing P/E of 1.1 will go up.
Part of me wishes the company would give a special one-time dividend equal to the share price to shock investors back to reality of the company's value. In Forbes China's Top 100 Public Small Businesses for 2012, ZST ranked #11.
*Earnings were supposed to have been released at time of writing according to Yahoo, but I could find no evidence of this. Before investing in ZSTN you should carefully analyze the quarterly report if such is available as there will be important data unavailable to me at the time of writing.
Bottom Line: Grossly undervalued stock with more cash than share price. Growth, P/E of 1…unless I read the wrong statement or there were added details in traditional Chinese symbols that I can't decipher - what am I missing for a double or triple bagger this year?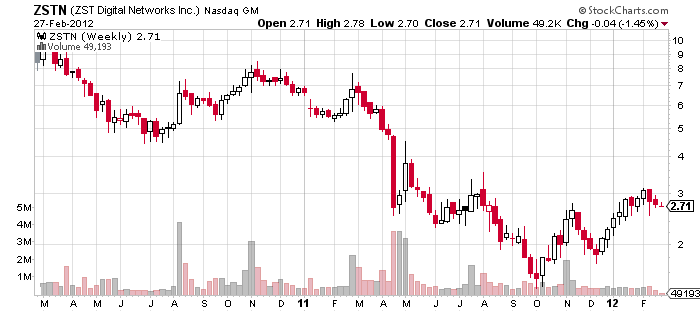 Kona Grill (NASDAQ:KONA) - Steering away from TV and internet we hit the restaurant business with Kona Grill. This stock has a high trailing P/E of over 25. Why might this stock be worth holding in 2012?
Sales growth is a steady 13% over the past 5 years and earnings growth is where things get exciting.
KONA worked hard to lower rent and leasing costs of buildings, lowering operating expenses, labor costs, and other fees which resulted in a full year operating profit boost of 17.8%.
There has been some wild trading of late as a lack of an independent director threatened the NASDAQ listing and the chief operating officer took another job but I view this as an opportunity to buy shares between here and $5 for a 50% upside as I anticipate prices jumping up past $7.50 sometime in 2012.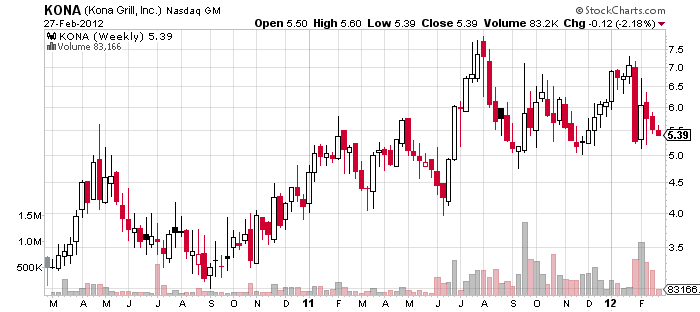 Be Cautious With Microcaps
After selecting 3 high-growth micro-caps for you to consider I must also add in a strong warning: these tiny stocks can often trade with extreme volatility which means risk. How would you feel about buying a stock at $7 only to be left with one-third that less than a year later? It happens with these small micro-cap companies. Therefore, do your own due diligence. What added details might you coniser?
Some are nervous of Chinese companies with the reverse merger malarky that went on last year.
These stocks have added risk if their growth falls and they may not have the financial muscle to weather a bad economic storm or stiff competition.
Look into these companies carefully and only add in small amounts to your overall portfolio.
Pacific Ethanol and Volatility Around Earnings
As an example of what I consider higher risk, look at Pacific Ethanol (NASDAQ:PEIX). They reported on Feb. 27 and net sales went up 80% with total gallons sold for the quarter up by 53%. Operarting income for the quarter and year turned positive, yet net income was negative for the quarter. Sales grotwh for the year was a massive 174%.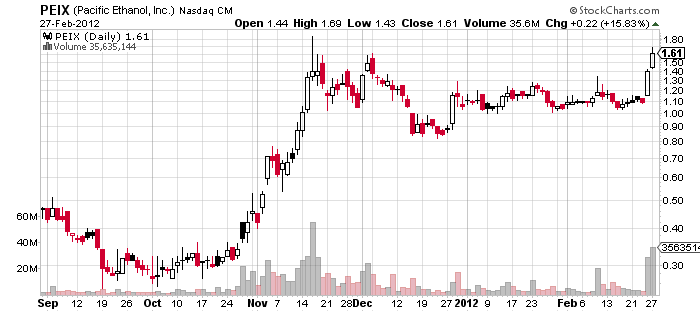 This stock is thinly covered and whatever investors thought they would see in the report was not there. On Yahoo, the mean recommendation shows a swing this week to a strong sell. In 5 days this stock went from $1.10 to $1.68 and pre-market at time of writing is down 18-23%. Obviously, this is not a stock for the weak at heart and many investors may have a hard time getting a good read on it.
Do your homework and then only invest what you can afford to sell at a 50% loss if need be - but hopefully you will get at least one of these micro-caps returning 50 to 100% gain in 2012.
Disclosure: I have no positions in any stocks mentioned, and no plans to initiate any positions within the next 72 hours.