SunEdison (NYSE:SUNE) has been the subject of a flurry of articles in recent weeks, and now that it has officially filed for Chapter 11 bankruptcy most analyses read like autopsies. However, this patient is still walking around and breathing, with one particular astute contributor pointing out that SunEdison needed a relatively small amount of liquidity in order to survive and become cash-flow positive in 2016.
In order to secure DIP financing, SunEdison disclosed liquidity needs and assets detailing a 3.6-fold return on investment.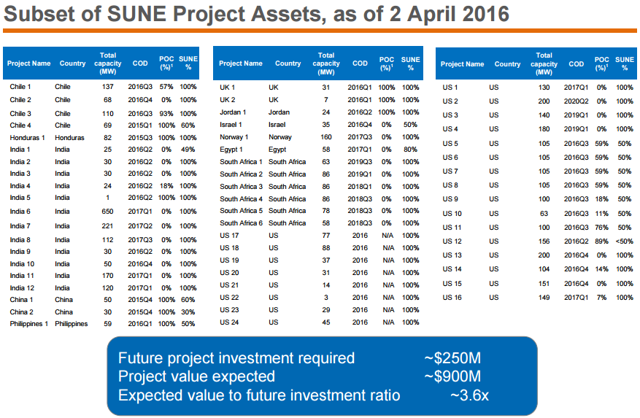 This suggests that despite SunEdison requiring financing to get through the summer, it still expects to become profitable and pay its creditors. Anyone who still owns stock should be acutely aware of how creditors are paid as bankruptcy proceedings progress.
Secured creditors (banks) are paid first.
Unsecured creditors (bondholders etc.) are paid second.
Stockholders are paid only if secured creditors and bondholders are fully repaid.
It is hard to predict whether stockholders will be paid or not, but an article was written a few years back detailing how often stockholders received compensation. In 60% of cases, stockholders were completely wiped out, but in 40% of cases they received compensation. This actually represented a high rate of stockholder compensation because many companies filed for bankruptcy to avoid litigation. The fact that Vivint Solar (NYSE:VSLR) filed a lawsuit against SunEdison and used the very specific term "willful breach" suggests that this may be the case in SunEdison's Chapter 11 filing.
In SunEdison's original SEC filing related to the merger, the damages Vivint Solar can seek are open-ended.
"Section 7.02 Effect of Termination...the termination of this Agreement shall not relieve any party from any liability or damages (which the parties acknowledge and agree, in the case of liabilities or damages payable by Parent or Merger Sub, would include the benefits of the transactions contemplated by this Agreement lost by the Company's stockholders which shall be deemed to be damages of the Company) for any Willful Breach."
This is supported by Vivint Solar's January SEC filing which contains the following statement.
"With the goal of increasing closing certainty, the term sheet also provided for a reduction in Vivint Solar's obligation to meet certain closing conditions including the absence of any continuing material adverse effect concerning the business, assets, liabilities, operations or financial condition of Vivint Solar, the extension of the termination date of the Merger Agreement to June 30, 2016, two forms of liquidated damages payable by SunEdison in different circumstance in an amount totaling $300 million, and the stipulation that in the event of a willful breach of the Merger Agreement, damages would be calculated based on the terms of the original Merger Agreement prior to its amendment."
Thus, despite subsequent renegotiations, Vivint Solar is suing SunEdison for the full $2.2B acquisition amount. When information was leaked that SunEdison was seeking DIP financing, I began to strongly suspect that they were attempting to coerce Vivint Solar into settling the lawsuit. Having obviously failed, they filed for bankruptcy in order to substantially reduce the likelihood of having to pay Vivint Solar. In fact, since the suit is still pending, Vivint Solar is not even a creditor. This could explain why SUNEQ is approaching levels seen by SUNE before it was moved to Pink sheet trading.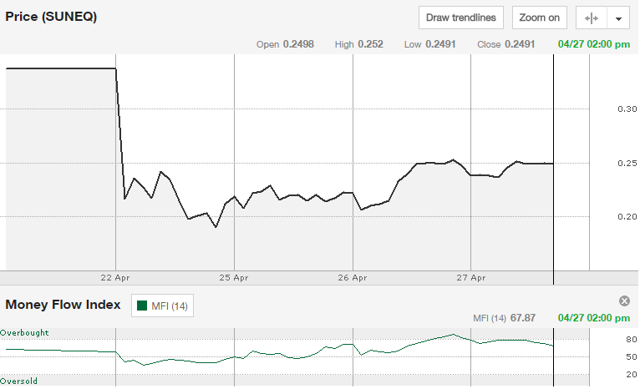 Conclusions
If SunEdison's bankruptcy filing is primarily a legal maneuver designed to avoid the Vivint lawsuit, there's a 40% chance that shareholders will be paid. Many commenters have pointed out that in a recent SEC filing David Einhorn kept 40% of his shares, despite having near certainty in SunEdison filing bankruptcy. Some shareholders saw this as a signal that bankruptcy wasn't coming, but I see it as recognition that there is a reasonable probability that SUNEQ is not worth $0.00, but rather there is a 40% chance that it has a non-zero value. For me, those odds don't constitute a buy signal, but for those of you who still own the stock it could be a reason to keep an eye on SunEdison as the bankruptcy proceeds, because there could be some payout on the horizon.
Disclosure: I/we have no positions in any stocks mentioned, and no plans to initiate any positions within the next 72 hours.
I wrote this article myself, and it expresses my own opinions. I am not receiving compensation for it (other than from Seeking Alpha). I have no business relationship with any company whose stock is mentioned in this article.
Editor's Note: This article covers one or more stocks trading at less than $1 per share and/or with less than a $100 million market cap. Please be aware of the risks associated with these stocks.