As a value investor, I love infrastructure. While it mat not be the most glamorous, it is certainly something that we cannot do without, and will increase in demand as our population grows.
TransCanada Corp. (NYSE:TRP) owns a whole bunch of infrastructure. In fact, they own and operate 67,300 km of gas pipeline, 368 Bcf of natural gas storage (250 regulated, 118 non-regulated), 4,247 km of crude pipeline, and 21,675 MW of energy generation capacity. This level of integration in North America's energy infrastructure network means that they are integral to our energy security, and therefore have significant "deep value."
TransCanada also operates in an industry with large barriers to entry, including incredible capital requirements and regulatory hurdles. This, as I talked about in my Consolidated Water Corp. (NASDAQ:CWCO) article, is a tremendous asset to value investors who look for companies that are safe from competition.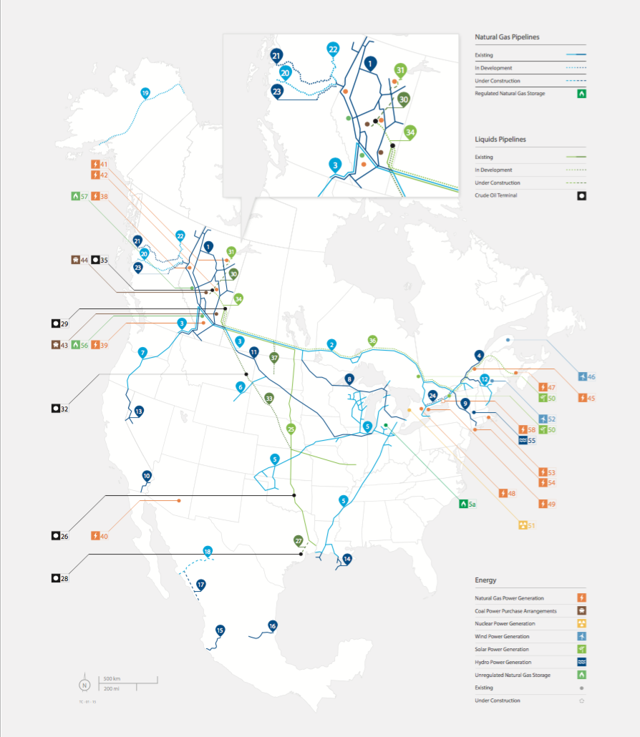 One area of pain for TransCanada and its investors has been the Keystone XL pipeline, and the regulatory nightmare in which it is caught up. (It is important to note that the Keystone XL line is separate from the Keystone line.)
This January, TransCanada announced that it is suing the U.S. government for $15 billion under the claim that blocking the Keystone project violates U.S. obligations under NAFTA. It is worth noting that the U.S. has never lost a case like this; however, there is precedence with both Canada and Mexico having lost similar cases in the past. Part of the issue surrounding the blocking of the Keystone deal is the level of plasticization of the issue, with President Obama feeling the heat from many environmental groups -- while he and other opponents admit that blocking it will have little effect on the environment. There is also question as to why this particular pipeline was denied when others were not, and why the review process was drawn out as long as it was.
Further hope for the future of this lawsuit (which cannot actually turn over the presidential ruling) is this upcoming election. Former Secretary of State Hillary Clinton has shown inconsistencies regarding her stance on trade deals of this nature and which could lead to a favorable ruling. There is also hope from the Republican side, which has typically ruled in favor of the energy industry in most matters (note the House of Representatives vote results in 2014 shown below).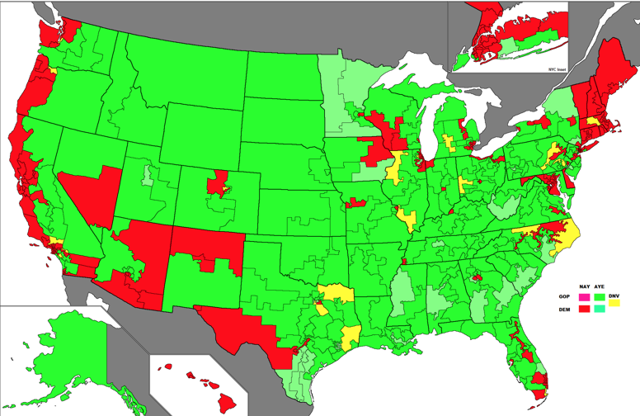 With salient projects like Keystone XL and Energy East, many people end up overlooking or not considering the smaller but no less profitable projects being taken on. TransCanada currently has many projects under construction and many more under development.
Currently, they have four natural gas pipelines under construction. These include the Mazatlan Pipeline (413 km, Mexico), Topolombampo Pipeline (530 km, Mexico), Tuxpan-Tula Pipeline (250 km, Mexico), and additions to their NGTL line (540 km, Canada). TransCanada is also growing its crude pipeline portfolio with three lines under construction. These include the Houston Lateral line and Terminal (77km, U.S., extending the Keystone line to Texas refineries), Grand Rapids Pipeline (460 km, Canada), and the Northern Courier Pipeline (90 km, Canada).
Together, these projects -- as well as the ones currently under development -- will help to stimulate TransCanada's top-line and EBITDA growth. As many of these projects are long term in nature, TransCanada is best poised as an opportunity for investors who are looking to get in for the long term.
TransCanada's management team has shown their commitment to generating shareholder return through consistent dividend increases over the past 16 years as the company has grown. Their dividend has also shown consistency through continued payout during the turmoil experienced by the energy sector in North America of the past 18 months. TransCanada has managed to maintain an average payout ratio of 74.4% over the past six years.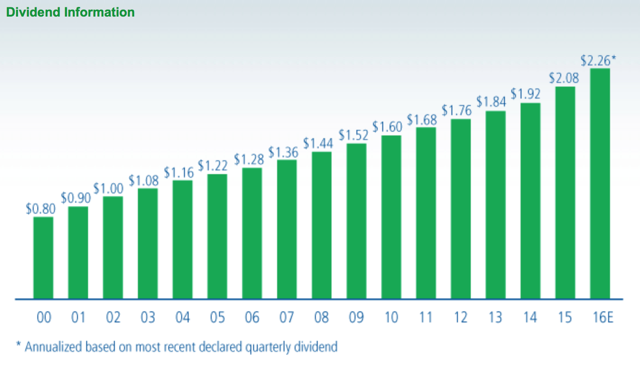 Data from TransCanada
Lastly, I want to look at natural gas demand growth, and how it will be affected by the Clean Power Plan (CPP). The CPP was ratified in August 2015 by the Obama administration in an effort to reduce greenhouse gas emissions. It made targets surrounding emissions cuts then left it to individual states to come up with how they would make reductions. For the most part, this plan involves conversion from coal to natural gas power generation. This will have a positive effect on natural gas demand with in the U.S., especially when coupled with currently low commodity prices.
For the aforementioned reasons, I believe that TransCanada is a stock to be held for the long run and should provide reasonable returns accordingly. I think that an investment in this company is one that should be held for a number of years given their project development timeline, and the long-term macroeconomic factors affecting their growth.
Disclosure: I am/we are long TRP.
I wrote this article myself, and it expresses my own opinions. I am not receiving compensation for it (other than from Seeking Alpha). I have no business relationship with any company whose stock is mentioned in this article.