Ultra Petroleum (NASDAQ:UPL), the stressed, highly-levered natural gas-focused E&P, could declare bankruptcy as early as market close April 28, 2016 and will almost certainly declare bankruptcy at market close April 29, 2016 if not prior. Ultra Petroleum, for those new to this story or for those caught with exposure on the books via a technical trading plan gone wrong (Ultra Petroleum's common stock "UPL" surged several hundred percentage points from all-time lows after securing a " waiver and amendment agreement" with its lenders which allowed it to postpone and defer obligation payments due at the time - this news brought in massive trading volume to the ticker), will see a temporary delay in payment obligations effectively expire April 29, 2016(officially expiring April 30, 2016 - a non-business day).
As was noted in a TheDeal.com interview in which we participated back on February 18, 2016 - we (our firm) continue to have it on good authority that Ultra Petroleum does not intend to make any further payments regarding any debt or credit obligations. In fact, we don't believe Ultra Petroleum has the legal ability to make any further payments in that we believe it is grossly failing solvency representations (via its Credit Facility)necessary for the company to make prior to deploying funds to anything "non-core to the underlying operations" (inclusive of maintaining debt obligations). Ultra Petroleum, at least we believe and have maintained since prior to February 2016, is currently failing its solvency representations in light of a massive $3.1-billion-dollar asset write down it was forced to take at most recent reporting. With management and the Board at Ultra Petroleum being responsible for justifying its solvency representation prior to deploying funds - justifications that will be tested in any bankruptcy proceedings - we don't believe funds will be deployed.
In more recent news, Ultra Petroleum just days ago requested certain Energy XXI (NASDAQ:EXXI) bankruptcy documents from courts handling the Energy XXI bankruptcy proceedings. Specifically, Ultra Petroleum requested "first day" documentation. Our belief, and it is the belief of special counsel which we as a firm turn to for expertise in legal matters, is that Ultra Petroleum is "lining up" its filing with that of Energy XXI in an effort to present a substantially similar case regarding any arguments against tenant obligations tethered to CorEnergy Infrastructure Trust (NYSE:CORR). It is our belief (again backed by the special counsel which we take consultation from in all legal matters), that Energy XXI and Ultra Petroleum will try to force court-driven renegotiation of (what are now) dated contracts signed for services provided with CorEnergy; this is subject matter for a future note and won't be elaborated further on within this note. That said, Ultra Petroleum moving towards the final stages of what we believe will be a prepackaged bankruptcy filing (and so inquiring regarding the recent Energy XXI bankruptcy filing) is the only logical conclusion we can reach regarding why Ultra Petroleum, a seemingly unrelated E&P to Energy XXI, would be inquiring so delicately about "first day" documentation: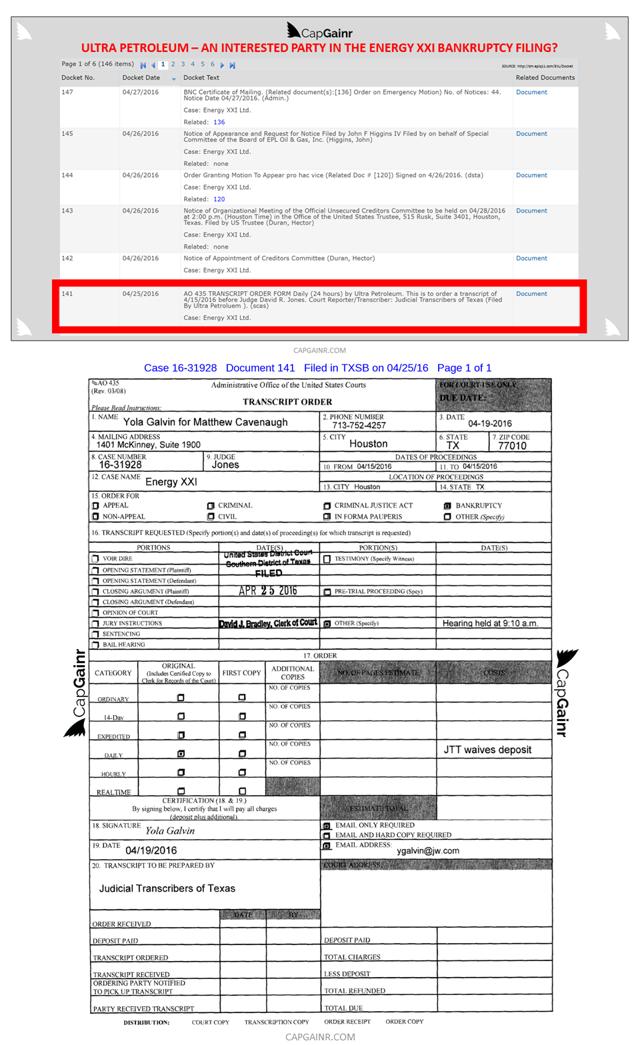 We continue to believe that Ultra Petroleum equity has zero value despite it most recently closing with a $0.48 pricing. We recommend an immediate sell-down of all Ultra Petroleum equity exposure as well as a full review of Ultra debt issues (specifically the 5.75% NT REDEEM 15/12/2018 USD 2000 and 6.125% NT REDEEM 01/10/2024 USD 2000 issues - both issues we recently broke out as "worth zero" in a screencast visual-note here just three days ago) as we believe there to be imminent catastrophic loss via these issues as well. The only upside risk to a complete sell-down of exposure would be if Ultra Petroleum has yet to secure terms of a prepackaged bankruptcy with lenders and creditors, which could see it secure yet another waiver. We don't view this as likely and even if this does ultimately result we don't view this as any change to long-term fundamentals. We strongly recommend those with long exposure consider liquidating rather than timing an exit at higher pricing on any delay to prepackaged bankruptcy.
Good luck everybody.
Disclosure: I/we have no positions in any stocks mentioned, and no plans to initiate any positions within the next 72 hours.
I wrote this article myself, and it expresses my own opinions. I am not receiving compensation for it (other than from Seeking Alpha). I have no business relationship with any company whose stock is mentioned in this article.
Editor's Note: This article covers one or more stocks trading at less than $1 per share and/or with less than a $100 million market cap. Please be aware of the risks associated with these stocks.