It was recently revealed by a Tesla (NASDAQ:TSLA) spokesperson that kWh costs are cheaper than many analysts have been predicting. The implications of this are extremely important.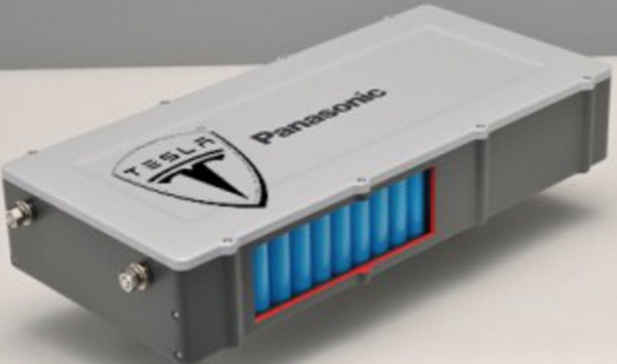 (Source)
With an ex-GM (NYSE:GM) executive predicting a cell pack cost for Tesla of ~$260 and ~$215 for GM, it would seem Tesla was disadvantaged. This would make it extremely hard to sell what is seen by all as a more compelling car for cheaper, profitably. Many Tesla bears have been predicting this to be the case, including Anton Whalman and Paulo Santos.
On the other hand, with evidence from the likes of Tesla's CTO, J.B. Straubel, and now the Investor Relations' head Jeff Evanson, there are the facts.
J.B. addressed this back last November on the conference call, around the time GM's supposed cell cost of $145/kWh from LG (OTCPK:LGCLF) got "leaked." This created a flurry of misinformation, with people confusing cell cost for pack cost, and saying GM must have Tesla beat. In reality, this just reinforced the notion that batteries were approaching the "tipping point" for mass EV adoption.
Now, even more solid evidence has arrived following this dialogue with Evanson and Jon Bereisa (Now CEO of Auto Lectrification and the aforementioned ex-GM exec) hosted by UBS analyst Colin Langan.
Evanson has revealed that Tesla has better than assumed cost, and that it is actually lower than the assumed rate for GM. If Panasonic (OTCPK:PCRFY) and Tesla can secure a better cost than LG and GM, this should draw the attention of potential battery customers - surely a good thing for Tesla.
Luckily, the number was protected by Evanson, unlike GM flaunting LG's agreed-upon kWh cost, much to the grief of LG, who apparently gave GM a "$100 better cost than anyone else."
What he was able to disclose, however, was that both assumptions by Bereisa were above reality for Tesla. They disclosed that the cost for the completely assembled pack is already "below $190." This means that the cost assumptions used by all the naysayers are off by a big percentage. In the case of Bereisa, he was off by over 25%.
Another very important detail revealed by Evanson, too, was that the base kWh pack for the Model 3 will be smaller than 60kWh. Assuming only a 55kWh battery means that Tesla is able to get more range out of every kWh than the Nissan Leaf, and keep the range even when housing a much heavier battery. This is partially attributed to the drag coefficient, or aerodynamics of the vehicle, also to a partial aluminum body.
With weight being kept down through use of aluminum, this means my (and Randy Carlson's) prediction from over a month ago was correct that the cost advantage for Tesla with batteries was significant enough to negate the increased cost associated with using aluminum over steel. This also bodes well for Tesla, as it has aluminum stamping presses already, so it may have less to invest in tooling for the Model 3 than some expected as well.
I decided to run some numbers to illustrate the advantages Tesla may have, the "worst case" scenario for the Model 3 battery cost, and what GM's Bolt is estimated to be in comparison.
Using the "worst case" scenario numbers (60kWh, $190 for the pack) provided by Evanson reveals that Tesla has a cost per mile range (215 mile range) of $53.02, or $11,400 total. This allows for $23,600 to be spent on the base model vehicle and Tesla to still break even. I would think it is realistic. Also, considering this is the maximum price it is currently paying, with things only slated to improve as battery density does, and the Gigafactory comes online, this is very promising.
Assuming Tesla has an assembled pack cost of 55kWh, the highest amount the base model could need according to our new information, then it will have a "cost per mile" of $48.60 or less (again using max number of $190).
My predicted best case model would be for a 50kWh base pack costing $175 per kWh for a fully assembled pack, meaning Tesla has a $8,750 pack, or only $40.69 a mile. Keep in mind that GM is expected to be paying $12,900 for its 60kWh pack in the Bolt, or $60 per kWh (if the Bolt has 215 miles of range). For those who are more visual, I have provided the associated graphs and charts below: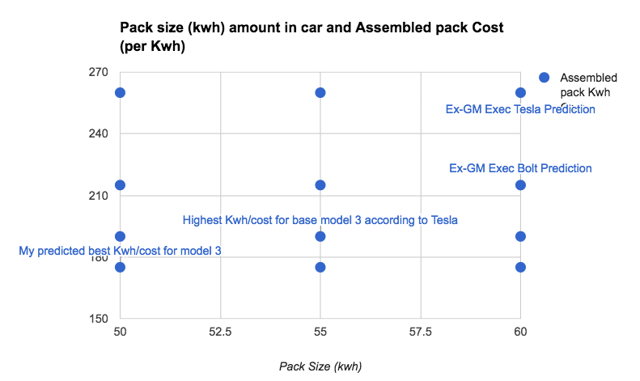 Tesla seems to be chugging ahead of the competition at a nice pace with securing the cheapest batteries and expertise in getting the most range out of the batteries. This should be a killer combo, allowing for cars that are more affordable with a longer range than competition. With range between recharges and cost probably being the two biggest factors when determining what cars one might consider for an electric vehicle (or EV), and of course, Tesla's supercharger and destination networks providing the fastest recharge of any car, the company is poised for victory.
It would appear Tesla has a larger moat than many realize, and the ability to differentiate its products on both capability and cost. This should allow Tesla to continue commanding high margins and high demand, which are both essential to its continued success.
These facts reinforce what some bulls have been saying for some time now, and refutes many of the latest arguments by Tesla bears.
The more GM reveals about the Bolt, the more it seems it has failed to make a compelling EV for the price it is offering it at.
Tesla remains the best EV maker (pure play or otherwise) to invest in at this time.
All information and pictures are from the author unless otherwise noted.
Disclosure: I am/we are long TSLA.
I wrote this article myself, and it expresses my own opinions. I am not receiving compensation for it (other than from Seeking Alpha). I have no business relationship with any company whose stock is mentioned in this article.
Editor's Note: This article discusses one or more securities that do not trade on a major U.S. exchange. Please be aware of the risks associated with these stocks.