Newmont Mining Corporation (NYSE:NEM) generated an adjusted net income of $0.34 and exceeded analysts' expectations with a 70% surprise.

Analysts expected on average EPS of $0.20 for the first quarter of 2016:

Higher production and lower costs produced a difference of $0.14 between expected and actual EPS.
Q1 2016 higher production:
Attributable gold production increased with 4% from 1.19M ounces (Q1, 2015) to 1.23M ounces.
Copper production increased with 3% from 37K metric tons (Q1, 2015) to 38K metric tons.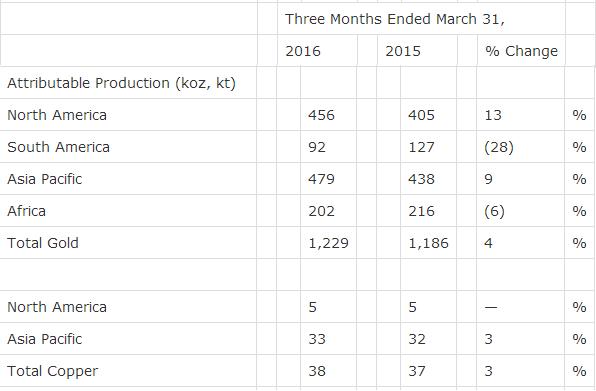 Increased production at Batu Hijau in Indonesia was crucial in higher Q1 2016 production: attributable gold production increased with 79% at Batu Hijau mine.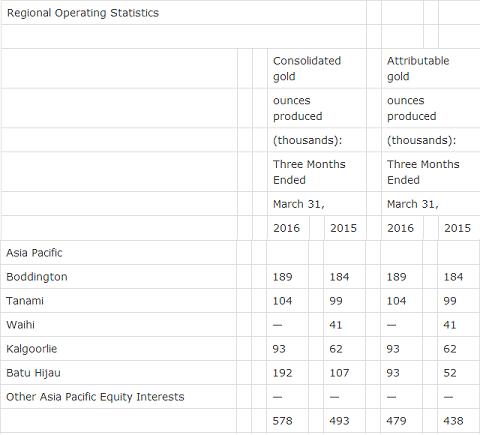 Q1 2016 lower costs:
All-in sustaining costs of gold and copper improved respectively to $828/oz. from $849 and to $1.33/lb from $1.73/lb in the same quarter a year ago.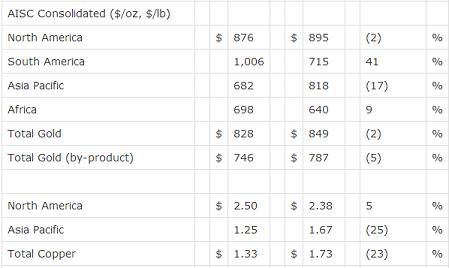 The miner reaffirmed gold production guidance of 4.8M-5.3M oz. in 2016, rising to 5.2M-5.7M oz. in 2017 and remaining stable at 4.5M-5M oz. through 2020.
My point of view:
Newmont Mining Corporation beat analysts' expectations on EPS and delivered good results on its 3 targets during Q1 2016:
NEM improved the underlying business:
In one of my previous articles on Newmont Mining Corporation I wrote that the gold producer was making the right moves in an environment characterized by lower gold and copper prices.
The higher average grade and type mineral deposit allow the company sustaining less operating costs, generating more cash from operating activities to reinvest in the business and in reducing the debt situation while average realized gold and copper prices in the 1 st quarter of 2016 fell to $1,194/oz. and $2.02/lb., respectively, vs. $1,203/oz. and $2.34/lb. in the year-ago period.

NEM created value for shareholders:
Even though I didn't think that the gold price would trade at its abnormal highs again in the near future, I also wrote that I was confident about the forecasts by the company to add further free cash flow and improve the net debt to EBITDA ratio. As a matter of fact Newmont's net debt to EBITDA ratio improved when compared to the ratio of the same quarter of 1 year ago and it is lower than the competitor average ratio.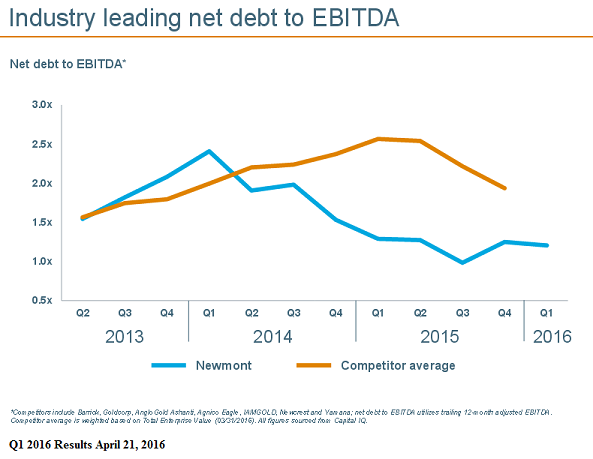 The net debt is down 16% from the prior year quarter and $500M debt tender was completed.
Newmont generated free cash flow of $227M while continuing to self fund profitable growth.
From my article on Newmont of March 1, 2016:
"Let's put in this way: suppose that operations will add $350M to FCF at Newmont anyway, even if the gold price will not reach the target "every $100/oz. gain in the price of gold bullion"; what might happen to the share price of this gold stock that will have more disposable FCF?"
Two months ago I wrote that I would stay long on this gold stock when it was trading at $25.39, since then the stock gained 23.42% at the time I am writing this article:

Is it time to sell the shares and take some profit?
Considering its nature of being a cyclical stock, I would wait another month: gold stocks usually are characterized by an upswing from March through late May or the first part of June followed by a low being made some time in late July.
NEM 's portfolio is getting stronger:
Merian project ($100M below budget) is planned to be in commercial production by the 4 th quarter of 2016.
Long Canyon and Tanami are advancing on schedule and CC&V expansions reached first production.
$1.9B in non core asset sales: NEM divested its equity stake in Regis for $184 million.
Disclosure: I/we have no positions in any stocks mentioned, and no plans to initiate any positions within the next 72 hours.
I wrote this article myself, and it expresses my own opinions. I am not receiving compensation for it (other than from Seeking Alpha). I have no business relationship with any company whose stock is mentioned in this article.