Exxon Mobil (NYSE:XOM), the world's largest publicly listed oil and gas producer, is also a dividend champion which has been consistently increasing payouts for the 34 years. On Wednesday, the Irving, Texas based oil major lifted the quarterly dividend by 3% from $0.73 to $0.75 per share. According to Reuters, the increase is the smallest on record since Q1-2006 - exactly ten years ago.

The dividend increase was announced just a day after Standard & Poor's cut Exxon Mobil's coveted AAA rating by one notch to AA+ while maintaining a stable outlook. Exxon Mobil was the only energy company on the planet with a perfect credit score and belonged to a rare group of companies whose ratings haven't been cut for the last several decades. In fact, the S&P, which has lowered the credit rating of dozens of major energy companies - such as Royal Dutch Shell (NYSE:RDS.A) (NYSE:RDS.B) - in every down cycle over the last three decades, hasn't cut Exxon Mobil's rating for at least the last 70 years.
This time, however, the ratings agency said that Exxon Mobil was facing increasing pressure due to low oil prices. The company's debt has climbed from just $6.9 billion in 2013 to a little less than $20 billion last year while its profits slumped from $32.6 billion to $16.2 billion in the same period. In these tough times, Exxon Mobil, S&P feared, could continue rewarding shareholders with dividends instead of improving its financial health. Moreover, the S&P warned that it could slap Exxon Mobil with another downgrade if it fails to reduce costs or increases its debt load, for instance, to make a debt-powered acquisition.
Moreover, Exxon Mobil is due to report its first quarter results before the markets open on Friday which could be one of the weakest ever. The oil and gas prices tumbled to multi-year lows in this period. The Us benchmark WTI oil touched 13-year lows in February while natural gas dropped to its lowest level in nearly 17 years. This will likely hurt the company's exploration and production business whose earnings could slip into the red. The refining division will likely offset the negative impact of E&P loss, as we've seen over the last few quarters, but the profits in this segment could also come under pressure due to seasonal factors, weak diesel demand and high levels of gasoline inventories. Overall, the oil giant is positioned to report a large drop in profits.
In this context, it seems rather surprising that Exxon Mobil has decided to reward shareholders with higher dividends. However, there are a couple of important things to note.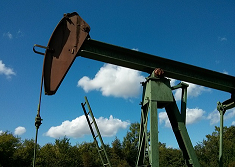 Exxon Mobil valued its AAA credit rating greatly. During the fourth quarter conference call held earlier this year, the company's Vice President of Investor Relations Jeffrey Woodbury said that its perfect credit score bolstered its ability to access financial markets as well as other resources. Moreover, the fact that Exxon Mobil had a better credit score than the US government was a matter pride for the company. But the rating cut is largely symbolic and won't have any meaningful impact on Exxon Mobil's financials, its ability to raise capital or borrow funds.
That's because firstly, we have been living in the near zero interest rate environment from the last several years. Although last year, the Federal Reserve talked about increasing interest rates in 2016, but now, the central bank seems reluctant to make any meaningful increases. In this environment, Exxon Mobil will continue to have access to cheap credit.
Secondly, S&P has also made wholesale cuts to the entire energy sector. The credit rating of virtually every oil and gas producer has been reduced. And Exxon Mobil, as far as I know, remains the highest rated oil major on S&P's list. Its peer Chevron (NYSE:CVX) has been rated AA. The European majors Royal Dutch Shell, BP (NYSE:BP), Total SA (NYSE:TOT) and Statoil (NYSE:STO) all carry considerably lower ratings of A+, A-, A+ and A+ respectively. This means that Exxon Mobil will still have better access to capital markets and other resources than its peers.
More importantly, I believe the increase in dividends could be a precursor to positive commentary from Exxon Mobil regarding the future of oil market. The dividend hike at this time might appear surprising, but only if we look in the rear view mirror. If Exxon Mobil expects oil prices to stabilize at around mid-$40s and gradually improve in the coming quarters, then that will immediately lift the company's cash flows, given its output is not hedged. Improvement in cash flow expectation justifies higher dividends.
The oil price environment has already improved since the first quarter. The WTI has recently crossed the $45 a barrel mark for the first time in 2016 after averaging just $33 in the first three months of this year, according to data from US EIA. Moving forward, the demand for oil is expected to continue to rise, according to BP's estimate, by 1.4 million barrels a day this year, with flat to falling supplies. Production from some of the major producers, including the US and Saudi Arabia, peaked last year while Russia has been pumping close to 10.9 million barrels a day since January. Other major oil producing countries, the IEA said, cannot increase output anymore. The global oil output will likely go downhill in the coming months, with Iran as the only exception. BP's CFO Brian Gilvary sees oil markets moving closer to balance by the end of the year. Exxon Mobil could also give a similar outlook.
Disclosure: I/we have no positions in any stocks mentioned, and no plans to initiate any positions within the next 72 hours.
I wrote this article myself, and it expresses my own opinions. I am not receiving compensation for it (other than from Seeking Alpha). I have no business relationship with any company whose stock is mentioned in this article.