Everyone wants a free lunch. I don't know how many professors and academicians have repeatedly told us that there is no such thing. I never bought it. I've always been on the lookout for getting something for nothing. And often I have managed to do so in everyday life. From retail arbitrage to matched betting on sports sites, if there was an easy dollar to be made, I would be all over it.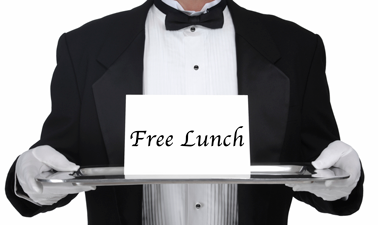 source: Mrtopstep
Call me a lazy toad, a greedy little pig if you will, I don't mind. The whole debate on whether such opportunities exist is akin to the all too familiar debate between whether the markets are efficient or not. "If there were an arbitrage opportunity, arbitrageurs would profit from it, thus drying up the window of opportunity, which means you won't be able to profit from it".
Funny statement, why can't you just be one of the arbitrageurs?
Why would you they would say? When you could just invest in an S&P 500 ETF(NYSEARCA:SPY) for a few bips a year.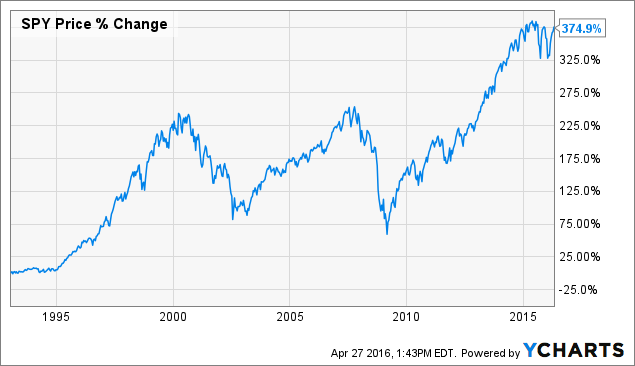 I have nothing against investing in ETFs, but the returns are fair. You get paid for the risk you take of being exposed to the markets. You make money when they go up, and you lose money when they go down. Market neutral hedge funds have always seemed alluring from a theoretical standpoint. By going long certain stocks and products and short others, you theoretically delete your market exposure, protecting your portfolio to market swings. In practice these strategies go against you if your product selection is anything but perfect. It is very possible that your shorts and your longs go in the opposite direction than you expected. However the idea of beating the market on a risk adjusted basis is a concept which is pursued by many individuals and professionals, including me.
Leveraged ETFs, like the ones offered by Direxioninvestments for example, aim at giving investors multiple of daily returns of various indices. I insist on the key word: daily. They are often inappropriate for buy and hold investors, and will deviate quite far from delivering the multiples of monthly or yearly returns, because they are not designed to do so.
They are, however, extremely well suited for investors willing to short them.
They all suffer from what is called the leverage trap. This happens because these products reset the leverage daily to offer the multiples of daily returns. To understand the intuition, there is no better way than to run a quick example through excel.
Let's assume a product whose price is mean reverting. We'll start it at $10 it will go up and down and back to 10$. If we took a long position in this product, at the end of the period we would have made $0 of profit. Now let's suppose there existed products which delivered twice the daily return or three times the daily return, not unlike the products offered by Direxioninvestments.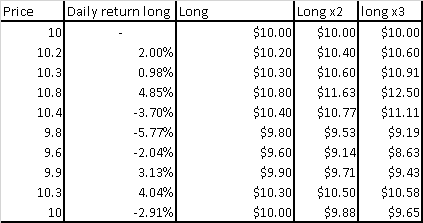 source: Author's Data
What happens is that multiplying the daily return will increase the value more than is suggested by the x2 or x3 label over longer periods of time when there are only up days. But when the market is volatile and goes up and down, these products tend to actually decay and destroy value.
Here is another example with prices which are volatile but trend upwards. I've added here the short version of these products to prove a point. Here the leveraged long products actually make more money than the simply going long, but these returns aren't mirrored by the losses on the short products.


source: Author's Data
So there are several scenarios:
In up-trending volatile markets the gains on the leveraged long products will be outweighed by the losses on the leveraged short products.
The opposite is true in down-trending volatile markets.
Both will destroy value in a volatile non trending market.
There is a trend in a direction and the number of up days is significantly different from the number of down days, in which case the net gains of the leveraged products will be positive.
Most of the time, the markets will go up and down enough for these products to destroy value on the net side. Over a long period of time, both tend to destroy value.
So there is a case for shorting these products. However you could argue that being short one direction only would expose you to considerable market risk. In that case, why not short both products? Your hypothetical market exposure is zero and in most cases you capture the return from the leverage trap.
To test such a strategy I picked 10 indices for which both 3x bull and bear products are offered by Direxioninvestments. I calculated the annualised volatility of these indices in 2015 and ranked them in descending order.
Here is the list of products used as proxies for the indices:
I then simulated shorting equal dollar weights of the leveraged versions of these products with monthly rebalancing for all of 2015. Every month the positions would be adjusted so that you had the same amount short in both the long leveraged product and the short one.
Here is the list of concerned products:
Daily S&P 500 Bull 3x Shares (NYSEARCA:SPXL)
Daily S&P 500 Bear 3x Shares (NYSEARCA:SPXS)
Daily Mid cap Bull 3x Shares (NYSEARCA:MIDU)
Daily Mid cap Bear 3x Share (NYSEARCA:MIDZ)
Daily Small cap Bull 3x Shares (NYSEARCA:TNA)
Daily Small cap Bear 3x Shares (NYSEARCA:TZA)
Daily Energy Bull 3x shares (NYSEARCA:ERX)
Daily Energy Bear 3x shares (EXY)
Daily Junior Gold Miners Index Bull 3x shares (NYSEARCA:JNUG)
Daily Junior Gold Miners Index Bear 3x shares (NYSEARCA:JDST)
Daily Real Estate Bull 3x shares (NYSEARCA:DRN)
Daily Real Estate Bear 3x shares (NYSEARCA:DRV)
Daily Semiconductor Bull 3x shares (NYSEARCA:SOXL)
Daily Semiconductor Bear 3x shares (NYSEARCA:SOXS)
Daily Technology Bull 3x shares (NYSEARCA:TECL)
Daily Technology Bear 3x shares (NYSEARCA:TECS)
Daily FTSE China Bull 3x shares (NYSEARCA:YINN)
Daily FTSE China Bear 3x shares (NYSEARCA:YANG)
Daily Emerging Markets Bull 3x shares (NYSEARCA:EDC)
Daily Emerging Markets Bear 3x shares (NYSEARCA:EDZ)
Here are the returns of such strategy as well as the volatility of the underlying indices during 2015.


Source: Author's Data
Sorting the product couples which would have been best to short with the volatility shows the direct link between the standard deviation of returns and the profitability of the strategy.
| | | |
| --- | --- | --- |
| Rank | Volatility | returns |
| 1 | Junior Minors | Junior Minors |
| 2 | China | China |
| 3 | Energy Select Sector | Emerging Markets |
| 4 | Semiconductors | Energy Select Sector |
| 5 | Emerging Markets | Russell 2000 |
| 6 | Technology Select Sector | SP MID 400 |
| 7 | US REIT | SP500 |
| 8 | Russell 2000 | Technology Select Sector |
| 9 | SP500 | US REIT |
| 10 | SP MID 400 | Semiconductors |
source: Author's Data
The evidence works for 2015 which was a volatile market with no particular direction. However since the inception of these ETFs there would have never been a negative year following this strategy. As our example suggested at the beginning of the article, there is no reason why this would not apply in a down market.
I would suggest that investors willing to make these shorts part of their portfolio to pick 3 or 4 indices to dilute the effect of the occasional down month.
This strategy does have down month and the returns are even more volatile as you pick indices with more volatile returns such as Junior Gold Miners. However I believe the most volatile indices will offer the best returns.
Recently Direxioninvestments has also created leveraged ETFs which track a Biotech index (NYSEARCA:LABU) (NYSEARCA:LABD) as well as Oil&Gas exploration and production (NYSEARCA:GUSH) (NYSEARCA:DRIP). These indices were more volatile than all of the indices considered above except the Junior Gold Miners index in 2015. Since they are new, there wasn't enough data to test on a whole year, but they are definitely short worthy.
Be responsible with these, and if you decide to pursue such a strategy remember that you must hold tight throughout volatile returns. If you are interested in taking a look at the data which I have compiled, PM me.
Disclosure: I/we have no positions in any stocks mentioned, but may initiate a short position in GUSH, DRIP, LABU, LABD, JNUG, JDST over the next 72 hours.
I wrote this article myself, and it expresses my own opinions. I am not receiving compensation for it (other than from Seeking Alpha). I have no business relationship with any company whose stock is mentioned in this article.