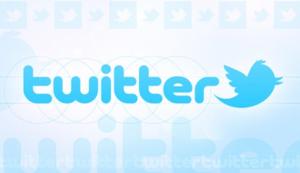 When I saw the headline numbers from Twitter (NYSE:TWTR) on Tuesday afternoon, I have to admit I was all ready to write an article titled something like "Twitter is not #Live, it is Dead." While the non-GAAP EPS figure beat expectations, revenues missed by a bit and the Q2 revenue guidance was awful. But after going through the report again, and seeing the stock take its associated hit, I'm actually positive on the name.
The first positive is that the company saw growth in its monthly active user count above street expectations. As you can see in the image below, the company is up about 8 million active users over the past year. Remember, these numbers don't include the roughly half a billion users that aren't logged in or registered.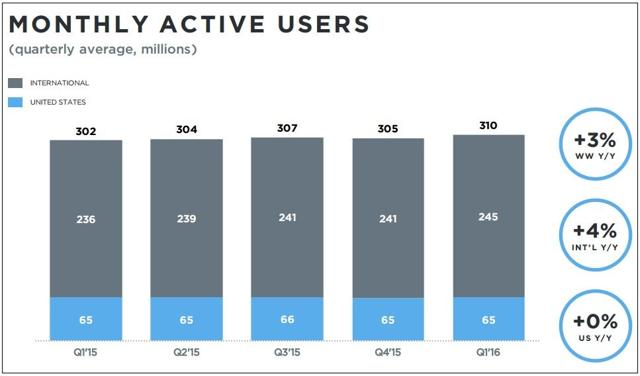 Source: Twitter Q1 presentation
Management said it came in at the low end of guidance due to "brand marketers not spending as quickly as expected" in Q1. I think that's a direct correlation to two items: first, the stagnant user base growth we've seen, and two, the massive amount of product and management changes in recent months. While Q2 revenue guidance shows this process may be ongoing, I think marketers will start to come back in a meaningful way now that the user base is growing and Twitter has laid out a more concrete strategy.
That gets me to my second point, which is a meaningful reset of expectations into a back-end loaded year. Going into Q1, analysts were looking for $2.96 billion in revenues this year, and I'm guessing that number will drop to $2.75 billion or perhaps lower in the next couple of weeks. In my opinion, the Twitter story is all about Q3 and Q4, because we have the Summer Olympics, the NFL Deal and the US Presidential Race. These major events are going to be where Twitter can make it with its Live strategy, and where advertisers will try to take advantage of the now growing user base.
The third reason I'm positive is the company's strong financial flexibility. The company ended Q1 with about $3.6 billion in cash and $1.5 billion in convertible notes. On the conference call, management said it would consider using some of its cash for acquisitions, and a billion or two could certainly go a long way. However, I think the flip side is also true, that this $2 billion plus in net cash could make Twitter an interesting acquisition candidate, especially with the stock falling below $15 on Wednesday. Someone like Alphabet/Google (NASDAQ:GOOG) (NASDAQ:GOOGL) doesn't need to spend $25 billion anymore to buy out Twitter, as the market cap ex-cash is less than $8.5 billion at this point.
Twitter shares tumbled on Wednesday after the company's Q1 report, and the 16% or so drop seems reasonable when looking at the headline numbers. However, the reasons I discussed today should help provide a bit of a floor for this stock. Twitter's story will be told in the second half of 2016, and a growing user base can help the company improve its financial results. With expectations lowered, we could see the company with beats down the road. Additionally, a strong cash balance could be used for acquisitions, or perhaps interest a larger name in taking over Twitter.
Disclosure: I/we have no positions in any stocks mentioned, and no plans to initiate any positions within the next 72 hours.
I wrote this article myself, and it expresses my own opinions. I am not receiving compensation for it (other than from Seeking Alpha). I have no business relationship with any company whose stock is mentioned in this article.
Additional disclosure: Investors are always reminded that before making any investment, you should do your own proper due diligence on any name directly or indirectly mentioned in this article. Investors should also consider seeking advice from a broker or financial adviser before making any investment decisions. Any material in this article should be considered general information, and not relied on as a formal investment recommendation.