Rarely ever do I double-down. I tend to focus on the long term, starting with a small position, then add to it over time as my conviction grows or cut it loose if the story isn't panning out.
With Alcoa (NYSE:AA), I made the fatal mistake of buying the stock at an average price around $14 near the end of 2014 and first half of 2015. The stock's slide from $14 in May to a low of $8 in August was almost a straight line. It was disheartening.
I liked Alcoa because of how CEO Klaus Kleinfeld told the story. He talked about all the innovative products, its airline business and its exposure to the now-booming Ford (NYSE:F) F-150.
I still loved the story, but by August I hated the stock. Obviously, the commodity business has been an enormous drag and some other things haven't gone Alcoa's way either. There were negatives that I wasn't blind to, I just misjudged their impact.
After the stock dropped to around $7 in January, I doubled my position. And to be clear, this is far from a gloat-piece. Trust me, picking a stock that lost 50% isn't exactly something to hang your hat on - especially in front of others.
The company's earnings results were so-so by many standards, including mine, so it's even more encouraging to see the stock taking flight.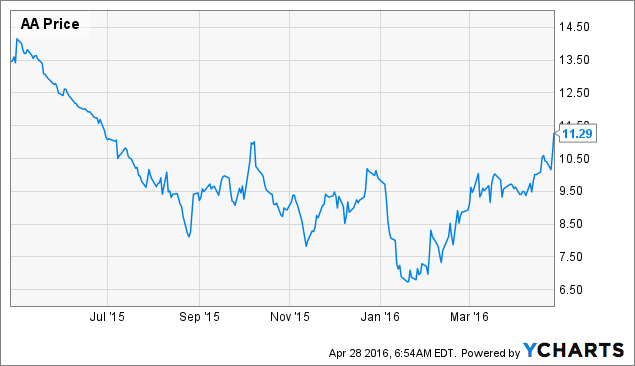 So What's Up With Alcoa?
First, the company has secured a number of new contracts, ranging from 3-D printed airplane parts to bauxite, that fluctuate anywhere from $350 million to over $1 billion. These are pretty hefty contracts for a company that now trades with a $14 billion market cap, but traded near $9 billion just a few months ago.
Then there's the split. Alcoa plans to split its business in half; commodities on one side, higher end, value-add products on the other, (the latter company will be called Arconic).
The split should be completed sometime in the second half of 2016 and investors are optimistic on the move. Why? Well, based on how the stock has been valued for much of the past 9-12 months, the value-add business has been underappreciated.
The sagging commodity business has been undermining the progress made on the soon-to-be Arconic business. With the two split up, it should create value.
As if the split weren't enough of a catalyst, aluminum prices are actually on the mend. Granted, prices are still near 5-year lows, but it's very encouraging to see the metal hit its highest level since last July. If aluminum can continue higher, this will be a direct benefit to Alcoa.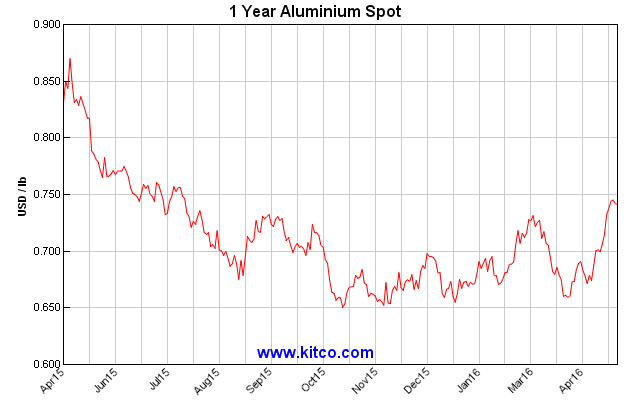 Aluminum Prices, compliments of Kitco.com
Finally, a jug of kerosene could be thrown on the fire, depending on how the International Trade Commission may rule.
In the beginning of March, the U.S. government slapped a 266% tariff on steel imports, because of "dumping" from other countries. Dumping or selling product below fair market prices weigh on prices and hurt domestic producers.
So what was the impact? Shares of United States Steel (NYSE:X) are up more than 100%, while shares of AK Steel (NYSE:AKS) are up 72% - from March 2nd! From the lows in February, the stocks have both more than doubled.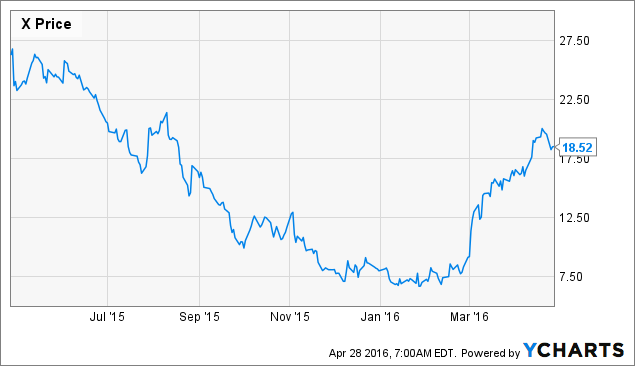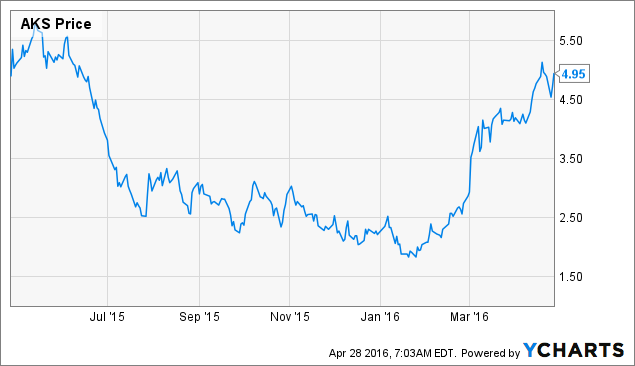 Earlier this month, the government announced an investigation into aluminum pricing. If a similar situation unfolds with aluminum as it did with steel, then I would look for Alcoa to be a big winner as a result. Let's be clear though, this is far from a done deal. This prospect is probably priced into the stock somewhat, so a negative ruling would likely take some air of the share price.
I'm not suggesting Alcoa can double from current levels, but perhaps double from its lows around $6.50 to $7. That would pin the stock at $13 to $14, which is still a fair amount of upside from here.
Technically Speaking
A look at the chart shows a clear-as-day breakout over the most recent high of roughly $11 back in October. As long as the stock can stay above that level, it should have relatively smooth sailing ahead.
The next chunk of resistance may come near $12.50 and then near $14. But, this is dependent on a few things. Aluminum prices have to continue higher (or at least, not go lower) and the government investigation can't come up empty handed.
Otherwise, it looks like investors who took a chance on this one still have more room to go.
Disclosure: I am/we are long AA.
I wrote this article myself, and it expresses my own opinions. I am not receiving compensation for it (other than from Seeking Alpha). I have no business relationship with any company whose stock is mentioned in this article.