Investors are divided today between those calling for a 'helicopter drop' by the Fed and those arguing that the Bank of Japan possibly doesn't have a clue about what it is doing. In all this, US Treasuries, commodities, and volatility have sent mixed signals in recent days.
In a private chat with one of my readers a couple of days ago, I said: "VIX up 10%, 10yr Trs up, gold up, dollar relatively strong, stocks down -- it's coming."
He replied: "These are scary days, Ale. I have about 30% in cash right now. I hope to buy when there is blood in the streets. I just hope it's not my blood..."
I have more cash than that on my books. So I was pleased to see that the Nikkei 225 dropped 3.6% today, while future markets in the US point to a 125 points drop (-0.7%) in the DJIA Index when the market opens today.
Japan
Perhaps the BoJ doesn't have many other options because it finds itself in uncharted territories, so any monetary action after decades of monetary easing will likely bring incrementally lower economic benefits to its economy, which needs an attractive domestic currency to thrive. The US dollar plunged 3% against the JPY in the wake of the BoJ's announcement.
Earlier today, The Economist wrote:
"HARUHIKO KURODA added another instance to his record of wrong-footing financial markets this week."
I don't think the Fed and the Bank of Japan are misjudging the cycle by being overly cautious, but their actions inevitably impact the prices of several assets classes that I monitor on a daily basis.
And the shares of XOM and GE top my list.
General Electric/Exxon
"In the midst of our transformation, we delivered good results," General Electric (NYSE:GE) recently said.
2015 will likely represent a key year in the company's history, given that it announced its intentions to get rid of most GE Capital assets. That was a brilliant decision in terms of corporate strategy given that GE would eventually get rid of more cyclical assets that absorbed too much capital without generating stable earnings at group level.
It grew "industrial earnings per share by 19%, expanded our segment margins by 80 basis points, and returned $33 billion of cash to our investors."
Notably, industrial return on total capital expanded "290 basis points to 16.9%," which is one of the key financial metric to watch over the next few quarter, and will depend on its underlying profitability -- which, in turn, hinges on whether GE will deliver on Alstom.
Assuming a weighted average cost of capital ranging between 6% and 8%, GE could easily continue to deliver value to shareholders based on a large spread and possibly rising spread between returns and invested capital. I am not bullish, however, because other risk factors should be considered, including its almost prohibitive valuation and execution risk associated to the integration of Alstom.
Furthermore, I have closely monitored trading volumes, and while GE stock remains highly liquid, volumes have significantly dropped in recent week, as the table below shows.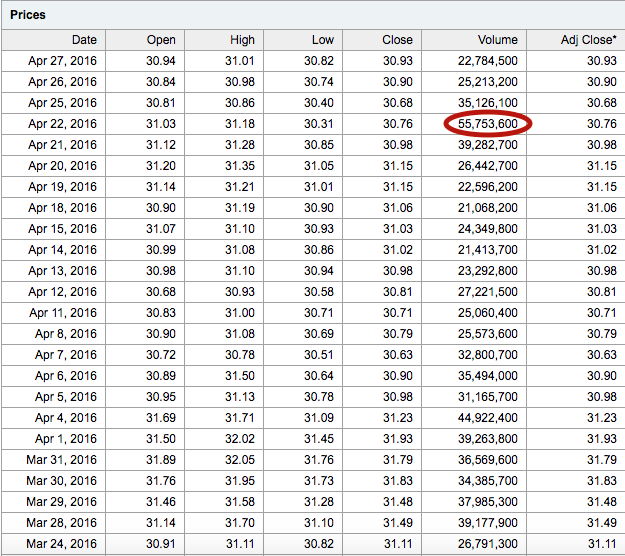 Excluding last Friday when it reported its quarterly update, its volumes are well below the average daily figure of 33m over the past three months. I estimate that on a day like Wednesday, GE's brokers could have been responsible for 10% of those volumes, but the net number could be higher.
By comparison, Exxon's trading volumes are also falling, given their three-month daily average of 14m, but Exxon decided to cut back on buybacks, while focusing on a sustainable and highly appealing dividend policy.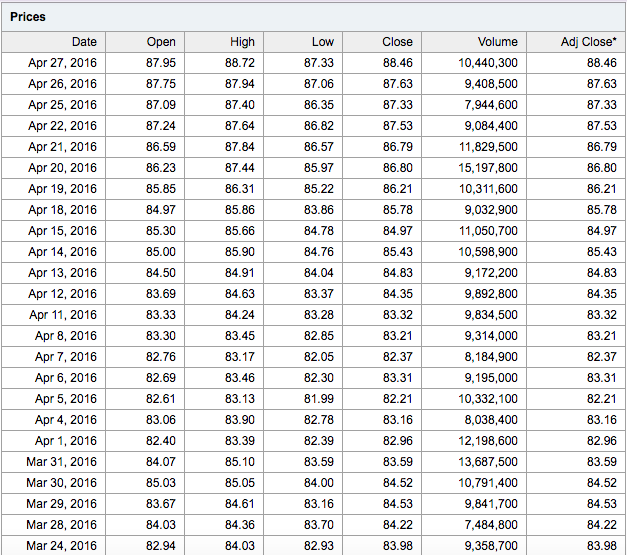 To that aim, it recently secured a large refinancing, which has procured massive benefits to shareholders both in terms of capital appreciation and prospects of dividend growth. The credit rating was cut, but so what?
Recent results from Total (NYSE:TOT) , BP (NYSE:BP), ConocoPhillips (NYSE:COP) suggest that XOM shareholders should have little to fear tomorrow, when the integrated oil explorer reports its quarterly trading update. I expect a marginal improvement in downstream, but I am really curious to see if the my bullish estimates for upstream earnings will be met.
Frankly, it's much easier to call what could be next for XOM and GE than the future actions of central banks.
Disclosure: I/we have no positions in any stocks mentioned, and no plans to initiate any positions within the next 72 hours.
I wrote this article myself, and it expresses my own opinions. I am not receiving compensation for it (other than from Seeking Alpha). I have no business relationship with any company whose stock is mentioned in this article.