Norilsk Nickel's (OTCPK:NILSY) Board of Directors has recommended to pay a final dividend for 2015 in the amount of 230.14 rubles per share ($ 0.36 per ADR), which has appeared to be below my expectations. In total, the company will send about $ 548 million for dividends. Nickel prices continue to remain at low levels, so a special dividend will not be paid. Thus, for2015 the company will pay a total of about $ 1.95 bln, or 45% of EBITDA.
The Annual General Meeting of Shareholders will be held on June 10, 2016, and the closing of the registry under receipt of dividends will occur June 21, 2016.
In general, I want to note that both I and the market generally expected higher dividend within the $ 0.38-0.46 per ADR. However, the Board of Directors decision is in line with current realities and new dividend policy, which takes effect from this year.
Let me remind you that in early April, Norilsk Nickel has accepted the new, more flexible dividend policy. In the published presentation was said the following:
Following the payment of the final dividend for 2015, the Company will apply new dividend targets to dividend distributions for 2016 onwards, which will be based on a variable EBITDA payout ratio linked to the Company's leverage and calculated as follows:
· 60% of EBITDA if net debt/EBITDA at corresponding year-end is less than 1.8x;
· 30% of EBITDA if net debt/EBITDA at corresponding year-end is more than 2.2x;
· Adjusted ratio reducing proportionally from 60% to 30% of EBITDA pro rata net debt/EBITDA at corresponding year-end if net debt/EBITDA is in the 1.8-2.2x range; T
· total dividend payments for each year will be subject to a minimum payment. The minimum payment in 2017 (for 2016 financial results) is set at $1.3 bn plus the proceeds from the sale of Nkomati and in the years thereafter at $1.0 bn.
The formula itself will look so:

The calculation of the indicator Net Debt / EBITDA will not include the loan for project financing of Bystrikinski Mining , for financing which Sberbank CIB has allocated a credit line of $ 800 million for 8 years.
Overall we can note that the shareholders of the company tried to find a compromise solution in the conditions of commodity metal prices fall. The new dividend policy is more flexible and should allow Norilsk Nickel not to impair its balance in 2016.
Yes, still the dynamics of prices for the main products of Norilsk Nickel doesn't show strong growth. Since early this year the price of nickel increased by 3.8%, copper - by 3.6%, palladium - by 8.1%, platinum - by 16.1%. But one thing does add some optimism: many of the major mining companies announced plans to reduce the loss-making capacity.
Conclusion
At present it is difficult to predict the financial results of Norilsk Nickel for 2016. However at current price levels, you can expect EBITDA in the region of $2.8-3.3 billion which, during the current dividend policy, will allow shareholders to expect $1.7- 2 billion of dividends or $ 1.07-1.26 per ADR. Yes, the expected dividend yield thus becomes 7.2-8.4% per annum, but in my opinion, still looks interesting.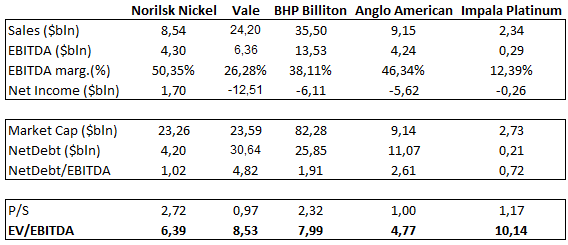 In addition, Norilsk Nickel is still one of the most efficient producers in the industry. Low cost allows it to feel more stable in conditions of low metal prices. The company is valued much lower than peers, although it has a lower debt and pays dividends. The average discount of peers is 25%, therefore, in my view, a fair price of Norilsk Nickel is $ 18.5 per ADR.
Disclosure: I/we have no positions in any stocks mentioned, and no plans to initiate any positions within the next 72 hours.
I wrote this article myself, and it expresses my own opinions. I am not receiving compensation for it (other than from Seeking Alpha). I have no business relationship with any company whose stock is mentioned in this article.
Editor's Note: This article discusses one or more securities that do not trade on a major U.S. exchange. Please be aware of the risks associated with these stocks.