Activision Blizzard (NASDAQ:ATVI) is a great company. It has fantastic growth potential, a popular lineup of games, and a history of capitalizing on strong franchises. This year will continue the trend for the gamemaker, which, at its current price, offers a cheap buying opportunity.
In the short term, profit growth will be driven by the large lineup of major titles that are to be released this year. In the long term, this growth will be protected by the creation of new franchises.
Short Term Growth
Growth this year will be driven by one of the largest release lineups in the history of ATVI. Activision will release two major games - Skylanders: Giants and Call of Duty 9 - while continuing to build and support Call of Duty: Elite (as well as a lineup of smaller games that will not be discussed). Blizzard will release two games - Diablo III and another that has yet to be named - but the possibility of more releases was mentioned in their recent earnings call.
Skylanders: Giants is the sequel to last year's Skylanders: Spyro's Adventure and the second of Activision's additions to the fourteen-year-old Spyro franchise. It will build on the innovative collectible figurines that provide easy, mobile character storage and access to special in-game activities. Very strong sales of Skylanders: Spyro's Adventure has raised expectations for this sequel. Time will tell how it performs, but Activision has a history of nurturing and growing franchises. Additional bonuses: the figurines have a higher profit margin than Activision's other games.
Very few details have been released about Call of Duty 9, though there have been clues that it will be titled Call of Duty: Black Ops 2. The Call of Duty franchise has been an annual success for Activision, breaking successive entertainment launch records in 2009, 2010, and 2011. Some critics have claimed that Activision has focused on "reiteration over innovation," but during the recent earnings call, it was described as containing "meaningful innovation." There is every reason to expect this game to live up to and exceed its predecessors.
Tied to the Call of Duty series is Call of Duty: Elite, a player network which allows for the creation of public profiles, social networking, and skill rankings. Subscription membership is a key growth area. Subscribers pay $49.99 annually to unlock many more benefits, most notably monthly downloadable content and player competitions. It officially launched November 8 of last year and already has over 7 million members, of which roughly 20% are subscribers. This percentage is expected to increase as more downloadable content becomes available and should spike each month when new material is released.
Blizzard's first release since 2010 will be Diablo III and is expected to be a major success. The last release in the Diablo series was an expansion to Diablo II in 2001, yet the series has maintained a popular following. Currently in Beta testing and scheduled for a Q2 release, it is one of the most anticipated computer games of the year. Parallels can be drawn between this release and the release of Starcraft II in 2010 - both came out more than a decade after the preceding installment, both maintained strong followings, both have significantly overlapping player bases -indicating that Diablo III will post high sales numbers.
The second game that Blizzard will be releasing this year has yet to be announced, but will be either World of Warcraft: Panderia or Starcraft II: Heart of the Swarm. Despite World of Warcraft nearing the end of its lifecycle and no longer generating much excitement, it still had 10.2 million subscribers at the end of 2011, giving the latest expansion a large customer base. There is significantly more anticipation surrounding Starcraft II's expansion, though without the captive audience of World of Warcraft, it may not sell as well. Whichever is released, they should both perform solidly if not spectacularly.
Long Term Growth
As successful as ATVI's major franchises are, they are not merely resting on their laurels. Though the Skylanders series has shown early promise, it is too soon to determine just how well it will do in the long term. More significant, is the new massively multiplayer online game from Blizzard, codenamed Titan.
No tangible information has been released about Titan, just generalities about its expected success, its strong development team, and the amount of fun it is to play. As Blizzard's COO, Paul Sams, says:
I believe [it's] the most ambitious thing we've ever attempted… We have some of our most talented and most experienced developers on that team. Many of the people that built World of Warcraft are full time on that other team… We're very confident in that product. It's an awesome one… We're playing it already. It is a total ball to play.
It has been rumored to be a more casual game than prior Blizzard titles, though this has not been commented on and likely will not be confirmed or denied until late this year at the earliest.
The existing franchises of ATVI will continue to be supported with more games, expansions, and downloadable content being released in the years to come.
Undervalued
With a trailing P/E of 13.0, growing annual dividend, and active stock buyback program, ATVI is undervalued at its current price.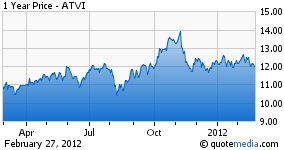 Forward guidance from the earnings call indicates an EPS of $0.94 - compared to $0.93 in FY2011 - however "as [they]'ve done historically, [they] begin the year with a reasonably conservative approach." It is highly likely that, as in previous years, ATVI will beat its guidance.
ATVI first paid a regular $0.15 dividend in 2010, which increased to $0.165 in 2011, and $0.18 in 2012. This 1.5% yield, while not notably large, is an indicator of ATVI's emphasis on returning shareholder value.
ATVI has historically had a very active stock buyback program and this year is no exception. On March 31st, a $1.5B buyback program will expire - of which approximately $825M had been used by the end of December. On April 1st a new program will begin, this time authorized for up to $1B.
Conclusions
As with any company, none of this is set in stone and potential may fail to transform into success. But as it stands now, the potential is there and ATVI has a history of exceeding expectations. When taken with the low price and emphasis on returning value to shareholders, this is a stock worth owning in 2012.
Disclosure: I am long ATVI.