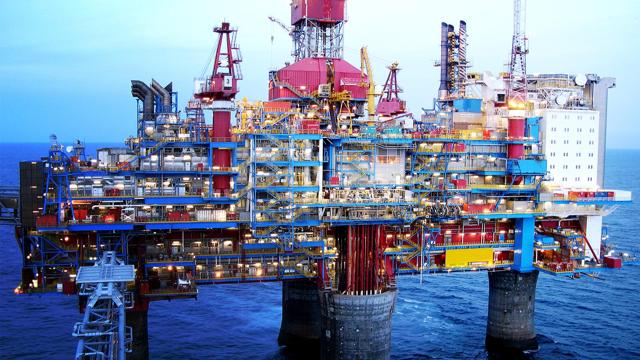 National Oilwell Varco (NYSE:NOV) reported Q1 earnings this morning. The company reported revenue of $2.2 billion and a loss per share of $0.32. The company missed on its revenue estimate by about $50 million. I had the following takeaways on the quarter:
Slide In Rig Systems Less Pronounced
The company's largest operating segment, Rig Systems (42% of total revenue), sells land rigs, offshore drilling equipment and components. The segment has been hit hard by a dearth in new orders amid the oil & gas industry downturn.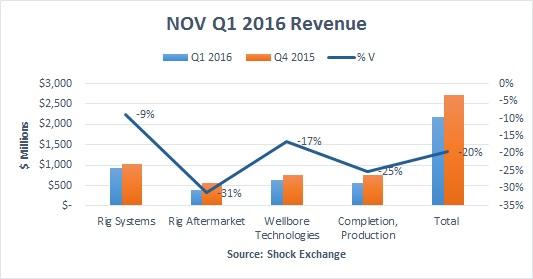 Revenue from Rig Systems was off 9% sequentially, much less than the 32% decline last quarter. This is a good thing. If the company can demonstrate a bottoming in Rig Systems revenue it could defend the narrative that the business if finally turning.
Revenue from National Oilwell's segments related to land drilling underperformed, which is consistent with the experience at Halliburton (NYSE:HAL) and Baker Hughes (BHI). Instead of buying spare parts from National Oilwell, drillers can use spare parts from idle rigs. This likely hurt Rig Aftermarket this quarter. The decline in shale drilling also hurt Completion & Production which provides hydraulic fracking equipment. Combined, both segments represent over 40% of total revenue, and both fell by high double-digits.
Backlog In Decline
Given the recent bankruptcy of Sete Brasil the company removed from its backlog amounts related to its 15 Brazilian floater contracts. The total removed was $2.1 billion, slightly higher than the $1.8 billion I predicted. The difference represents certain orders for which National Oilwell has not received payments in over a year. That said, the contracts remain enforceable. If Sete Brasil later receives funding to complete the drill ships then the company will resume construction and add the orders back into the backlog.
The company's backlog for Rig Systems fell to $3.3 billion. The total backlog fell to about $4.3 billion, down 39% from $7 billion at year-end. The backlog now represents about two quarters' worth of revenue. I find this alarming, yet NOV was only down 1% to $31.30 in early morning trading.
Liquidity
EBITDA fell 61% sequentially to $127 million. The company experienced more pricing pressure, particularly within Rig Systems, so its total EBITDA margin fell from 12% in Q4 to 6% this quarter. I expect the EBITDA slide to continue for a few more quarters. Cash of $1.8 billion was down $300 million during the quarter. The company also pared debt by $535 million; net debt decreased by $214 million from December. Though National Oilwell did not take a major hit to liquidity it still may not have enough to justify a $1 billion acquisition funded with all cash.
Disclosure: I am/we are short NOV.
I wrote this article myself, and it expresses my own opinions. I am not receiving compensation for it. I have no business relationship with any company whose stock is mentioned in this article.