Forex risk could be considered "good" if that risk helps to hedge against equity risk. We have decided to explore whether foreign exchange is a good hedge. We seek to address whether stock investors should select countries based on whether the country's currency risk was "good" or "bad" in the past as well as compare the foreign exchange hedge with the other forms of hedges.
As a Singaporean investor, we define "good" FX risk as a foreign country's market index and FXSGD having a cross rate with a negative correlation over the past three-, five- and 10-year horizons.
For "bad" FX risk, we define it as a foreign country's market index and FXSGD having a cross rate with a positive correlation over the past three-, five- and 10-year horizons.
In our research methodology, to determine whether investors should choose countries to invest in based on "good" or "bad" FX risk, we selected a wide spread of 15 countries from all over the world. They include countries such as the United States (U.S.), the United Kingdom (U.K.), Japan, Hong Kong and Brazil. A complete list of all the countries we applied in our analysis can be found here: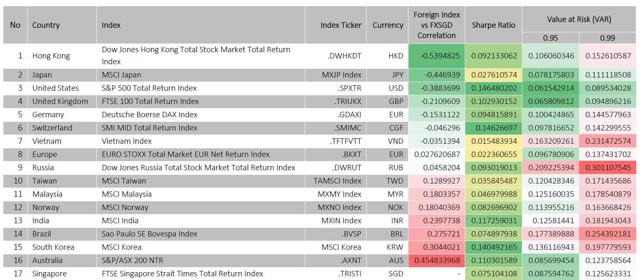 Source: Computation of figures from Thomson Reuters Eikon
For our indices selection, we decided to locate total returns indexes from benchmark indices around the world. Since several of the selected countries lack adequate historical data, we decided to use the MSCI indices for the selected countries.
As Singaporean investors, we decided to use Singapore as a benchmark in order to analyze the countries. Simply put, the more negative the correlation means that when the S&P 500 (NYSEARCA:SPY) rises, more often than not the USD will depreciate historically.
Conversely, when a country like South Korea has a high positive correlation, it means that when the equity index of Korea rises (via the iShares MSCI South Korea Capped ETF (EWY)), more often than not the South Korean won rises as well historically.
Positive Correlation Markets
The countries that we observed with positive correlations are countries typically still in the developing phases, where there are large amounts of foreign direct investment pumped into these countries. There is an outflow of funds from the developed countries looking to invest in these emerging markets, which causes increased demand for local currency and likewise the equity index to rise in tandem. We observed a relationship forming, whereby the positively correlated countries have a markedly higher terms of trade as compared to the negatively correlated countries. As exports play a large part of the economics of such countries, in order for their economies to grow, foreign countries must purchase their currency to import their goods.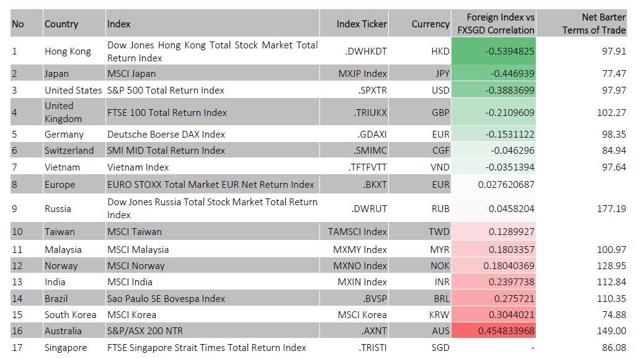 Source: Terms of trade data from World Bank
We observe a strong positive correlation arising from the heavy commodity-based markets. One such example is Australia, via the Streettracks S&P/ASX 200 Fund (OTC:SKJJF), which has a naturally occurring positive correlation of equity to currency within our time frame of 10 years.
The breakdown of the Australian exports (one of the highest correlation countries at 0.45). As observed, over 70% of the Australian exports come from some form of commodities, be it basic resources or agricultural products.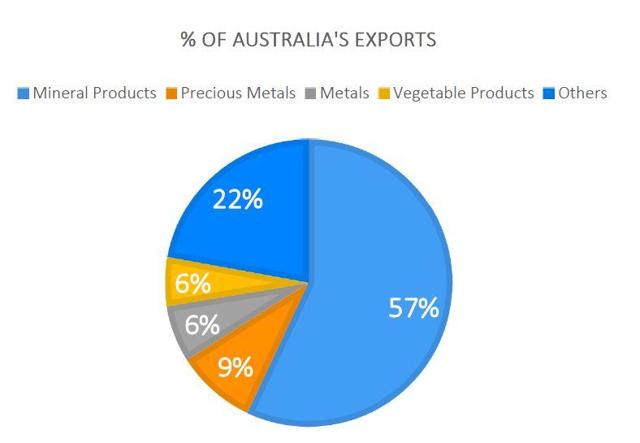 Source: Data on Australian Exports from the Observatory of Economic Complexity
Such implications are that, due to the nature of the commodities, in order for Australia's companies to generate revenue, it requires them to sell these commodities to external countries such as China in order to make a profit. As a result, the commodity buyer has to demand for Australian dollars, which causes their equity market and currency to rise in tandem. Investors who do not hedge their currency risk needs to be aware of the fluctuations within the natural position that they take on.
Of course, we do have outliers such as Russia, via the iShares MSCI Russia Capped ETF (ERUS), which shows a terms of trade of 177.19 due to its extremely high commodities and oil exports but still with low levels of correlation.
There are several other factors that may cause countries to have a naturally occurring positive correlation such as target carry-trade destinations, which we would have to look into further. However, investors who undertake unhedged positions need to be wary of the implications in the market they are trading.
Negative Correlation Markets
We can observe that the countries that are listed at negative correlation are generally developed countries. In comparison with countries that focus primarily on commodities, these countries are more service oriented whereby the economy is less export focused but more technological and research based.
Out of the five countries listed (U.K., eurozone, Japan, U.S. and Hong Kong), four of them have used quantitative easing measures - with Hong Kong pegged to USD - in order to inject money in the economy. This is done via asset purchases such as longer-term government securities and mortgage-backed securities which consist of a longer time horizon than conventional open-market operations during currency sterilization. These asset purchases resulted in excess liquidity, spurring commercial banks to provide lending.
Such quantitative easing allows for the central bank to implement a monetary policy to increase the monetary supply into the economy. Quantitative easing by targeting commercial banks and private sector assets encourages growth by lowering the interbank rates and encouraging banks to loan money. From below, it can be observed that the continued quantitative easing led to greater nominal liquidity in the eurozone.
We understand that in our research we used the DAX, which may not have been representative of the entire euro region, but this is a close estimate where we believe many individual investors trade within the German markets.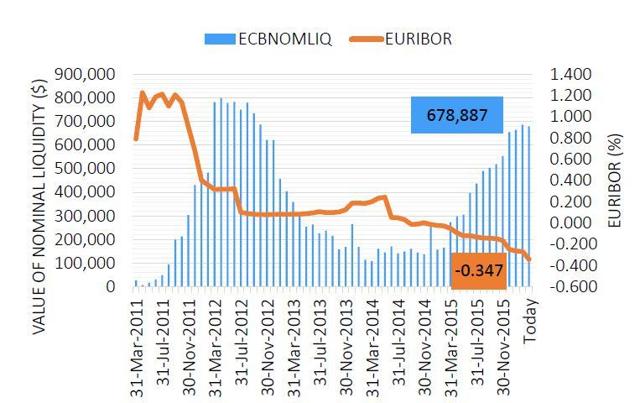 Source: Data on ECB nominal liquidity and EURIBOR from the European Central Bank website
The implications are that companies would be able to benefit greatly from the cheaper credit, and are able to finance their business growth as well as leverage more debt to expand their business. This results in stocks and equity indices growing as they benefit from this cheaper credit. Conversely, the increased monetary base M1 in the economy dilutes the value of the currency.
When more euros are injected into the monetary system, the value of the euro drops due to the widening of the monetary base, which leads to a depreciation of the currency. As a result, we observe a negative correlation within these countries due to the equity gains at the expense of a depreciating currency.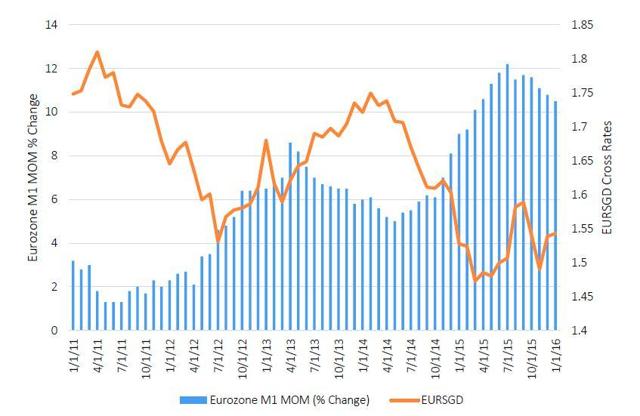 Source: Rates and M1 Monetary supply by Thomson Reuters Eikon
Recently, negative interest rates were implemented by the eurozone and Japan. The Bank of Japan accomplished this by buying more government bonds than would be required to set the interest rate to zero.
We do acknowledge that there are other factors that may result in a naturally occurring negative correlation other than the low terms of trade and quantitative easing that may cause a negative correlation with the country itself that may be explored further in a subsequent article.
Cross-Country Equity Correlation
Many countries have an implicit natural correlation with other markets due to the nature of trade with each other. As investors with a global portfolio, in order to provide optimal diversification, investors ought to ensure that their items in their portfolio are not closely linked.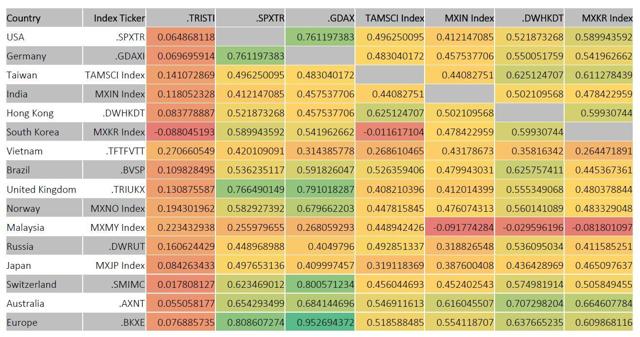 Source: Figures computed from data by Thomson Reuters Eikon
The above table is computed by correlating the returns of the differing total returns indices, all spot SGD-weighted over time, in order to have an accurate basis of comparison over time due to the differing rates and market structures. We tried to observe if certain markets tend to move in tandem due to their intrinsic interlinked nature.
As observed from the figure, we see the DAX having a 95% correlation with the Euro Stoxx; it naturally should be assumed with Germany being in the eurozone. However, we also observed several other interesting things from our findings.
S&P 500 is about 76% correlated, which means that largely these two markets would move in tandem with each other. Likewise, the FTSE 100 of the United Kingdom has an extremely high correlation of over 79% with the DAX.
This findings show that investors who would prefer to have a globally diversified portfolio would try to diversify in countries with minimal correlation in order to reduce the unsystematic risk that comes from each country. We do not deny that global markets aren't interconnected and that a financial collapse would still pose a systematic risk even on low correlated countries; for example, India and the iShares MSCI India ETF (BATS:INDA) with a correlation of 41% to the S&P 500.
We believe that due to the different growth factors and drivers, investors need to be aware of how interconnected the markets they are investing in and do their own due diligence for their portfolio.
This study is done by a team of students, traders and investors from Singapore Management University.
Christopher Koh, Juleen Lim, Nguyen Tien Cuong, Yeo Jun Wei and Yeung Zhen Bang
Disclosure: I/we have no positions in any stocks mentioned, and no plans to initiate any positions within the next 72 hours.
I wrote this article myself, and it expresses my own opinions. I am not receiving compensation for it (other than from Seeking Alpha). I have no business relationship with any company whose stock is mentioned in this article.
Editor's Note: This article discusses one or more securities that do not trade on a major U.S. exchange. Please be aware of the risks associated with these stocks.