What would you do if you had $7 million to invest and wanted to build a portfolio that would outlast you and provide a legacy of income for your heirs? In November, there was a great opportunity to demonstrate precisely how I would want to do it.
Obviously, this portfolio is dramatically larger than necessary to support one or two people in retirement so it gave me an opportunity to demonstrate how to create a high quality long-term portfolio by mixing high yield dividend champions with bonds and certificates of deposit. This is still the kind of portfolio that I would suggest, but after the way this portfolio beat the market over the last several months, it would make sense to allocate some of the capital to preferred shares.
What Were My Choices?
I suggested that the portfolio should include about 80% of the value in thoroughly established dividend growth champions. My suggestions for the desired allocations are demonstrated in the table below:
| | |
| --- | --- |
| American States Water | (NYSE:AWR) |
| Dover Corp. | (NYSE:DOV) |
| Northwest Natural Gas | (NYSE:NWN) |
| Parker-Hannifin Corp. | (NYSE:PH) |
| Genuine Parts Co. | (NYSE:GPC) |
| Procter & Gamble Co. | (NYSE:PG) |
| Emerson Electric | (NYSE:EMR) |
| 3M Company | (NYSE:MMM) |
| Vectren Corp. | (NYSE:VVC) |
| Cincinnati Financial | (NASDAQ:CINF) |
| Coca-Cola Company | (NYSE:KO) |
| Johnson & Johnson | (NYSE:JNJ) |
| Lowe's Companies | (NYSE:LOW) |
| Lancaster Colony Corp. | (NASDAQ:LANC) |
| Colgate-Palmolive Co. | (NYSE:CL) |
| Nordson Corp. | (NASDAQ:NDSN) |
| Farmers & Merchants Bancorp | |
| Hormel Foods Corp. | (NYSE:HRL) |
| Tootsie Roll Industries | (NYSE:TR) |
| ABM Industries Inc. | (NYSE:ABM) |
| Altria Group Inc. | (NYSE:MO) |
| Universal Corp. | (NYSE:UVV) |
| Philip Morris International | (NYSE:PM) |
Beyond those equity investments, I suggested allocating 10% to corporate bonds through the Vanguard Long-Term Corporate Bond Index ETF and 10% to certificates of deposit as a way to gain superior returns relative to the yield offered on treasuries.
Certificate of Deposits
When I prepared the piece, there were multiple banks that offered 2.25% on a five-year CD. For simplicity's sake, I suggested that for tracking the total portfolio value, we should assume that the real value of the CD fluctuated in unison with the five-year treasury. The following table shows the treasury rates on the date of publication and the most recent treasury rates:

We can approximate the implied capital gain on the five-year CDs' fair value by looking at the movement in the five-year treasury. A decrease of 31 basis points indicates a gain of .31*5 = 1.55% to go with the 2.25% annual interest. The result is roughly .94% in interest to go with the 1.55% in implied gains. Effectively, this investor has the equivalent of a 2.49% return so far.
VCLT
The bond portfolio I suggested was VCLT and the change in dividend adjusted close value shows a total increase in value of 7.81%. That isn't too shabby either for about five months.
The Equity Allocations
The equity allocations also thoroughly beat the market. For comparison sake, I'm using the S&P 500 (NYSEARCA:SPY) as the market. If an investor can beat SPY on a risk-adjusted basis they are doing great. The portfolio didn't just beat SPY, it thoroughly smashed the S&P 500. I can't complain too much because I had some of my own cooking and bought Altria Group and Phillip Morris a few weeks after publishing the article.

Assuming a simple equal allocation strategy would allow investors to take the average return on the stocks as the return on the equity portion of this portfolio. The average return of 7.44% is easily beating the S&P 500.
There were four investments with weaker performance than the S&P 500. 21 of the 25 investments I suggested beat SPY over the five-month measurement period.
Risk-Adjusted Performance
To establish the volatility on the portfolio, I needed a quick way to run a statistical analysis. To incorporate treasuries into the portfolio as a proxy for the CDs, I used the Vanguard Intermediate-Term Treasury Fund Investor Shares (MUTF:VFITX).The mutual fund holds treasuries with an average effective maturity of 5.7 years.
The quickest way to run the regressions in my experience is to go through Investspy.com.
Unfortunately, this results in limited options for the time frames that can be used so I had to go with a full year. For the purpose of simply estimating the volatility, this shouldn't be too bad.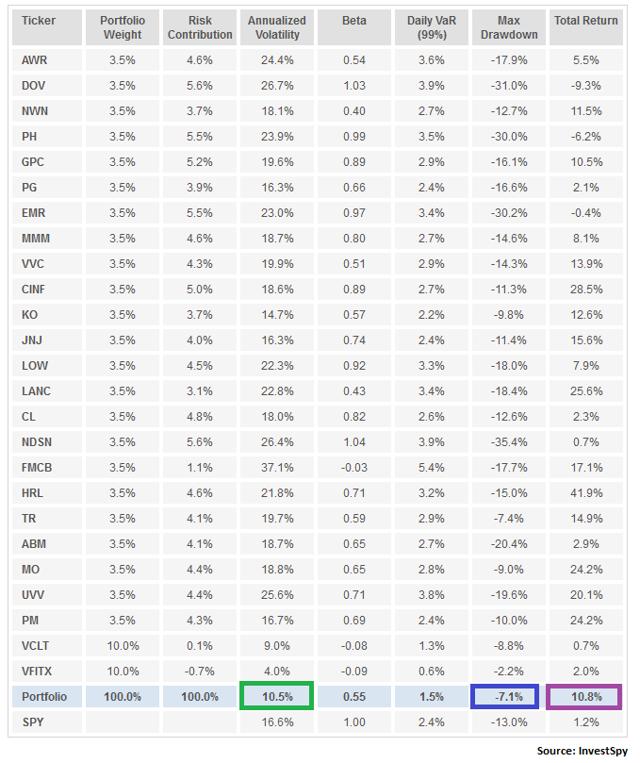 The portfolio's annualized volatility was 10.5% relative to 16.6% for SPY. The max drawdown of -7.1% is substantially lower than the -13% for SPY and the total return would clearly have been a strong winner.
Dividend History
The focus in choosing companies for the portfolio was to emphasize the established dividend champions and overweight companies that would have strong positions with reliable sales and margins. The very long tenure of dividend raises made the portfolio attractive for investors seeking less volatile equity exposures. The following chart shows the consecutive years of dividend increases.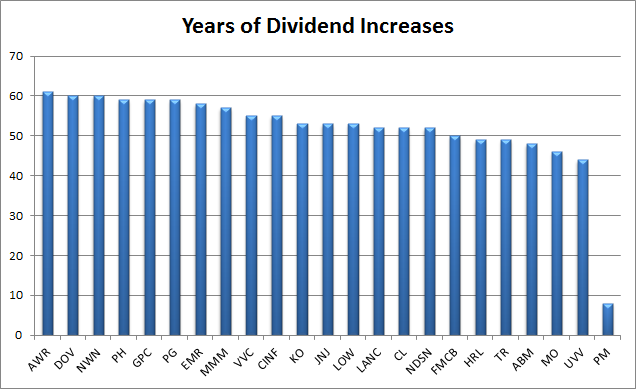 Philip Morris International gets the short end of the stick because the dividend history prior to their separation from Altria Group stayed with Altria Group. As a result, it appears that PM has a fairly short history even though it is an old company that was previously a huge part of MO.
Conclusion
When the positions are combined with the initially suggested weightings of 80% to equity, 10% to VCLT, and 10% for the five-year CD, the result is a total return over the last five months of 6.98%. This return beat the S&P 500 by a significant margin and it did so with materially less volatility. This is the kind of high yield portfolio that could provide investors with solid income in retirement so the equity positions could continue to grow and leave a strong legacy for heirs.
For investors seeking their exposure to dividend champions through ETFs, I've been assessing some of the best dividend ETFs for 2016 and followed it up with a few more of the best dividend ETFs. I also provided a guide on how to retire at 60. Check those pieces out and let me know what you think about this portfolio.
Disclosure: I/we have no positions in any stocks mentioned, but may initiate a long position in MO, PM over the next 72 hours.
I wrote this article myself, and it expresses my own opinions. I am not receiving compensation for it (other than from Seeking Alpha). I have no business relationship with any company whose stock is mentioned in this article.
Additional disclosure: Information in this article represents the opinion of the analyst. All statements are represented as opinions, rather than facts, and should not be construed as advice to buy or sell a security. This article is prepared solely for publication on Seeking Alpha and any reproduction of it on other sites is unauthorized. Ratings of "outperform" and "underperform" reflect the analyst's estimation of a divergence between the market value for a security and the price that would be appropriate given the potential for risks and returns relative to other securities. The analyst does not know your particular objectives for returns or constraints upon investing. All investors are encouraged to do their own research before making any investment decision. Information is regularly obtained from Yahoo Finance, Google Finance, and SEC Database. If Yahoo, Google, or the SEC database contained faulty or old information it could be incorporated into my analysis.
Editor's Note: This article discusses one or more securities that do not trade on a major U.S. exchange. Please be aware of the risks associated with these stocks.