Activision Blizzard (NASDAQ:ATVI) released the Whispers of the Old Gods Hearthstone expansion two days ago. The effect is impressive - Hearthstone's average daily sales from U.S. iPhone-only players greatly increased during this month. I expect this collectible card game to significantly improve its monetization this year.
I mentioned in my previous article that Hearthstone mobile was outperformed last March by Candy Crush Jelly Saga. The Whisper of the Old Gods expansion will help Blizzard's collectible card game (CCG) grossly outperform Jelly Saga.
Activision's decision to not allow old cards to be used in the new Standard Mode are forcing players to spend more money on new card packs. The $49.99 Pre-purchase offer definitely found a lot of willing buyers after Activision hinted about this revised format for Hearthstone. The Whisper of the Old Gods expansion comes with 134 new cards.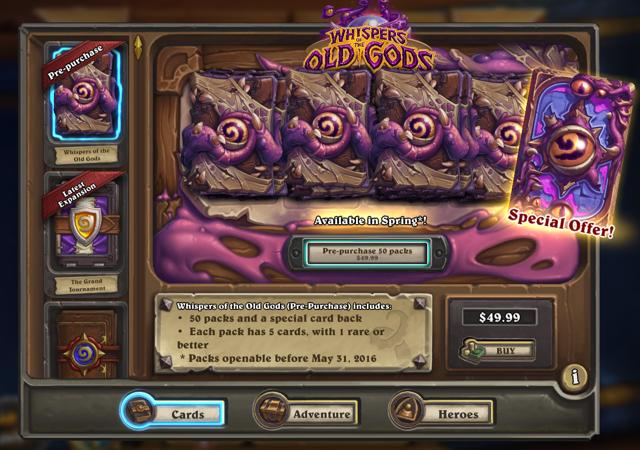 (Source: Blizzard Entertainment)
The iPhone gamers did not mind this radical game revision toward a more pay-2-win flavor by Activision. Many American iPhone players still bought new card packs to keep their decks competitive. According to ThinkGaming, Hearthstone's average daily sales shot up to $260k from March 30 to April 27.
Hearthstone went from no.28 to the no.6 top-grossing iPhone game in the U.S. this month.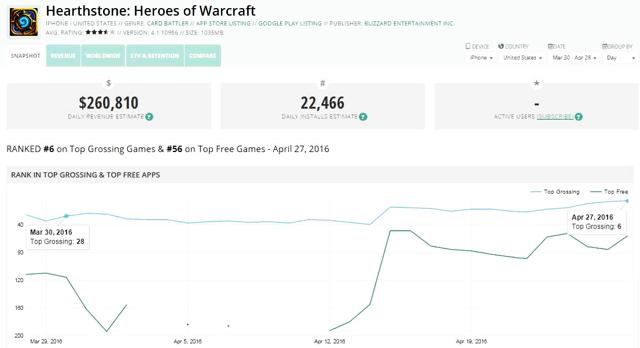 (Source: ThinkGaming)
SensorTower also says Hearthstone is America's no.6 top-grossing iPhone game and no.8 top-grossing iPad game. SensorTower approximates that American players only contribute 45% of Hearthstone's sales. To guesstimate the global sales of all iPhone gamers for the month of May, we only need to double the $260k average daily sales estimate of ThinkGaming.
$260k x 3 = $520k
We then multiply it by 30 to get a monthly sales guesstimate of $15.6 million. After deducting the 30% commission of Apple (NASDAQ:AAPL), we get $10.92 million in net monthly sales. This guesstimate is more than 3x higher than the $3 million estimated monthly iOS sales that Hearthstone did last March.
If we add another $5-$10 million to take into account the sales made from Android players, Hearthstone's revised gameplay could make it a $20 million/month mobile game.
Hearthstone Needed This Improved Monetization Model
Hearthstone badly needed this revised gameplay. According to Splice's research, the paying players of Hearthstone only spent an average of $65.76 on in-app purchases last year. This amount is lower than the average $86.50 that players spent on mobile games in 2015. Blizzard's collectible card game was clearly not being monetized properly compared to its peers.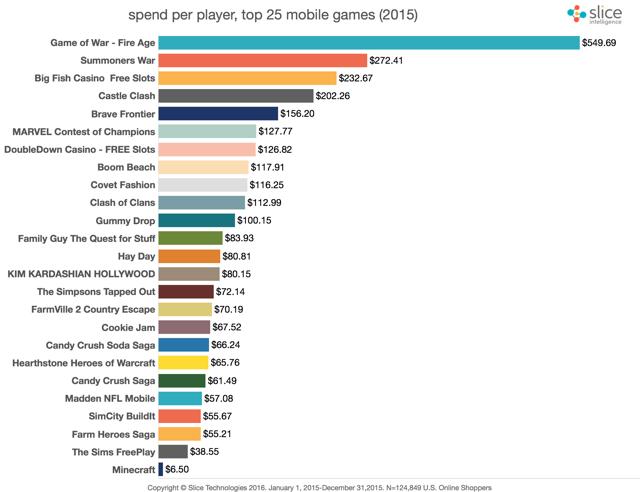 Summoners War is also a turn-based card collectible game that received $272.41 in average spending from its paying players. Kabam's MARVEL Contest of Champions is also another pseudo-CCG title that attracted higher average spending ($127.77).
Making old cards obsolete has another long-term benefit. While it is true that Hearthstone already has 50 million registered users, keeping them actively playing is best done through new challenges. Former paying players (who got bored with their cards and quit) will come back. They will again spend money on card packs to replace their obsolete old cards.
The new cards-only policy on Standard Mode also forces players to keep discovering new strategies and deck builds. The constant challenge is what keeps top-spending players loyal.
The revised version of Hearthstone will also get a significant boost in sales from desktop PC gamers. My guesstimate is that PC players could also contribute $20 million in monthly sales after this Old Gods patch.
Annual sales of $480 million from Hearthstone is therefore probable.
Conclusion
ATVI is a Buy. Enforcing a more aggressive micro-transaction model for Hearthstone: Heroes of Warcraft is not going to turn away players. On the contrary, encouraging people to keep on buying new card decks will attract the loyalty of more big-spending gamers.
Like other freemium games, Hearthstone only needs to prioritize the 10% player population who make 90% of in-app purchases. Making it more difficult for freeloaders to compete in Standard Mode is a welcome advantage for paying players.
The best-case scenario is for Hearthstone to get 3-10 million players to spend an average of $130 (not $65) on in-app purchases. A collectible card game that generates $600 million or more in annual sales could compensate for the decline in World of Warcraft MMORPG product.
Disclosure: I am/we are long ATVI.
I wrote this article myself, and it expresses my own opinions. I am not receiving compensation for it (other than from Seeking Alpha). I have no business relationship with any company whose stock is mentioned in this article.