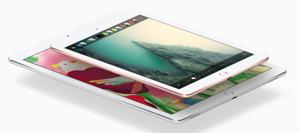 I believe Apple (NASDAQ:AAPL) is making the right moves with its dividend and stock buyback strategies and that Chad Brand's recent Seeking Alpha article, Apple's Capital Return Program Is A Complete Joke, leaves out a very important factor any prudently run company would take into consideration.
I agree Apple's cash hoard has grown tremendously, but not as much as people think. There are two major reasons for this. The first is you have to subtract from its cash holdings how much additional US taxes the company would have to pay if it were to bring it back to the US to buy back stock or use it for dividends (the factor that is not in the other article and tends to be left out in a number of analysis). The second is you have to make an assumption that the company needs some amount of cash to run the company and be available for acquisitions.
Here are the numbers
1) Apple's total cash and investments is $233 billion or $42 per share (but this does not take into account any debt, additional international taxes to bring it to the US since 90% of the cash is overseas or cash to run the company).
2) Debt of $80 billion means it has $153 billion in "net cash" or $28 per share or 29% of market cap.
3) Additional taxes owed. This is a harder number to estimate since there would be taxes owed to the US by bringing cash back and potentially Apple may owe Ireland and other countries additional taxes if they are successful in saying the company owes them more. Also throw in that Apple expenses some of the taxes on its P&L but does not take the cash hit so if cash is brought back, the cash impact should be larger than on net income.
From the March quarter 10-Q on page 13, Apple has deferred tax liabilities of $22.955 billion. When you subtract this from its cash holdings, it would have about $130 billion in net cash or $23.50 per share. If someone can point me to a better estimate on how much Apple would owe in additional taxes please let me know.
4) But I also assume that the company would want to have $20 billion in US cash available to run the company or make acquisitions. This is a plug number so it may be higher or it may be lower but it would be a substantial number. This would leave the company with $110 billion in net cash or $20 per share. Still a substantial number and over 20% of its market cap.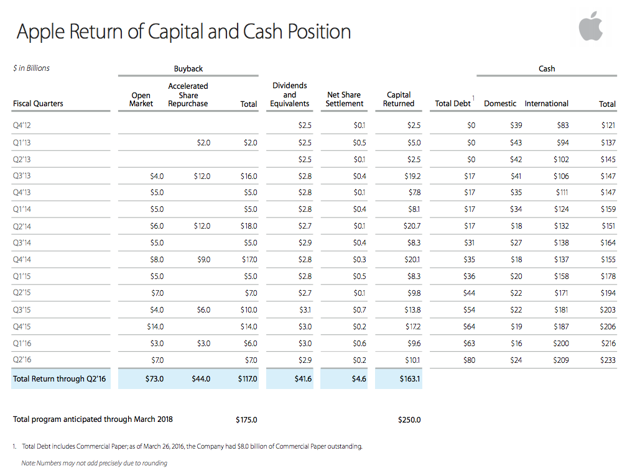 Only US cash can be used to pay dividends or buy back stock
Keep in mind that to buy back shares or pay dividends, Apple has to use US cash. Any debt taken on to buy shares or pay dividends eventually has to be paid off with US cash. Also any interest payments on the debt that is used to buy back shares has to come from US generated cash. Apple is on track to spend over $1 billion in interest payments this year.
Apple generated $20.5 and $18.1 billion in US cash the past two years, respectively. Dividend payments used a bit more than $11 billion each year. So since only about $7 or $9 billion could be used for buybacks that is why it has taken on so much debt for buybacks, which I believe is a good strategy given interest rates but is a limiting factor at some point in time.
If the P/E multiple is 10x, pretty much every share it buys back earns 10% forever. Not a bad compounded rate of return. Also when it buys back shares, it lowers the total cash it has to spend on dividends. Total cash for dividends will go up if it raises the dividend by 10% and only buys back 4% to 5% of its shares but still overall it helps.
Multi-year dividend plan
Luca Maestri, Apple's CFO, said on the conference call that "We continue to plan for annual dividend increases going forward." I believe this is the correct strategy since there are many investors that will buy and hold the stock if they believe their dividend income stream will steadily rise over time. I suspect it will increase in the high-single digits to the very low double-digit percentage range for the next few years and that the growth rate may drop in the future but that will depend on multiple factors including the profitability of the company, how much US cash it generates and how many shares it buys back.
Waiting for a tax holiday or tax law change
When Apple runs the numbers I suspect it makes a lot of sense to take on debt but again there is a limit on how much either from a financial perspective or being prudent when managing a company. Even if you don't think interest rates are going to rise, it is not the scenario you manage for. Debt has been the downfall of many companies, the most recent example are the oil and gas companies that got too leveraged when oil prices were high.
At some point in time, there will be some sort of tax holiday or change in the tax code (which is what I believe Apple is waiting for) so the tax hit will be less and this would be the time to bring it back to either pay down the debt or buy more stock.
The bottom line
Apple management has embarked on a solid multi-year stock buyback and dividend strategy that takes into consideration downside scenarios, the limiting factors it has to deal with and builds credibility on returning capital to shareholders.
Disclosure: I am/we are long AAPL.
I wrote this article myself, and it expresses my own opinions. I am not receiving compensation for it (other than from Seeking Alpha). I have no business relationship with any company whose stock is mentioned in this article.
Additional disclosure: Sand Hill Insights and Chuck Jones is not a registered investment advisor or broker/dealer. Readers are advised that the material contained herein should be used solely for informational purposes. Sand Hill Insights/Chuck Jones does not purport to tell or suggest which investment securities readers should buy or sell. Readers should conduct their own research and due diligence and obtain professional advice before making investment decision. Sand Hill Insights/Chuck Jones will not be liable for any loss or damage caused by information obtained in our materials. Readers are solely responsible for their own investment decisions.